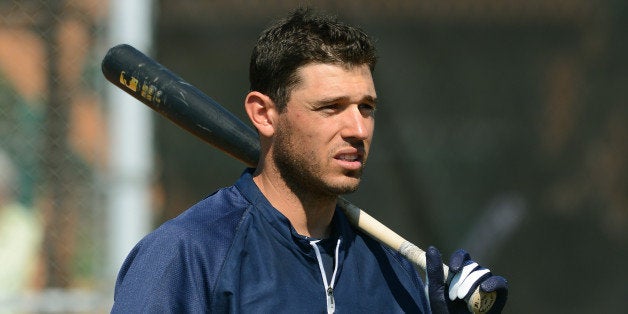 Ian Kinsler isn't the first person not to feel great about a former boss. He's also far from the first athlete to feel that some inflammatory comments attributed to him were taken out of context.
More than three months after getting traded to the Detroit Tigers, three-time All-Star second baseman apparently had nothing nice to say about Texas Rangers general manager Jon Daniels in an interview with Robert Sanchez of ESPN The Magazine. In the article set to appear in the March 17 issue, Kinsler is quoted criticizing Daniels and wishing his old team anything but the best.
"Daniels is a sleazeball," he said. "He got in good with the owners and straight pushed Ryan out. He thought all the things he should get credit for, Ryan got credit for. It's just ego. Once we went to the World Series, everybody's ego got huge, except for Nolan's."
"To be honest with you, I hope they go 0-162," Kinsler told Sanchez on the topic of his former team. "I got friends, and I love my friends, but I hope they lose their ass."
In an interview with John Lowe of the Detroit Free Press after his comments to Sanchez were made public, Kinsler backtracked a bit. He contended that the ESPN The Magazine story "was written for drama" but didn't outright deny making any of the comments.
"I think the quotes about the general manager were taken a little out of context," he said during spring training.
As far as the comment about his teammates losing every game, Kinsler insisted it was meant as a joke.
"I've told that to my ex-teammates to their face. So it's not anything new to them," Kinsler said. "They probably are hoping the same thing on our team. So it's definitely competitive and a little bit of a humor quote, I guess. But like I said, it's drama, and it sounds good the way it's written, so that's the way they're going to go with it."
BEFORE YOU GO
PHOTO GALLERY
Best 2014 Sports Photos