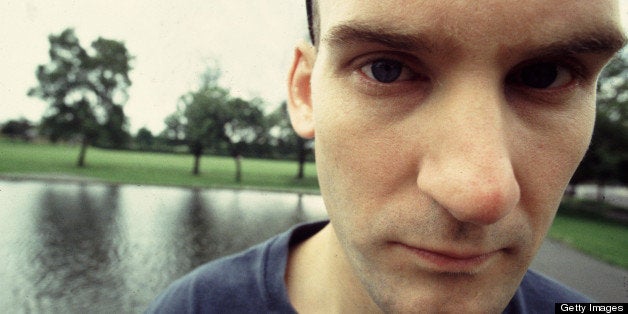 If you've listened to music, in say, the past 35 years, you've probably heard D.C. native Ian MacKaye's voice -- fronting a slew of bands from Fugazi to Minor Threat.
On May 7, he decided against melodies and opted for the spoken word at the Library of Congress during an hour and a half talk where he spoke about everything from his columnist grandmother to file sharing to smartphones.
Here are some of the most interesting tidbits from MacKaye's talk, courtesy of Spin:
If you are a rockstar, singing about love, perhaps it's in your genes:
My grandmother, Dorothy MacKaye, under the name Dorothy Disney, wrote a column for the Ladies' Home Journal called 'Can This Marriage Be Saved?' It was essentially a column where she would interview a man and a woman who were having difficulty in their marriage and then a counselor who would weigh in on their problems.
"Can This Marriage Be Saved" has survived the years and is the trademark feature of Ladies' Home Journal. It's evolved on the magazine's website into an interactive, video version of the column.
Smartphones have made us all zombies, recording the world around us instead of experiencing it. Insightfully, MacKaye believes this may make it hard for someone truly creative to break through all the noise:
I think that people are constantly thinking about capturing things that they're not actually present for the moment they're trying to capture. I'm quite sure of this. I think it's insane how many pictures have to be taken these days. We have to realize there's a level of documentation that's just chatter, it's noise, and beyond that, people who are truly documenting are going to have to find a way to puncture that.
And MacKaye, who owns his own record label, believes file sharing of music over the internet is a-okay. You'd be hard pressed to find many record label owners who would agree:
Every song I ever wrote, I wrote to be heard. So, if I was given a choice that 50 years from now I could either have a dollar or knowing that some kid was listening to my song, I'd go with the kid listening to my song.
Check out more of the highlights of the rock legend's Library lecture, like why he is obsessed with archiving things and how skateboarding shaped the music he made, over at Spin!
And listen to our Ian MacKaye Spotify playlist!
Calling all HuffPost superfans!
Sign up for membership to become a founding member and help shape HuffPost's next chapter
BEFORE YOU GO
PHOTO GALLERY
Best Venues In America According To Rolling Stone