Both the International Bird Rescue and Marine Mammal Center recently received celebrity credibility and acknowledgement for their ongoing commitment to rescuing and rehabilitating California's injured wildlife. Both organizations have been working endlessly for several decades, primarily with the support of a dedicated group of volunteers from the region, who put in long hours that make their passion for nature and wildlife that much more important.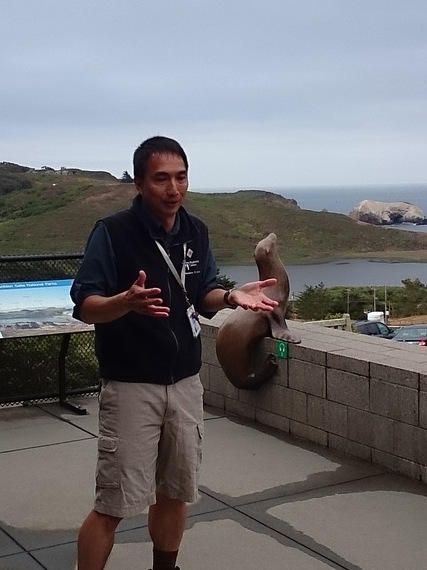 Most of these birds and water-faring mammals are injured by some form of human connection, whether that be intentional or unintentional, often getting entangled in discarded debris, or oil spill accidents that often capture media attention when literally hundreds of species are affected by such disasters.
Actor and activist Ian Somerhalder (Vampire Diaries) recently visited the International Bird Rescue in San Pedro, California for a press conference and bird release mission. He was also there to acknowledge the team of volunteers that dedicate their time at the facility to carefully help nurse these injured species back to health. Somerhalder, a Louisiana native, also launched his own Foundation after the horrific BP oil spill that hit the gulf coast in the spring of 2010, injuring and killing hundreds of wildlife species in the area.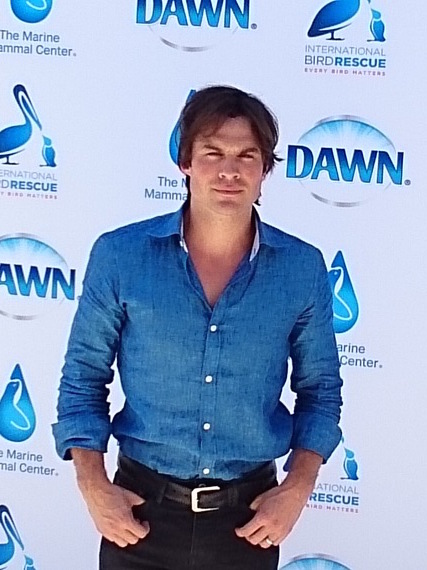 He remarked, "The gulf oil spill was the tipping point for me. I lost it, as I could almost hear the pelicans crying. I knew it was time to use my platform to create immediate change." He went on to explain how as a child he interacted with this same wildlife on a regular basis near his house. He started the Ian Somerhalder Foundation in 2010 as a means of raising awareness and funds for wildlife protection, and also as a call to action. The Foundation is now represented in 170 countries worldwide.
"Animal and environmental protection is no joke. It's a priority of mine, not just a passion. I encourage everyone to watch these "We All Love Wildlife" videos, and to share your stories at #HowDoYouLoveWildlife. He then alluded to the fact that these videos are meant to evoke an emotional response, which is the interconnected nature between humans and wildlife.
The press conference was presented in part by Dawn Dish Soap. For almost four decades, Dawn has been the only dishwashing brand trusted by wildlife rescue experts, heralded for its soft on feathers, tough on grease benefits. The video series showcases the profound, positive influence that wildlife has had on rescue volunteers, who have played an important role in the rescuing and releasing of more than 75,000 wild animals affected by oil pollution. It should be noted that the organizations were using Dawn long before partnering with the company for product placement and financial support.
"We depend on volunteers to help us achieve our mission to save wildlife and keep it secure and thriving," said Barbara Callahan, Executive Director at International Bird Rescue. "When an oil spill occurs, birds and marine mammals are often injured by oil that pollutes their habitat. Without human intervention, many distressed animals have no chance of survival. Our volunteers do everything from hands-on patient care to prepping food, cleaning the facility, and releasing the rehabilitated animals." Callahan also mentioned that Somerhalder's initial relationship with IBR began when he made a cash donation to help "Pink", a rescued pelican with human injury, get nursed back to health and eventually released back to the wild.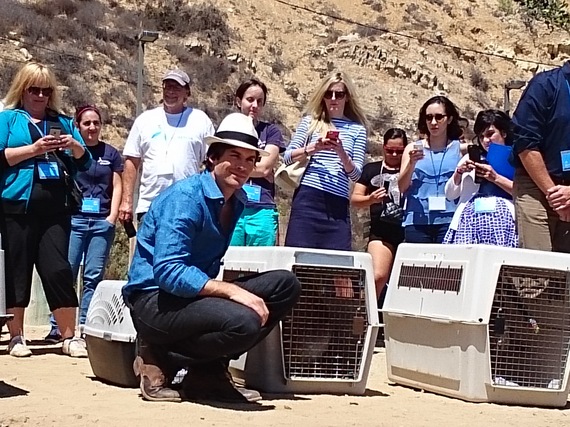 To culminate the event, media, staff, and volunteers were invited outdoors where Somerhalder participated in the release of two California Brown Pelicans and one Western Gull back into their natural habitat.
International Bird Rescue (IBR)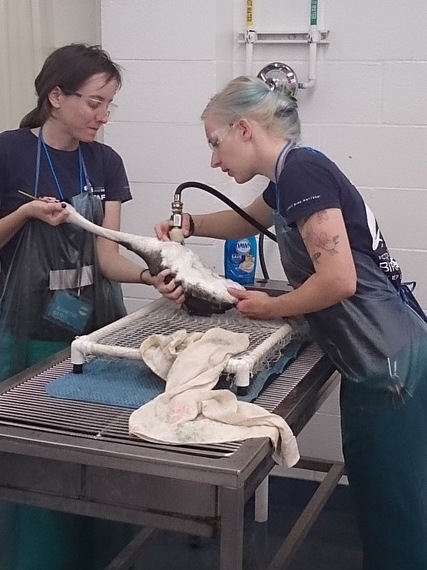 Founded in 1971, International Bird Rescue is a non-profit wildlife organization committed to caring for birds affected by both natural and man-made disasters, such as oil spills and marine debris. Each year, IBR's two world-class centers in California care for over 5,000 birds - including pelicans, herons, albatrosses, and other aquatic species. Their spill response teams have led rescue efforts in over 200 incidents across six continents. Released birds are tagged so that the organization can monitor and track their progress, and can also collect data to be used for improving services in the future. This is a world class primary care facility offering a complete rehabilitation program that includes a small staff and approximately 100 year round volunteers.
The Marine Mammal Center (TMMC)
The Marine Mammal Center is a state-of-the-art non-profit veterinary hospital and research center made up of over 1,000 volunteers. Since 1975, they've dedicated themselves to the rescue and rehabilitation of sick, injured, or orphaned marine mammals - like seals, sea lions, and dolphins. Based in Sausalito, California, TMMC also doubles as an education center, teaching more than 100,000 kids and adults each year about the animals, ocean health, and connections we all share. This year marks the 40th anniversary of the organization, and it is now the largest marine animal hospital in the world. As well, to date there have been 1400 rescues, up from the typical 600 to 800, partially due to an oil spill off the California coast earlier this year.
These two organizations do more than rescue wildlife. They educate and inspire the world about the wellbeing of animals, habitat conservation, and the health of our oceans. In addition to volunteers,both clinics are also staffed by a team of wildlife specialists and an onsite veterinarian.
Get Involved
Share your own wildlife stories with the new Dawn Saves Wildlife Hashtag Campaign #HowDoYouLoveWildlife or via these social media networks
REAL LIFE. REAL NEWS. REAL VOICES.
Help us tell more of the stories that matter from voices that too often remain unheard.