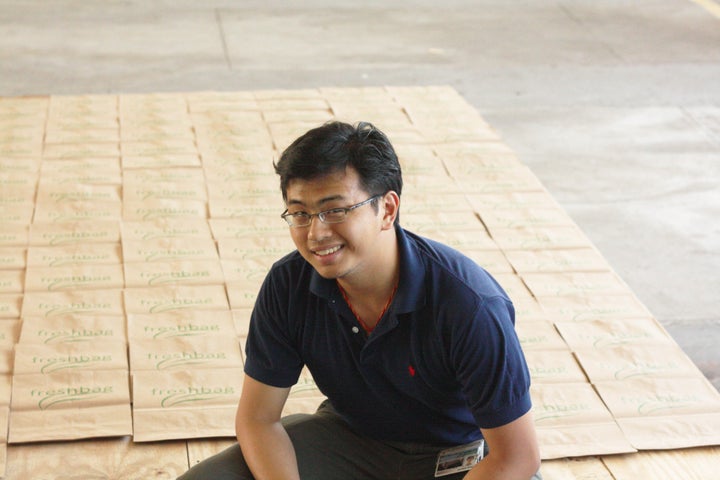 You'd think an M.D./Ph.D. student at competitive medical schools would have his hands full with school, but Ian Wong isn't waiting until he's practicing medicine to make an impact in his community.
Wong, a 24-year-old student at Case Western Reserve University's medical school and the University of Pittsburgh, started freshbag as an attempt to address serious, pre-medical issues that he saw in his local community.
"As part of our schooling, we were sent into the [Cleveland] community to identify the biggest health problems," Wong told The Huffington Post in a phone interview. "These are economically-depressed areas, and we'd go into schools and ask students how many of them had family members with diabetes, and every hand would go up."
Since there were parks and gyms available to the students he was trying to help, Wong said he decided to focus on the food side of the diet-and-exercise path to better health. He then quickly identified the three main roadblocks to healthy eating: cost, time and access.
"If both parents are working, we realized that it falls on mom or dad to go shopping for good food -- which isn't often available nearby -- or on a kid to actually make that push," he said. "So if we reduce the time and create options at the same time, we can start addressing these problems."
Of course, delivering food is not an especially novel idea. From HomeGrocer to FreshDirect, there have been a whole host of home-delivery services. But Wong, who is the freshbag's chief executive, said he and the company's president, Max Wilberding, realized that they don't actually need to deliver to customers' homes. Instead, they focused on centralized delivery locations as a means of managing the massive overhead that consistently contributed to the demise of many of the early grocery delivery operations.
With the exception of some produce that's not grown in Ohio, freshbag sources almost all of its products locally. For items not grown in-state, Wong and Wilberding coordinate with local distributors.
Though it boasts a projected $10,000 of revenue in its first year, the company is still in its infancy, so Wong said freshbag is focusing on corporate wellness programs as a sort of test case before fully launching in urban areas. "As we build our business model and revenue, then we can really push into the inner-city," he said.
With partners like Sanson and Produce Packaging, Inc., freshbag has been working at a handful of locations that include the offices of GE and John Carroll University.
"What we're trying to do is close the gap between suggestion, education and action," Wong said. "It's one thing to say 'You should eat healthy,' but it's another to say, 'Here's a recipe, put in your order and we'll have the ingredients at your office or some central location tomorrow.'"
Currently, freshbag has a next-day delivery schedule, but they hope to be able to trim the waiting period as the business grows. The company has a team of seven right now, including two medical students, three other students from Case Western and two from John Carroll. It's not a nonprofit, which Wong explains is a matter of quality assurance.
"If we go at this commercially, as opposed to strictly as a charity, then we can do this long term without having to depend on others for donations, and we can take our profits and apply them to expanding our service," he said. "That way we're not just nutritionally beneficial, but financially healthy for the community because we only use local vendors and distributors."
Wong brushes off the suggestion that medical students wouldn't have time to create something special in tandem with their education: "When you identify a problem and find your passion, you just go for it."
Calling all HuffPost superfans!
Sign up for membership to become a founding member and help shape HuffPost's next chapter