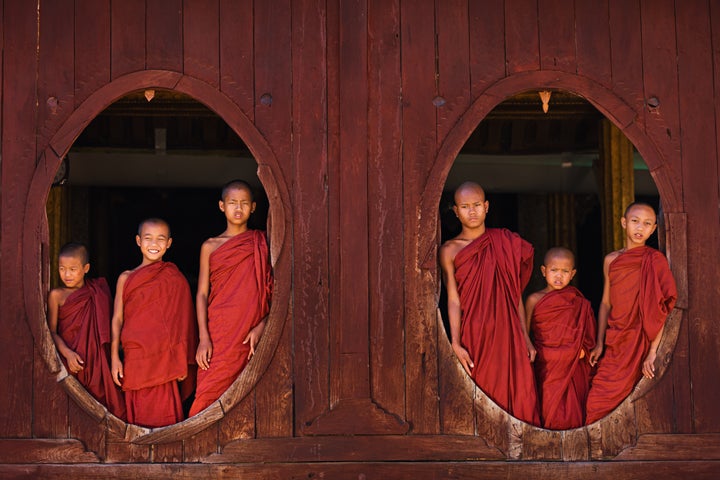 In an effort to welcome tourists -- and foreign currency -- the government announced on Monday that it has reached out to monasteries in the Inle Lake region and asked them to open rooms for tourists. This is remarkable both because the staying in a Buddhist monastery sounds terrific and because one of the monasteries in questions is a destination unto itself.
"Nyaung Shwe has limited rooms, so we've negotiated with the monastery and regional authorities to put up tourists as a temporary measure," U Win Oo Tane, Vice-Chairman of the Taunggyi Hotel Zone, told The Myanmar Times.
The monastery would reportedly be treated as a "home stay," but the Nyaung Shwe Monastery is a bit more memorable than the average home. The grounds encompass masterpieces of teak architecture, thousands of idols, gold spires and a community of novice monks hard at work mastering scripture.
The community of Nyaung Shwe is a particularly popular spot -- Hotel Amazing, the oddly named local accommodation lives up to its moniker -- not only because it is beautiful, but because it is only a few miles from what is arguably's Myanmar's mustest of sees, Inle Lake. Adorned with houses on stilts and populated by fishermen who paddle standing up in an incredibly photogenic way, the lake was one of the first places to see major touristic development and will be central to the industry going forward.
More than being touristed, the lake has become a touch touristy as hotels spring up so the monastery plan offers not only a way to cram in more people, but an alternative to normal development, a way to allow international travelers to explore Myanmar without contributing to the massive changes it is likely to see over the next decade.
Also -- not to linger too long on the point -- the monastery is gorgeous.
Before You Go
Nyaung Shwe Monastery Hotel?