Beggars of Life is a film whose critical reputation is picking up steam - pun intended.
Shot by William Wellman the year after he made Wings (the first film to win an Academy Award), Beggars of Life is a gripping melodrama about a girl (Louise Brooks) dressed as a boy who goes on the run after killing her abusive stepfather. Fleeing the law, she rides the rails through a threatening, male dominated, hobo underworld.
The film was based on the 1925 novelistic memoir by Jim Tully, a once celebrated "hobo author" whose own reputation is also on the rise these days. Kent State University Press in Kent, Ohio (Tully's one-time hometown) has started an ambitious program of reissuing many of the author's books, including Beggars of Life, his best remembered work.
Though shot as a silent, Beggars of Life is considered Paramount's first sound film. Now lost talking sequences, a song, and sound effects were added at the time of its release. Early advertisements for the 1928 film boasted "Come here Wallace Beery sing!" The memorable character actor and a future Oscar winner plays Oklahoma Red, a tough hobo with a soft heart. Richard Arlen, who the year before had starred in Wings, plays Brooks' romantic interest. Much of the film was shot near Jacumba, California, near the Mexican border.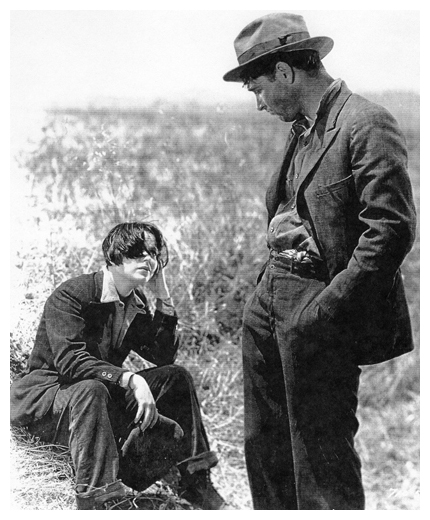 Beggars of Life is a film about the desperate and the downtrodden. And, in some ways, it anticipates the films of the Depression. Among them is Wellman's own not dissimilar Wild Boys of the Road, from 1933.
Beggars of Life was named one of the six best films for the month of October by the Chicago Tribune, and it made the honor roll for best films of 1928 in an annual poll conducted by The Film Daily. Nevertheless, its grim tale set among disheveled tramps drew mixed reviews. One Baltimore newspaper said it would have limited appeal, while quipping "Tully tale not a flapper fetcher for the daytime trade."
Louella Parsons, writing in the Los Angeles Examiner, echoed the sentiment when she stated, "I was a little disappointed in Louise Brooks. She is so much more the modern flapper type, the Ziegfeld Follies girl, who wears clothes and is always gay and flippant. This girl is somber, worried to distraction and in no comedy mood. Miss Brooks is infinitely better when she has her lighter moments."
Harrison Carroll, writing in the Los Angeles Evening Herald, stated, "Considered from a moral standpoint, Beggars of Life is questionable, for it throws the glamour of adventure over tramp life and is occupied with building sympathy for an escaping murderess. As entertainment, however, it has tenseness and rugged earthy humor. . . . It is a departure from the wishy-washy romance and the fervid triangle drama."
While Norbert Lusk of the Los Angeles Times added "Richard Arlen and Louise Brooks also capture honors for their sincerity and a poignant, moving quality they infuse into their roles without seeming to act at all. Miss Brooks, who has hitherto qualified as a particularly provocative figure, now establishes herself as a real actress."
The Afro-American (a newspaper from the Baltimore-Washington D.C. area) also took note. "In Beggars of Life, Edgar Blue Washington, race star, was signed by Paramount for what is regarded as the most important Negro screen role of the year, that of Big Mose. The part is that of a sympathetic character, hardly less important to the epic of tramp life than those of Wallace Beery, Louise Brooks and Richard Arlen, who head the cast."
Pastoral life gone wrong, girls dressed as boys, blacks and whites mingling, desperation among the glitz and glamour of the Twenties - there is a lot going on in Beggars of Life. It's a worthwhile film well worth watching. And, until just a few years ago when the George Eastman House blew-up the sole surviving 16mm print to 35 mm, Beggars of Life had been a seldom screened film.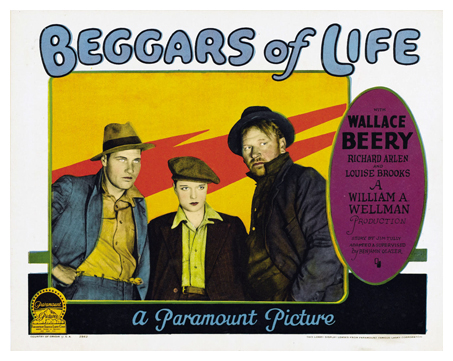 William Wellman made a lot of great movies - Wings (1927), The Public Enemy (1931), A Star is Born (1937), Beau Geste (1939), Roxie Hart (1942), The Ox Bow Incident (1943), and Battleground (1949) are all on the short list. Actor and author William Wellman Jr., who has nearly completed a biography of his father for a major publisher, stated via email, "Beggars of Life was one of my Father's favorite silent films. He loved it. He talked about it a great deal with appreciation and GUSTO." Beggars of Life has it.
Beggars of Life will be screened as part of The Hollywood Heritage "Silents Under the Stars" series on August 15 at the Paramount Ranch in Agoura, northwest of Los Angeles. Michael Mortilla will provide live musical accompaniment. The program starts at 7:30 p.m. Beggars of Life will be preceded by a "surprise short." For more information see www.hollywoodheritage.org/silents/suts.html
Thomas Gladysz is an arts journalist and author. His interview with Allen Ginsberg was included in Sarah Greenough's "Beat Memories: The Photographs of Allen Ginsberg" (National Gallery of Art, 2010). And recently, he wrote the introduction to the Louise Brooks edition of Margarete Bohme's classic novel, The Diary of a Lost Girl (PandorasBox Press, 2010). More at www.thomasgladysz.com.

Calling all HuffPost superfans!
Sign up for membership to become a founding member and help shape HuffPost's next chapter