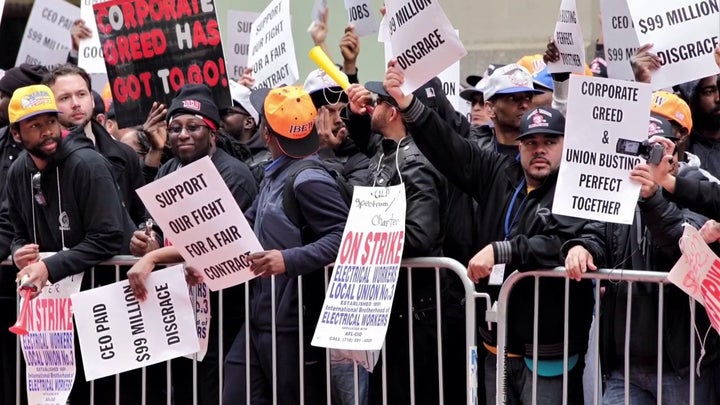 Last week, union workers of Local Union No. 3 International Brotherhood of Electrical Workers (IBEW) organized a packed town hall along with staff representing state and city elected officials.
IBEW has been on strike against Charter communications, the telecommunication giant which owns Spectrum. The six month labor dispute has left the families of Local 3 financially crippled without pay.
The forum allowed the union workers to share their grievances. "We just wanna work and provide for our families," said one worker who recounted the difficulty of buying notebooks and crayons for his children as the school year approached.
Meanwhile, the CEO of Charter Communications was America's highest paid CEO in 2016, awarded a pay package worth $98.5 million. Spectrum has alleged that it is offering "a generous compensation package" for the workers.
The union has shown that it won't be fooled. Despite the increase in pay offered by Spectrum, the media giant is seeking to eliminate their contributions to the workers' pensions and medical plans — essentially dismantling a social net that many of these workers and their families rely on and bargained for.
While there seems to be no end to the obstructions and delay, the courage of the union is becoming evident to the struggle of worker rights to confront corporate greed.
Unions, like IBEW, have long been part of our nation's history, fighting for better pay, safer working conditions, health care and retirement benefits bringing the recognition of not just their members, but of all who labor and played a major role in ending the sweatshops and child labor so common at the beginning of the 20th century.
These victories, however, have not been without sacrifice. The tragic Triangle Shirtwaist Factory fire in 1911 killed more than 100 mostly young immigrant women. The International Ladies' Garment Workers' Union, or ILGWU, took on this struggle to honor their fallen workers with a fight that secured comprehensive safety and workers' compensation laws.
Many of those working in unions that took on the powers that be, "Robber Barons," would have their skulls split by private security or police forces friendly to or all but owned by the rich and politically powerful.
In the 1890's Carnegie Steel Co. was making massive profits. Despite the high profits and brutal working conditions, the steel corporation was furious workers had even a modest voice with the union. Responding to this threat to their bottom line, Carnegie hired the Pinkerton National Detective Agency, notorious for beating workers and breaking strikes.
Employing the help of the U.S. government, Carnegie subdue the steel workers forcing them to accept one-fifth of their wages while working shifts increased from eight hours to 12 hours. Nevertheless, this loss empowered unions that led to significant labor victories for all workers, regardless of their race, religion, immigration status, and gender.
The fights of the past are not so different from Local 3's struggle. Similarly, the IBEW is carrying the same spirit of resiliency and courage that will fight for justice for all workers, particularly as unions are once again under assault.
As the night ended and the forum came to an end, Sanela — wife of a local 3 IBEW union worker — declared, "I am not quitting and I am here till the end." The room went silent only to be broken by a roar of union pride.
Local 3 has a fight ahead. But they have the heart and are ready to take on corporate greed. History is on their side.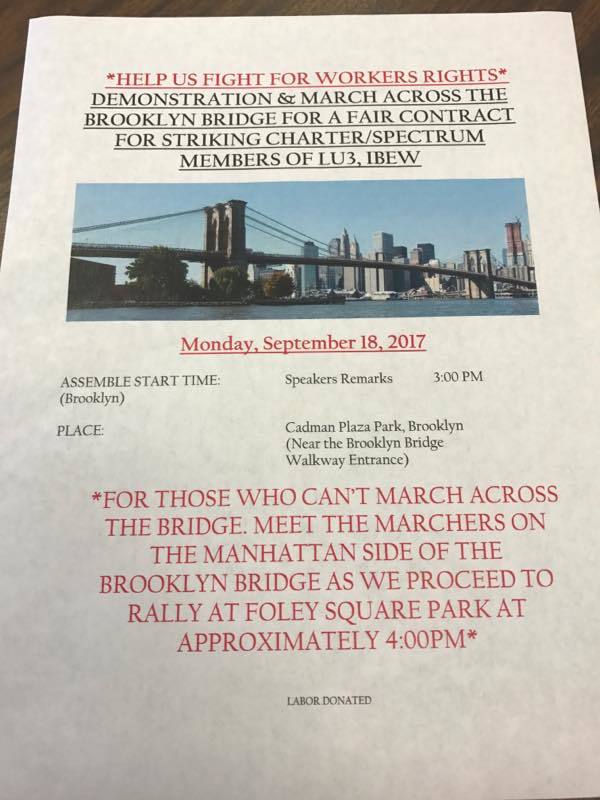 Related
Popular in the Community