I don't go to the ballet and have only seen one a long time ago. Interestingly, it was Swan Lake performed, as in the film Black Swan, at Lincoln Center in New York City.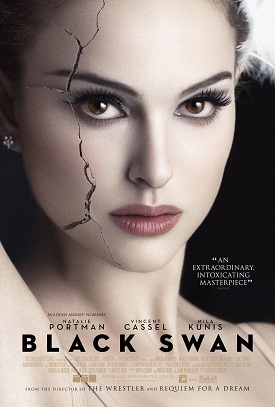 It is an art form that doesn't interest me and I say this at the outset, because, as in the case of The Fighter, about which I recently wrote, though I'm not drawn to the arena I was captivated by the motion picture itself.
Like The Turning Point and Billy Elliot, two major films that dealt with similar subject matter, Black Swan is elevated by a story of conflict, hopes, unfulfilled dreams and the fear of failure, and in those areas the movie soars.
Plus, it's a mystery and a bit of a thriller, as we're not really sure what's going on at the beginning when we meet the young ballerina Nina Sayers, played so movingly by Natalie Portman. We see red marks on her body and it appears that perhaps her career will be cut short by a serious illness. Maybe it's leukemia or Hodgkins, we don't know. But we are saddened by the prospect, and that's all I'm going to tell those of you who haven't yet seen the film.
We are introduced to her mother, Erica, portrayed by the always surprising and still beautiful Barbara Hershey, and though we might be expecting a ballet version of Mama Rose, it's not quite so. There are similarities in the sense that there is a competitive drive she instills in her daughter, but it's not pathetic and there's no cruelty. She has missed her own chances and, yes, there may well be a vicarious thrill she experiences in her daughter's success, but she is loving and genuinely cares.
We also see the political world of ballet, the cutthroat competition exhibited by newly arrived dancer Lily, played by a fairly transparent but intriguing Mila Kunis. Lily is alternately likable and devious, and to the audience it's clear she wants to be the star, and the only way to get the principal role is to get rid of the timid and haunted Nina, whom she aggressively befriends.
All this, as Nina fights to become the White/Black Swan and to seduce the choreographer with her persona. However, Thomas Leroy, played in a tough, yet loving manner by French actor Vincent Cassel, would prefer a true sexual dalliance, as he'd had with the soon to retire, now over the hill ballet star, Beth MacIntyre, whose performance is conceived so well by an embittered Winona Ryder.
The writing by Mark Heyman, Andres Heinz, John J. McLaughlin, with the story by Heinz is taut and unpredictable, and the melodrama is kept to a minimum as any good suspense mystery should be. And it's wrapped together in a wonderful package by director Darren Aronofsky to such an extent that you are gripped from almost the beginning right until the captivating end.
Ballet may not be your thing and it may keep the box office grosses from setting any records. But if you like to watch beautiful images and at the same time engross yourself in a masterful world, at times unexpectedly keeping you at the edge of your seat, I recommend Black Swan as one of the best films of 2010, sure to be an Oscar contender in major categories.
Popular in the Community