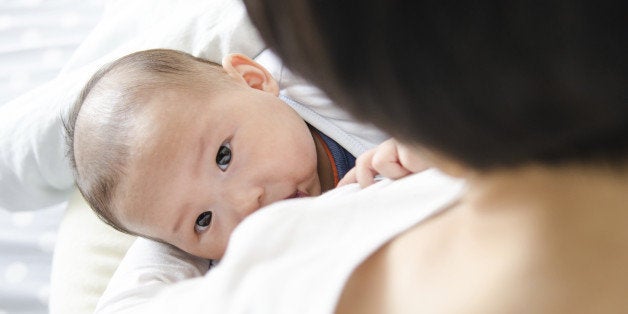 It's hard enough going back to work as a nursing mother, making sure to hook yourself up to a breast pump several times a day, hoping you extract enough liquid gold for your baby. Traveling for work while nursing takes the experience to a whole new fraught level. Most airports still do not have any designated places to nurse or pump; you may not even be allowed to bring your breast milk through security. And if your flight is longer than a couple of hours, do you pump on the plane?
A lot of women simply give up on traveling until their baby is weaned.
IBM's aiming to make all of this a little easier. On Monday, the tech giant announced that it will ship working moms' breast milk back home when they're on business trips. It will be interesting to see if other employers follow IBM's lead.
The company wasn't sure how many of its 370,000 workers would take advantage of the program, but said that didn't matter much. "As long as there is one mother who finds this beneficial, I don't have any threshold of usage of whether we continue the program or not," Barbara Brickmeier, vice president of benefits at IBM, told The Huffington Post.
The initiative frees the company's new moms from the frustrations of airport security, where Transportation Security Administration agents have been known to confiscate breast milk. It also means that women who are away from home for a long stretch no longer have to "pump and dump," a demoralizing experience in which a nursing mother has to throw away the breast milk she's worked so hard to extract.
It's only relatively recently, thanks to Obamacare, that employers nationwide have been required to provide a private space and a "reasonable" amount of time for mothers to pump their breast milk. But IBM's policy goes beyond what's required.
Certainly, this makes it easier to ask a new mother to take a business trip. Right now, the TSA does allow mothers to bring breast milk home in their carry-on luggage and if a mom doesn't want her milk X-rayed or screen she must tell the TSA agent ahead of time.
In April, Actress Alyssa Milano tweeted her frustration after TSA agents in London confiscated her pumped breast milk. "Why would I need to pump if I had the baby with me????" she wrote.
IBM's newest initiative is only the latest in a string of good policies implemented for new mothers. The company is helmed by one of the few women CEOs on the Fortune 500, and 29 percent of its workers are women -- a fairly high percentage for a tech company. IBM also offers up to 14 weeks of paid maternity leave for new moms.
CORRECTIONS: IBM is not the first to launch this type of program, as an earlier version of this article said. This article also stated previously that TSA does not allow more than 3.4 ounces breast milk in carry-on luggage, which is incorrect. The article also incorrectly stated that IBM gives new mothers six weeks maternity leave.
Related