I recently had the privilege to speak with an extraordinary CIO, Jeanette Horan. Horan is the Chief Information Officer for IBM, a position she has held since May 2011. Ms. Horan leads the development and implementation of a technology strategy in close partnership with the business. Her organization (17,000 IT professionals) provides innovative capabilities for IBM's workforce (400,000 employees operating in 170 different countries), drives IT operational excellence for the enterprise and supports IBM's transformation agenda. Part of the agenda is cultivating a more collaborative, agile, and innovation led culture that strongly focuses on customer and employee success. Horan, who is an incredibly social CIO, is leading the collaboration efforts by example.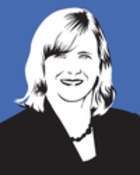 Jeanette Horan, Global CIO of IBM
Horan says there are three parts to her job: 1. enabling their 400,000 employees and sub-contractors to work effectively by provisioning, supporting and giving them access to the tools they need, 2. supporting the core IT work that IBM does which includes looking at the data center and all the technology that they deploy, and 3. integrating IT with the business - which Horan believes is the most critical thing that she does.
Leading the development and implementation of a technology strategy in close partnership with the business, Horan's organization provides innovative capabilities for IBM's workforce, drives IT operational excellence for the enterprise and supports IBM's transformation agenda.
9 ways that IT organizations (even large ones) can encourage collaboration:
1. Encourage people to share - Today it has become the norm for project teams to be in more than one location. To be able to collaborate with people operating in 170 different countries, Horan says that instant messaging is one of the most important tools they use at IBM. They are also developing an internal social media platform. An on-going challenge is overcoming time zones and finding a way to store information to be able to hand things off to make sure people can work more effectively. To help with this they are encouraging people to share more inside of IBM - what they are working on and collaborating on issues. "It all comes down to taking a very large company and making it feel a lot smaller to work in," says Horan.
2. Understand the business - According to Horan, the job of a CIO is about the intersection of business and technology. "Don't do IT for IT sake, do it to help a business partner," she says. The CIO has to understand the business and how they can bring some of the technologies to vet. According to a recent CIO Magazine article, CIOs must become technology consultants.
As a CIO that has a product engineering background, Horan notes that she is seeing more and more CIOs that have spent some time in a line of business. Gaining that broader perspective is important and so is being able to play it back to the business to show them that you understand. "80% of what we do is working with the business to understand where they are going and asking how we can support where the business is going," says Horan.
3. Influence culture from the top - Adopting some apps in business are not optional, like moving to a new financial system, but when it comes to many other apps and spaces, especially those dealing with individual or team productivity, it is truly optional. So how do you get broader adoption of technologies? Horan says that culture is critically important and that is can make or break any transformation program. At IBM, they are seeing a real leadership from the top. Their CEO, Virginia Rometty, uses a video blog format to engage with employees and encourages them to comment and ask questions, which flows down.
Today half of the IBM population has less than 5 years with the company. People come with their own ways of working and collaborating and they are also seeing a lot of ground-up communities, about 86,000, being formed. So the culture is being influenced from the top-down and bottom-up.
4. Default to 'Yes' - To allow the IT organization to be in the position to say "yes", Horan and her team work with the business to make sure they are delivering the capabilities needed. Horan is using a Kickstarter model to help the business truly embrace mobility. The model is built to discover what the real business apps are that people might find useful by going out to the community and asking them. A call goes out for projects and employee investors get to select which project to fund with a budget given to them by IT. "We got over 1,000 projects within the first couple weeks and several projects have already received full funding," says Horan, who explains that the idea is to give people the apps they want, put them in the IBM app store, let employees give feedback - allow them to be the IT organization that says "Yes".
5. Engage with stakeholders - In order to help the business relate to an IT organization of 17,000 people, Horan uses broad communications, such as video or written blogs to talk about topics they are working on. Her team also shares in their own internal social networks, which are also used for the broad sharing of information when things go live. However, she stresses the need to have the human touch in a large organization. This starts with a discussion with key stakeholders to make sure both parties are clear on what the purpose is together and provides a framework for moving forward. During our talk, Horan was actually speaking to us from their joint marketing communications and IT design lab. "This level of engagement allows us to bring the business along with is, it's not something we are doing to them, but with them and for them," says Horan.
6. Encourage innovation - Being an IT company, Shadow IT is inevitable. To encourage innovation, Horan provides people with what she calls a "safe playground" to play in - an innovation lab that is maintained apart from the production lab. The innovation lab operates a technology adoption program that provides tools for people to create apps. "We have about 25% of IBM active in creating short term business apps or downloading and using them. If an app becomes successful, we figure out how to move it into the business," says Horan.
7. Automate processes and encourage self-service -The huge increase in marketing and digital marketing and even in the support of the sales team and the tools they need when they are in front of clients has led to more than half of IT investments being focused on front-office apps. To the extent that IT can automate processes, they can give sales more time with the customer. To this end, IBM is developing Watson, a tool to help people sift through vast quantities of information. The notion for Watson to be trained on the kinds of questions that are important is powerful and will help move them into the self-service world for clients.
Horan has also invested in an internal SaaS that has the technology to allow the business to produce reports and to be able to run more predictive analysis themselves. This has opened up information to the business and made it more accessible to people who never knew this information was available. The idea is for Horan's team to support that infrastructure and get them started, and then let them run with it.
8. Think in smaller increments - Horan started moving toward agile development and the notion around taking smaller pieces of functionality and delivering incremental value to the business to keep up with the pace of change in business which has accelerated in the past few years. "We need to think in smaller increments and be able to be more flexible in responding to changes and requirements," says Horan.
9. Adopt a cloud first strategy - Horan says that anything new they do is cloud first and they are in the process of doing a survey of all SaaS properties that could support the size company of IBM. With SaaS being a preferred model for the future, the next thing is Platform as a Service (PaaS) and Infrastructure as a Service (IaaS) as well. They are also looking at their app portfolio of roughly 3,000 apps to see which can be moved from the data center to IaaS.
You can watch the full interview with Jeanette Horan here. Please join me and Michael Krigsman every Friday at 3PM EST as we host CXOTalk - connecting with thought leaders and innovative executives who are pushing the boundaries within their companies and their fields.
Related
Popular in the Community