More than ever, we need smart, reliable, and efficient public transit systems. As people flock to cities -- because more humans are living in metropolitan areas than in rural areas for the first time in history -- energy demands are rising worldwide. The same old approach to planning and maintaining transportation networks just won't work anymore.
That's why Melbourne, Australia's Yarra Trams, the largest tram system in the world, turned to big data, the cloud, mobile, and analytics to transform its services. Yarra Trams is dramatically improving service on its 250 kilometers of double tracks by reconfiguring routes on the fly, pinpointing and fixing problems before they occur, and responding quickly to challenges, whether it's sudden flooding, major events in the city, or just rush hour traffic.
As a result, the iconic 100-year old system is consistently beating the service and punctuality goals it set for itself. In the process, it is creating an example for other public transportation services around the world, demonstrating how to unlock all of the insights just waiting to be tapped within those systems. It's no surprise that Melbourne has been ranked the world's most livable city for three straight years.
By listening to what our public transportation services are already telling us, we can better understand and improve how they operate. And in the future, we can use this understanding as a foundation for creating a more holistic approach to improving all transportation systems, whether they are bus, train, or car systems.
Yarra Tram's system works by tracking every one of the 91,000 different pieces of equipment that make up the tram network -- from tram cars to power lines to tracks -- using intelligent sensors and information from employee and passenger reports about service and equipment. For example, an automated wheel-measuring machine built into the track at the tram depot detects the condition of a tram's wheel when it rolls over it.
This deluge of insights is pulled together and hosted on the cloud, where analytics are applied to help the Yarra Trams' operations team quickly respond to, prioritize, and coordinate maintenance and pinpoint future problems. For instance, data analysis identifies trends or patterns in tram and infrastructure repair history, using them as a guide for scheduling predictive maintenance. Maintenance crews receive work orders remotely on mobile devices, tackling repairs and potential disruptions before service is delayed. An app, meanwhile, gives passengers the latest information about track tram arrival, departures, or delays and alternative routes.
Today's public transportation systems are becoming simply too big, complex, and popular for humans to maintain. Buses, trains, trams, ferries and airplanes all run on an intricate combination of equipment, from roads, rails, seaways and airways to power lines, wheels, and platforms. Maintaining this infrastructure is a complex task that's only becoming more complicated with the steady increase in population and the rise of megacities.
Public transit systems are finding that their greatest assets in tackling these challenges are data and smarter infrastructure software. With sensors and mobile technology, we can finally create the smart networks we need to understand these massive, ever-changing systems that are essential to offering citizens an efficient (and enjoyable) place to live.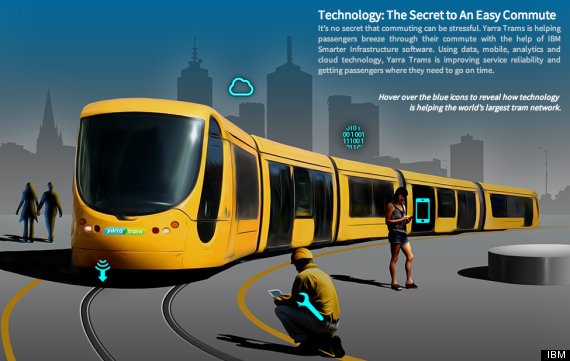 See how technology is the secret to an easier commute here.
For more information about IBM and big data, click here.