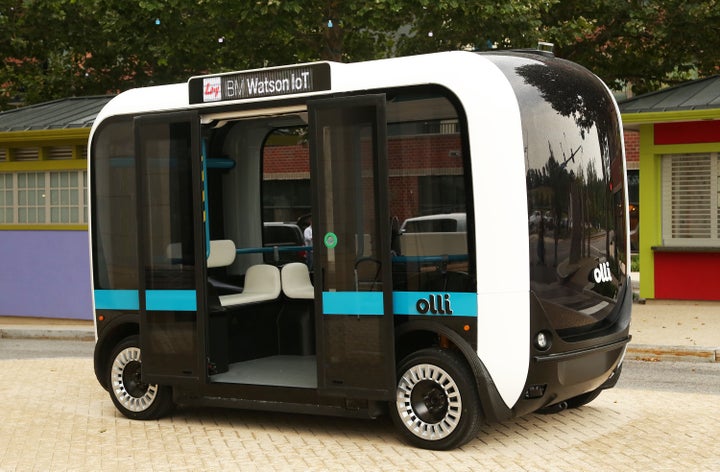 One day, your bus to work will know when you have time for coffee and when you don't -- or so IBM and Local Motors would have you believe.
The two companies debuted a new self-driving electric vehicle called the "Olli" in National Harbor, Maryland Thursday. The car -- really, a small bus -- is capable of transporting 12 people at once. Because it uses IBM's "Watson" system, pulling vast amounts of data on its surroundings from a variety of sources, the vehicle is smart enough to answer questions from passengers and learn from its environment.
For example, if you use the car enough it could eventually figure out your general path to work every morning. If you're running late one day -- or Watson uses weather data to figure out that it's about to rain, or that traffic will get worse -- Olli might tell you there's no time for Starbucks. Ask it when you'll arrive at your destination and it can answer.
The vehicle will be available to the public in National Harbor at "select times" this summer, beginning Thursday, according to the company's press release. Later this year, it will be deployed in Florida's Miami-Dade County and Las Vegas.
In a sense, this one car tells you just about everything you need to know about the future of driving. Experts say the status quo of individual car ownership will become untenable as, globally, more people enter the middle class and move to urban centers. As a replacement, shared vehicles that are smart enough to find efficient routes and get passengers close to their destinations could cut down on congestion and help the environment.
"The revolution is here," Jay Rogers, CEO of Local Motors, a small experimental car maker, told The Huffington Post. "It's unsustainable putting this many vehicles on the road."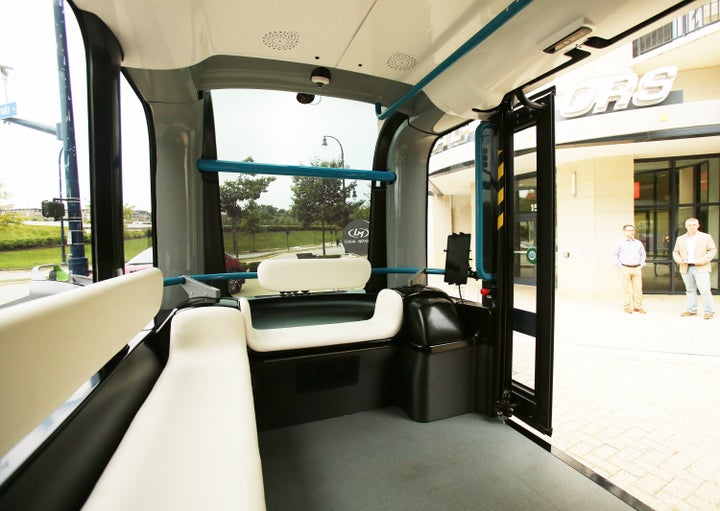 "A company like Chrysler won't put out vehicles they can't sell everywhere," Rogers said. He believes Local Motors is nimble enough to be an industry leader. The company designed the Olli in 2015 and officially greenlit the project this March. Now, with IBM, they have a working vehicle in Maryland.
We're a ways away from having Ollis everywhere, of course, but Rogers says Local Motors' major impediment is legislation, not technology: They're already equipped to manufacture and deliver the cars wherever there's demand -- though it's a small company, so don't expect fleets of them.
As for IBM, Olli gives the company an opportunity to develop Watson and disrupt your miserable commute. The car of the future is constantly communicating with the internet, gathering information about weather, traffic -- and maybe even a passenger's health.
"[We want to] understand if people are feeling tense in a vehicle because of traffic or other things," Bret Greenstein, the vice president of IBM's "internet of things" division, told HuffPost. "Can we change the lighting? I'm not saying this is what we're doing now, but it's where we're going."
Calling all HuffPost superfans!
Sign up for membership to become a founding member and help shape HuffPost's next chapter