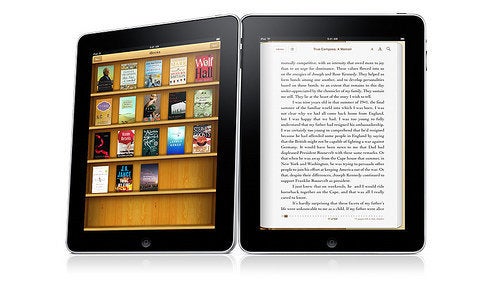 UPDATE: Scroll down for a video of the announcement.
On Wednesday, Apple announced iBooks, a new iTunes-like store for books and accompanying app to browse books on the new iPad.
The iBooks app, announced at today's iPad event, seems to allow users to create a virtual bookshelf on the iPad screen, pick a book and start reading.
It was announced at today's Apple event that you can change pages with a tap or swipe on the new iPad, and readers can even choose the font the text is displayed in.
Here is some of the first Twitter reaction to the "iBookstore:"
tuawlive: iBooks store is very similar to iTunes, with popups. Pricing looks competitive (looks), page turning has slick animations.
jakksky: "Our new app is called iBooks...."It looks like a bookshelf and there's a button to a store.
lindseycholmes: You can browse the book store, which looks a lot like the iTunes album interface, & you can download right to your "bookshelf" in iBooks.
WATCH a video of the iBooks presentation:
Related
Popular in the Community