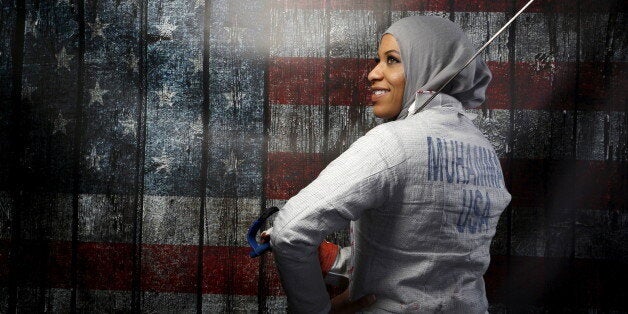 I don't think I've ever rooted for a U.S. Olympic athlete to win a gold medal more than today when Ibtihaj Muhammad began her quest for victory in the women's individual sabre fencing competition. And I say that as someone who has passionately rooted for countless American Olympic athletes over the years from Mary Lou Retton, who in 1984 became the first American woman to win a gold medal in gymnastics, to Michael Phelps, who took home the historic gold just yesterday.
But Ibtihaj Muhammad is more than simply an Olympic athlete. With each lunge and parry, Muhammad is cutting through stereotypes and misconceptions about Muslims. The U.S. Olympic team noted as much in its tweet earlier this morning:
It was a powerful and emotional image to see a Muslim woman proudly donning both a hijab and the red, white and blue as she represented the United States of America. She, like the valiant Captain Humayun Khan, are truly the living embodiment of President Obama's moving words delivered earlier this year when he visited a mosque in suburbs of Baltimore and said, "You're not Muslim or American, you're Muslim and American."
At the president's mosque visit, which I also had the privilege of attending, Obama asked Muhammad, who had recently qualified for the U.S. Olympic team, to stand up for a round of applause. As we cheered for Muhammad, the president remarked playfully, "Bring home the gold ... No pressure."
As Obama no doubt understood, Muhammad is not just a world-class athlete. She represents so much more. And Muhammad understands that as well, undoubtedly adding to the pressure she must feel.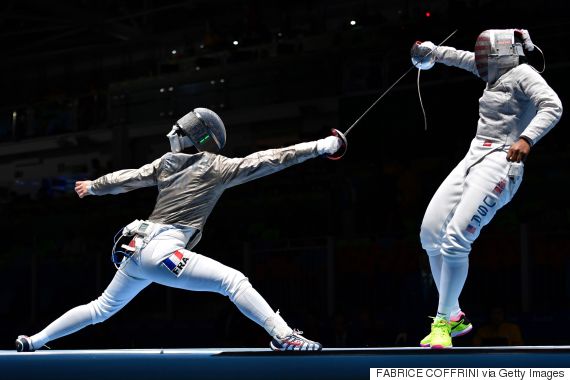 Ibtihaj Muhammad competes as part of a fencing event at the Rio 2016 Olympic Games, on August 8, 2016 (Fabrice Coffrini/Getty Images)
She's a unique role model. As the first woman to wear the hijab while competing for the United States in the Olympics, Muhammad told CNN, "There are a lot of African-American athletes, but I can't think of a female Muslim woman I can look to for inspiration as an athlete." That changes with Muhammad -- Muslim American women will now have an image in sports they can resonate with.
Muhammad's impact goes beyond Muslim women seeking to excel at sports. As the comments to posts I have seen about Muhammad on social media in the run-up to the Olympics indicate, Muslim American women -- those who wear a hijab or not -- see Muhammad as a reason to go after their dreams, whatever the field. She is an inspiration to these young women to persevere, to be resilient and to never give up despite the challenges in the pursuit of greatness.
Muhammad is also keenly aware of how her success challenges the false narrative about Muslims that bigoted politicians like U.S. presidential nominee Donald Trump have tried to further. She recently told the BBC, "In this particular political climate in the history of this country, it is groundbreaking to have a Muslim woman on the U.S. team," adding, "I am excited to challenge the stereotypes and misconceptions people have about Muslim women."
'I'm hopeful that, in my efforts to represent our country well as an athlete -- that they change the rhetoric around how people think and perceive the Muslim community.'
But Muhammad, a three-time NCAA All-American from Duke University, is not just challenging stereotypes, she's slicing them to shreds. She is the poster child for the image of a strong Muslim woman. And the timing couldn't be better given Trump's recent despicable comment suggesting that the grieving mother of Captain Khan didn't speak at the Democratic National Convention because she was a Muslim woman who was forced to remain silent because of her faith. I doubt that Trump, who avoided serving in the U.S. military when he had the opportunity, has the courage to take on Muhammad in a fencing match!
"A lot of people believe that Muslim women don't have voices or that we (don't) participate in sport. ... I want to break cultural norms," Muhammad said after losing Monday. "I'm hopeful that, in my efforts to represent our country well as an athlete -- that they change the rhetoric around how people think and perceive the Muslim community," she told CNN earlier.
Despite Muhammad's success in her sport, in which she is currently ranked eighth in the world, she still faces prejudice and hate simply because she is Muslim. In March, the person registering attendees at the South by Southwest Music Festival in Texas demanded Muhammad remove her hijab in order to obtain credentials. (The festival organizers later apologized.) And just a few months ago, a man on the street thought Muhammad's hijab looked suspicious, asking if she was planning to blow something up.
Muhammad won her first match Monday but was defeated in the Round of 16, meaning there will be no individual medal for her in Rio. She still, however, has a good chance to win a medal Saturday in the team sabre fencing competition, given that Team USA is ranked fourth in the world.
I, and millions of others, will be rooting for Muhammad and Team USA to win the gold Saturday. But regardless of the outcome of that event, she has already made so many of us proud. Muhammad not only represents the United States in the Olympics, she truly represents the best of America.
Related
Popular in the Community