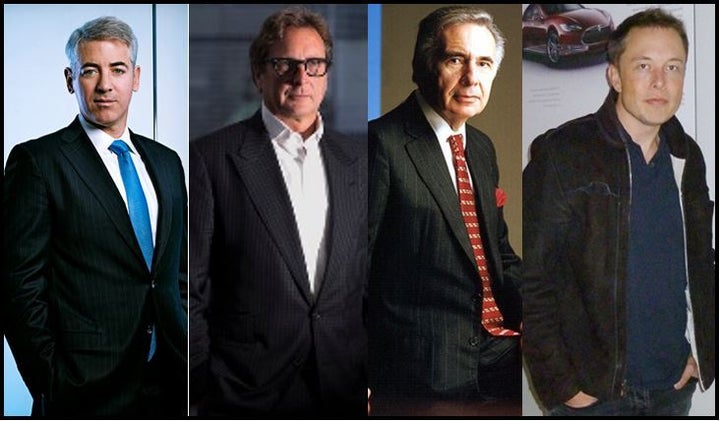 There is a visionary, an activist, a raider, and a gambler in the house, all with cool names. You just need to match them up.
Elon Musk, a Steve Jobs-like visionary, with tremendous personal charisma, will have to eventually prove that he is the new Steve Jobs by actually delivering an iPhone-like product. Ironically, Tesla turned out to be both the best blessing and the worst curse for Musk.
Carl Icahn, a controversial, but effective corporate raider, has successfully "persuaded" AIG to spin off most of their high-risk assets in an attempt to exit the designation of "SIFI." Icahn's best investment, appropriately named Icahn Enterprises, returned 31% a year between 1968 and 2011. It outpaced the Oracle himself, Warren Buffett, who managed 20% annually over the same period. Of course, his worst investment is the $320 million Blockbuster, which busted and fell all the way into bankruptcy.
Bill Ackman embodies the term "activist investor." His best investment was General Growth Properties. He bought in at 25 cents a share in 2008 and sold it at $27.50 in 2015, resulting an insane 10,900% return. On the other hand, his accruing $500 million dollar loss on Herbalife shorts pales in comparison to his accruing $2 billion loss on Valeant Pharmaceuticals longs. Imagine Ackman waking up every morning feeling the pain of a "double whammy."
Nobody can compete with the infamous hedge fund manager, Philip Falcone, for both glories and banes. Falcone made his name by scoring on his $15 billion "big short" bet against subprime mortgages in 2007, netting $1.7 billion for himself. In 1980, the Hunt Brothers had profited from cornering the silver market. 26 years later, Falcone followed the same brilliant suit, albeit illegal, by short-squeezing MAAX bonds. Although his repayment of $6.5 million in personal profits amounted to less than one day's pay, just like the Hunt Brothers, Falcone was convicted for securities fraud by the SEC and banned from the securities industry for five years.
Last time we checked, Falcone had attempted a "third act" by offering a $1 billion cash offer to acquire The Andersons, a grain trader, in May of 2016.
Ackman is notoriously famous in talking down the stock he is shorting. Musk is good at talking up the stock that everyone else is shorting. There is such a thing called the "Elon Musk Premium," though Musk must know its wearing thin. Icahn is brilliant in "mediatizing" his causes, just or not. All of them are masters in manipulating media.
"There is no difference among greatness," said K. C. Ma, Professor of Finance and Director of Roland George Program at Stetson University, DeLand, Florida.
"All of them are extremely impatient with others' speeds.
They are highly demanding of themselves and easily frustrated when the rest cannot do the same.
They all have this relentless, almost obsessive, drive to always be the best at whatever they do.
They never accept that problems can't be solved, yet, quickly accept their own failures.
They lick their wounds promptly and move on to the next innovation," Ma said.
These are all signs of genius.
"In order to make exuberant amounts of money in the investment world, they all have to constantly test the line between morality and legality, and sometimes fail.
They often talk up their net worth, such as rounding up $2.5 billion to $11 billion.
They all have the uncanny ability to brag about their games even as their investments are literally tanking at the same time.
They are self-centered, egotistic, cocky, and borderline narcissistic." Ma said.
These are all signs of genius.
Disclaimers: The Roland George Investments Program Growth Portfolio does not have any positions, long or short, in Apple, Tesla, SolarCity, Herbalife, General Growth Properties, Valeant Pharmaceuticals, MAAX, HC2, Icahn Enterprises, or Pershing Square. If I offended Elon Musk, Carl Icahn, Bill Ackman, or Phil Falcone, I apologize.
Popular in the Community