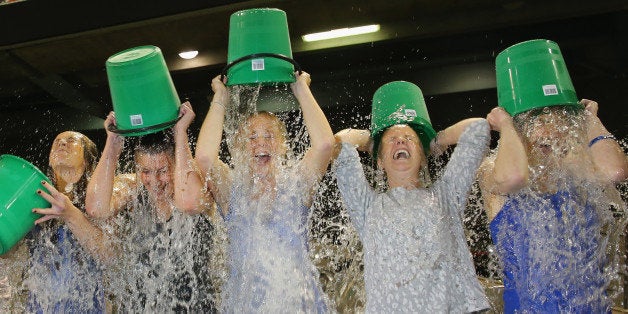 In just a few short weeks, the ubiquitous ice bucket challenge has topped $50 million for the ALS Association, and it's showing no signs of slowing down.
What started out as a grassroots stunt -- believed to be launched by pro golfer Chris Kennedy in Sarasota, Florida, to support his wife's cousin who has amyotrophic lateral sclerosis (ALS) -- has morphed into a social media sensation that's reached as high up as the White House.
To put that whopping figure into perspective, the group raised $2.2 million in the same period last year.
But the challenge -- which invites participants to either dump a bucket of ice over their heads or donate money and then task a friend to do the same -- wasn't always owned by the ALS community. Facebook CEO Mark Zuckerberg completed the challenge and nominated tech mogul Bill Gates, who in turn -- naturally -- rigged up his own water-dumping contraption to add his own twist.
Oprah, Lindsay Lohan, Justin Bieber and a slew of other A-listers each accepted the challenge, too.
What is particularly remarkable about the virality of the challenge, supporters say, is the fact that for so long, ALS has been relegated to realm of taboos -- a disease far too depressing to talk about, let alone bring into the limelight.
Photographer Anthony Carbajal, 26, who was diagnosed with the disease five months ago, shared this sentiment in his moving ice bucket challenge video. It's a condition he's long feared, since his grandmother had it and his mother is in the advanced stages of the disease.
"I hate talking about [ALS]," Carbajal says in the clip. "That's probably why nobody talks about it because … it's so challenging to see and to talk about. Nobody wants to see a depressing person that's dying … they don't want to talk about it. They don't want their day ruined."
But it seems that people now are willing to "talk" even if learning about the disease's grave effects could put a damper in their day.
Help support ALS research through the "Donate" button toward the top of the story.
Calling all HuffPost superfans!
Sign up for membership to become a founding member and help shape HuffPost's next chapter
BEFORE YOU GO
PHOTO GALLERY
Celebrity Ice Bucket Challenges