One New Jersey restaurant payed tribute to James Gandolfini Wednesday in the wake of the news of the actor's unexpected death.
Holsten's Ice Cream parlor in Bloomfield, N.J., was packed to the brim last night with fans of "The Sopranos," the HBO show that will perhaps become the actor's most enduring legacy. That is, except for one booth that served as the setting for the last scene of the series. On the table was an understated tribute to Gandolfini, a simple "Reserved" sign, the Bloomfield Patch reports.
Here's a photo of the table, via the Bloomfield Patch: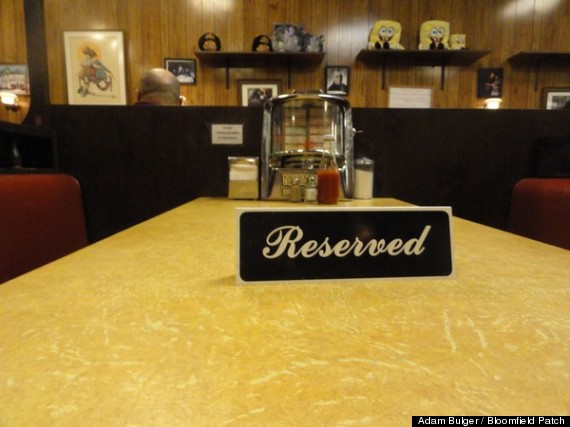 Since the episode was shot, complete with its now infamous cut to black, the restaurant has been a destination for fans of the series, Holsten's owner, Chris Carley, told The Huffington Post. But in the last 24 hours, fans have come out in droves to the shop, he said. Noting the sad circumstances surrounding the influx of customers, Carley admitted that sales have "picked up."
"He was a bigger-than-life person, but he was also a real nice, down-to-earth person," Carley told HuffPost over the phone.
Such is the legacy that Gandolfini and the show have had on local businesses in Northern New Jersey. Satin Dolls in Lodi, N.J., which also served as a setting for 'The Sopranos,' still advertises as "the original" Bada Bing Club in a tribute to the show, according to CNN.
Gandolfini himself was also a familiar face to some businesses in the area.
Related
Popular in the Community