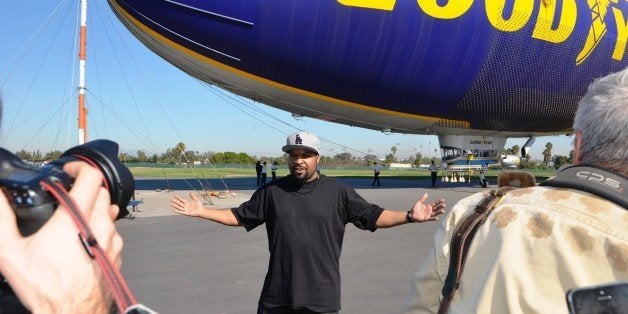 GARDENA, CALIF. -- Today was a good day for rapper Ice Cube and A Place Called Home, an after-school youth center in South Los Angeles.
Thanks to a savvy Internet fundraising petition to put Ice Cube's name up in lights on the Goodyear Blimp, donors were able to raise $25,000 for APCH in about two weeks.
In doing so, they also were able to pay homage to a famous lyric from Ice Cube's classic 1993 rap song "It Was A Good Day," in which the rapper describes one perfect day in South LA. The lyric in question: "Even saw the lights of the Goodyear Blimp / And it read 'Ice Cube's a pimp.'"
Of course, for a charity effort benefitting youth, the Goodyear Blimp message was a little more family-friendly on Monday, when Ice Cube and students from APCH gathered at the Goodyear Tire & Rubber Co. Blimp Base in Gardena, Calif., to see the lyric come to life.
"I knew this song had legs when we did it, and it's actually my most popular song," Ice Cube said. "I never knew that 20 years later, people would still be this interested in the song and the lyrics, and that the song would do something this special for some good kids."
Just moments earlier, the blimp had gone up in the air with messages like "Today Is A Good Day" and "Flying For A Good Cause -- A Place Called Home." Ice Cube beamed widely and waved from the field, as the blimp dipped low for an in-air photo op.
It was an almost-perfect recreation of the song lyrics. Almost.
"Goodyear decided that using the p-word was not necessarily in their best interests," said Jonathan Zeichner, executive director of APCH, while laughing. "The real message is about how today is a good day, and we're not going to quibble with that."
Zeichner was thrilled that six students from APCH were able to meet Ice Cube. The rapper hails from South LA -- formerly "South Central LA," though the name was officially changed in 2003 -- and is regarded as a hometown hero by some.
"This is the message to our kids: Go out there, make a success of yourself, come back and then contribute to the community," Zeichner told The Huffington Post. "Stay involved, and don't abandon the community that you came up with."
The plan to make the song become a reality started last summer, when close friends Jon Barco, Andy Dao, Bryan Denman and Michael Lopez, all of whom have backgrounds in advertising and describe themselves as diehard rap aficionados, came up with the idea for a charity campaign. The four were inspired by blogger Donovan Strain's calculation that Ice Cube's famed "Good Day" took place on Jan. 20, 1992.
"Surely, there must be thousands, even millions, of 'It Was a Good Day' enthusiasts out there who would love to see Ice Cube's Goodyear blimp fly the skies for a good cause," the group's Crowdhoster page explains. "So let's pay homage to this song by making January 20, 2014 the best day ever."
The men cast Dao's friend Joe Schulhoff in a Crowdhoster video, asking donors to give whatever they could to benefit a South LA charity and to give Goodyear a good reason to put Ice Cube's name in lights.
The campaign went live Jan. 6 and quickly gained momentum. Universal Pictures (which is currently promoting Ice Cube's film "Ride Along"), also caught wind of the effort, and the campaign got some air time on NBC's "Late Night With Jimmy Fallon." On the show, Ice Cube personally promised to help the campaign reach the fundraising goal of $25,000. The only thing that needed to fall into place was Goodyear's participation.
"Goodyear, it's up to you!" said Fallon.
"Do this before we call you Badyear," Ice Cube said on the show.
Goodyear confirmed soon afterward that the company could get the blimp off the ground for the good cause, and invited Ice Cube down to the blimp base in Gardena to meet some of the children who have benefitted from APCH.
Kamerie Gibson, a 16-year-old student from Dorsey High School in South LA, was one of six APCH students chosen to meet the rapper and ride on the blimp.
Gibson has to take a bus and a train to arrive at APCH every day after school, and has been a part of the community for six years. Thanks to ACPH, she's been able to take SAT prep classes, get a tutor and visit Washington, D.C. -- things she wouldn't have been able to do otherwise, she said. This year, Gibson plans to become a mentor to an elementary school student at APCH and visit Chicago.
Zeichner said APCH has a waiting list of about 300 young people, but Monday's fundraiser will help enroll more students.
Gibson admitted that before this event, she only knew Ice Cube from his films, not his music. But her father, an Ice Cube fan, gave her a crash course his discography, especially the song "It Was A Good Day."
"He put me up on game with Ice Cube and his music. He loves rap music," Gibson said about her father, who wasn't able to make it to the blimp base Monday because he couldn't get time off from his work as a gardener and maintenance man.
"It's old," Gibson said about the song. "But it represents days that we have in South Central -- every day is tough, but it's going to be OK."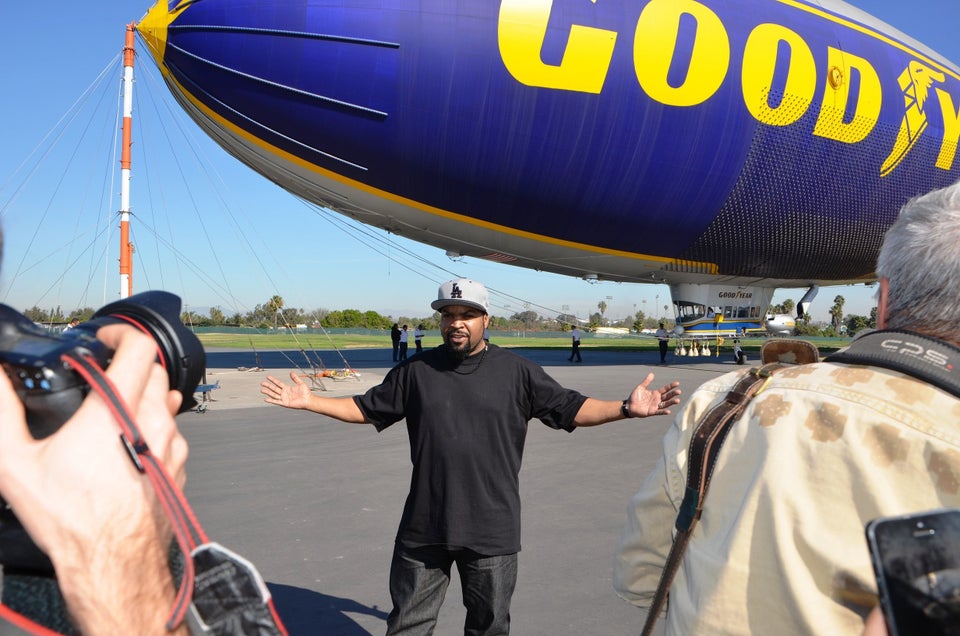 Ice Cube And Goodyear Team Up