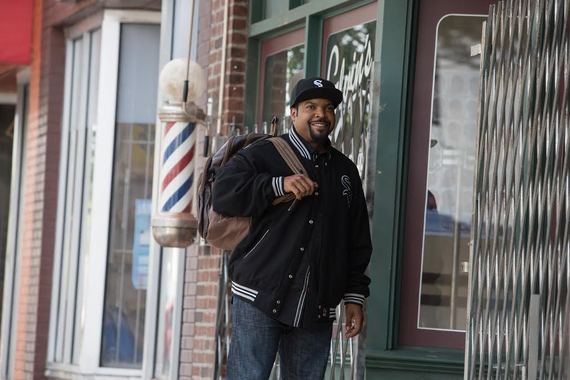 Rapper and movie star Ice Cube came out swinging in support of #BlackLivesMatter during his press junket for "Barbershop: The Next Cut." He said, "#BlackLivesMatter shows awareness. A lot of people compare black on black murder with police killing citizens. But there is no comparison. Citizen on citizen crime happens with every race. There is white on white crime, Chinese on Chinese crime, Japanese on Japanese crime. Everybody does crime on their own. The police and government killing citizens is a whole different matter. We should never get those lines blurred."
"Barbershop: The Next Cut" comes 12 years after the last "Barbershop" because the star "waited until he had something to say." He delivers a tough but humorous message to his black audience with this movie. The movie, which tells the story of a group of barbers and hairdressers who took proactive steps to end the violence in their communities in the face of government indifference, urges African Americans to fight for their communities despite experiencing many discouraging setbacks. He softens the sting of the message by having it delivered by a stellar cast of sexy, A list stars including Nicki Minaj, Common, Eve, Tyga, and Blackish's Anthony Anderson.
That is as political as he gets this election cycle. Although President Obama makes a "cameo appearance" in the film, Ice Cube hasn't yet endorsed any of the presidential candidates in the 2016 race stating flatly "all these candidates are lacking a bit." He reserved his harshest words for Donald Trump. He noted, "Trump is really all about Trump. I can't really seem him doing anything for the common man."
While the rapper sidestepped the controversy over the Academy snub of the $200 million blockbuster "Straight Outta Compton" about his hip hop group NWA, the entire press junket for "Barbershop" reflected a bigger problem for black filmmakers than the "OscarSoWhite controversy. While introducing the film at the Pearl Theatre in North Philadelphia, the star said, "We want to thank MGM and Warner Brothers for allowing us to bring this movie all over the country and deliver it to you guys face to face. When you got a movie like this with predominately black stars, sometimes you got to push a little extra to get people to understand how good it is. Not our people but all people. We think we got something that no matter what color or creed you are, you will be able to enjoy it."
His "Barbershop" co-star Deon Cole, who stars in Steve Carrell's Angie Tribeca and has a recurring role in the comedy hit "Blackish" as well as writing for "Conan," also enjoined the audience to promote the movie on social media and elsewhere. The Emmy nominated actor said, "You all go see this movie. You promise. They have a problem sometimes in Hollywood; they don't make movies for us because we don't support them. We have to support this. It's important. So we can have many other movies."
Cole is supporting "the pantsuit" otherwise known as Hillary Clinton, but saw valuable life lessons in the Trump candidacy. He observed, "If you don't learn anything else from Trump learn to believe in yourself. He shows the epitome if you believe, you can achieve. He believed he could be president and he is where he is now. Power is when the idea and the timing for that idea meet. Walla!"
Calling all HuffPost superfans!
Sign up for membership to become a founding member and help shape HuffPost's next chapter