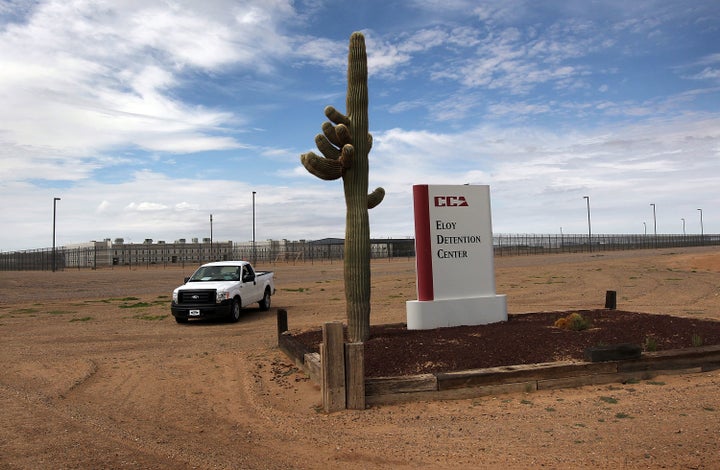 The federal government is failing to adequately inspect allegations of abuse in immigrant detention centers, according to a report released on Wednesday.
The new report, by immigrant rights organizations the National Immigrant Justice Center and the Detention Watch Network, is based on documents the groups obtained under the Freedom of Information Act after three years of litigation. The research suggests that Immigration and Customs Enforcement's approach to monitoring detention standards amounts to little more than filling out checklists and taking staff at their word that they will address problems.

"[T]he Obama administration has done little to improve oversight or gain control over the sprawling immigration detention system and the conditions approximately 34,000 immigrants face in custody every night," the report says.
In 2009, the Obama administration attempted to reform the way ICE monitored and investigated conditions in detention centers and allegations of abuse. The agency created an Office of Detention Oversight to carry out independent investigations, and established a program with 40 on-site detention monitors to ensure that ICE quickly addressed complaints.
But the report says the reforms didn't go far enough, partly because ICE continues to be the agency charged with monitoring compliance.
"The audits that are done at these facilities are done by ICE," Rep. Adam Smith (D-Wash.) said on a call with reporters to discuss the report's findings. "The conditions are set by ICE. Obviously, that's a conflict of interest."
Smith's district contains an immigrant detention center located in Tacoma, Washington, that is run as a for-profit enterprise by the GEO Group, a private prison contractor. He has submitted legislation to create a separate, independent panel that would oversee allegations of misconduct in detention centers and would include immigrant rights activists.
Dani Bennett, a spokeswoman for ICE, defended the agency's review process in a statement to The Huffington Post.
"U.S. Immigration and Customs Enforcement (ICE) will review this report," she wrote. "ICE remains committed to ensuring that all individuals in our custody are held and treated in a safe, secure and humane manner, and that they have access to legal counsel, visitation, recreation, and quality medical, mental, health and dental care."
The authors of the report say, however, that the current review process failed to flag cases of abuse even when the misconduct was reported in the national media or pursued by the courts.
ICE officials conducting Enforcement and Removal Operations inspections at Eloy Detention Center in Arizona, for example, noted several complaints of sexual assault in a report. In all cases, ICE ultimately dismissed the complaints as unsubstantiated, according to the report the immigrant rights organizations released on Wednesday.
But in 2009, Tanya Guzman-Martinez, a transgender woman detained in an all-male pod at Eloy, said she was sexually assaulted by a guard employed by Corrections Corporation of America, the private prison company that runs the facility for a profit. CCA fired the guard, Justin Manford, and he was convicted of unlawful sexual contact by an Arizona court the following year.
ICE did not include an ERO report for 2010 in the documents it submitted to immigrant rights groups after the lawsuit, the organizations say.
"It's unclear if there was no inspection that year, or if ICE failed to comply with the court order in this litigation," said Mary Small, policy director for the Detention Watch Network.
Calling all HuffPost superfans!
Sign up for membership to become a founding member and help shape HuffPost's next chapter