A 44-year-old Salvadoran national died in Immigration and Customs Enforcement custody on Saturday, the 10th detainee to die in ICE custody since this fiscal year began Oct. 1. That's the same number who died in the entire 2016 fiscal year, and the most since 2011.
Carlos Mejía Bonilla, 44, was admitted to Jersey City Medical Center's Intensive Care Unit with gastrointestinal bleeding on June 8. He died two days later, according to a statement ICE released on Tuesday.
Mejía Bonilla first crossed into the United States in 1993. He was arrested by Border Patrol agents, but freed on an order of recognizance, according to ICE. He had been living in the New York area in recent years, where ICE detained him on April 1. He had two convictions on his record for driving while intoxicated ― in 2009 and in 2014.
The number of deaths in ICE custody varies from year to year, influenced somewhat by the total number of people detained. Some deaths are the result of medical conditions that happened prior to detention.
"ICE takes the health and well-being of the individuals in our custody extremely seriously and we provide extensive medical, dental and mental health care to ensure their health and safety to the best of our ability," ICE spokeswoman Gillian Christensen said in a statement.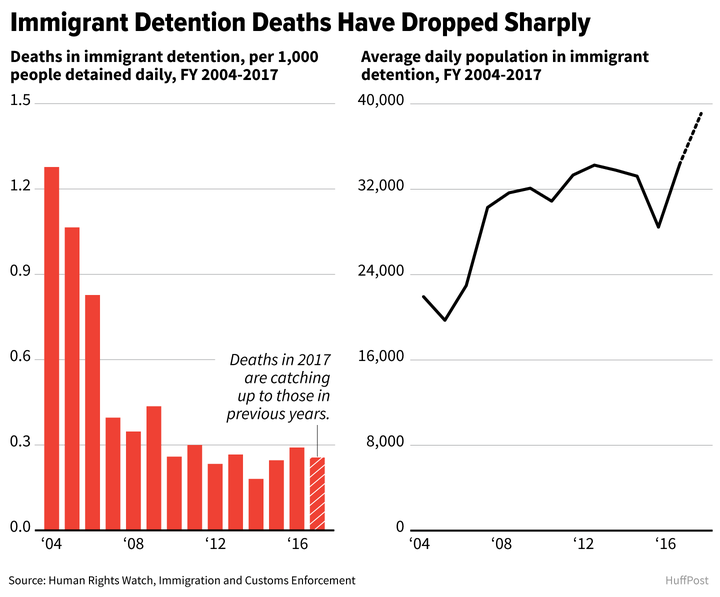 Human rights groups, however, have criticized both the medical treatment and mental health services available to immigrant detainees. Two of the 10 deaths this fiscal year were suicides. A third immigrant detainee attempted suicide at at family detention center in Texas last month in an attempt to free her two children. They were later granted asylum.  
Deaths in custody are increasingly a concern as President Donald Trump seeks to significantly expand immigrant detention, including for families, and to potentially roll back Obama-era standards meant to keep detainees safer while in custody.
Grace Meng, an immigration researcher with Human Rights Watch, called the rising number of deaths "frankly terrifying," and said ICE should publicly release the results of its investigations into detainee deaths.
"It's really upsetting to see ICE send out these releases where there's so little information about the person," Meng told HuffPost. "At a bare minimum, we should know how and why these people died. Sometimes people die in custody for reasons that are not preventable ― that's just something that happens. But if ICE thinks they received good care, then they should release these publicly so we can see what kind of care they received."
Congress requires ICE to maintain the capacity to lock up roughly 34,000 immigrants facing deportation on a daily basis. But the agency had already begun to exceed that figure in the final months of the Obama administration, when the number of detained immigrants swelled to more than 40,000. The average daily detained population for this fiscal year, which includes more than five months of Trump's presidency, stands at more than 39,000.
The Trump administration plans to keep boosting that figure. ICE's 2018 budget request includes $4.9 billion to expand its immigrant detention capacity to a total of 51,379 beds, including 2,500 reserved for mothers locked up with their children.
Carl Takei, an attorney with the American Civil Liberties Union's National Prison Project, said three factors make him concerned: "The increasing flow of people into ICE custody, the forthcoming changes to detention standards, and, related to that, a clear message sent from headquarters that going forward the conditions in detention are not a priority.
"That message is a deadly message," Takei said.
Deaths in ICE custody haven't always correlated with the number of people detained, according to government figures. In 2004, 28 people died in detention, while the average daily population of detainees was about 22,000. The lowest number of deaths in a fiscal year was in 2014, when there were about 33,000 people detained per day and six deaths.
ICE implemented detention reforms in the 2009 fiscal year, when there were 14 deaths. The number has not exceeded 10 since that period.
Calling all HuffPost superfans!
Sign up for membership to become a founding member and help shape HuffPost's next chapter
BEFORE YOU GO
PHOTO GALLERY
How Donald Trump Talks About Undocumented Immigrants