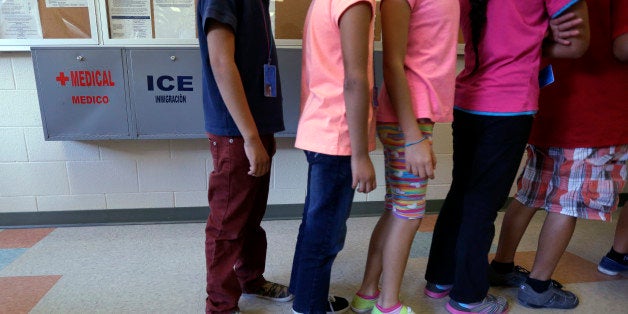 ICE confirmed in an email that Director Sarah Saldaña had paid an unpublicized visit to the Karnes County Residential Center, but it did not comment on reports that mothers in the facility are protesting to demand that they and their children be released to pursue asylum claims from outside detention.
"At the start of her tenure at ICE, Director Saldaña announced her intention to visit all ICE residential and detention facilities as her schedule allows," ICE said in an emailed statement. "This long-planned tour of the Karnes facility was one such visit."
Saldaña toured the facility and visited informally with staff and detainees, ICE said. She found that the center was running smoothly.
"Director Saldaña has every confidence in the staff and contractors at the Karnes facility to maintain a healthy and safe environment for residents in which issues and concerns are addressed quickly and appropriately as they arise," the statement said.
The account contrasts sharply with recent complaints from mothers and their children in the Karnes detention center. The detainees want to be released on bond, and allege that guards have put at least three women into a medical isolation ward with their children as punishment for protesting their detentions.
The 530-bed Karnes facility is one of three family detention centers that hold women and children who have crossed illegally into the United States as family units. The Obama administration has placed tight limits on family detention since 2009, but expanded the practice once more following last year's border crisis, arguing that it would act as a deterrent. Lawyers and activists, on the other hand, have pressed the administration to release asylum applicants and allow them to pursue their claims outside detention. It is a common practice to release detainees on bond if they are not considered flight risks or threats to public safety.
Delmi Cruz, a 37-year-old woman from Honduras who has been locked up at the Karnes detention center with her 11-year-old son since September, told The Huffington Post that she tried to speak to Saldaña on Friday, but was only able to recite her own name during a brief encounter.
"I wanted to talk to her," Cruz told HuffPost by phone. "So that she could see what ICE is really doing."
Cruz said she took part in a hunger strike launched by detainees as Easter approached. Some 78 women signed their names to an open letter announcing the protest, arguing that they should be allowed to be released on bond and that the continued detention had traumatized their children. According to the letter, many of its signatories have already passed a "credible fear" interview. Passing this interview is a key first step in applying for asylum, as it establishes that a migrant faces a realistic threat of persecution if deported back to his or her home country.
Cruz alleges that guards placed her and her 11-year-old son in isolation in a darkened room for a day with a bed and an open toilet as punishment for participating in the hunger strike.
While locked in that room, Cruz says she and her son were too embarrassed to use the open toilet in front of one another. Kenia Galeano, a detainee who was released from the Karnes detention center two weeks ago, also alleges that guards put her and her 2-year-old child in isolation and threatened to take her son away for participating in the first hunger strike.
"We came here looking for help," Cruz said. "But they treat us like criminals."
Despite the alleged mistreatment, Cruz took part in a second, more modest hunger strike last week. The 10 women who participated vowed to take only one meal a day and refused to send their children to the detention center's school or participate in voluntary cleaning duties for which they are paid $3 per day.
ICE has previously said that it does not have solitary confinement facilities at the Karnes center, and that it has not placed any detainees in isolation.
Many of the women and children who streamed across the border during a spike of illegal crossings from the violence-plagued Central American countries of El Salvador, Guatemala and Honduras have been permitted to pursue asylum claims without being detained.
Cruz's case, however, has several complications, according to her attorney, Michael Cooley.
She originally migrated to the United States in 2007, but was deported. She returned later that year and settled in Los Angeles, California, for nearly eight years. Her first-born son remained in Honduras with his grandmother, while Cruz had a second child in the United States who is a U.S. citizen.
Last year, Cruz began to fear for the safety of her son in Honduras, who she says faced threats to join a gang. Gang violence is a major problem driving migration from the country, which has the world's highest homicide rate.
Cruz left the U.S. to go back to Honduras in order to cross the border again with her older son. She and her son were among the unprecedented 68,000 mothers and children who crossed illegally into the United States last year as family units, the vast majority of whom were fleeing violence in their home countries and hoping to find a way to remain in the United States.
Cruz asked for asylum for herself and her son, but because she had already entered illegally into the United States once without pursuing an asylum claim, Cooley says she can only apply for a process called "withholding of removal." This status prohibits the United States from sending someone back to a country where he or she may face persecution.
Though Cooley says Cruz passed her "reasonable fear" interview -- like a "credible fear" interview, a major step toward establishing a withholding of removal claim -- the Department of Homeland Security has refused to set a bond for her because she has been deported once before.
"The government says that she's not even eligible to be considered for release on bond, so she's stranded there in detention with her child," Cooley told HuffPost. "What's becoming abundantly clear is that there's no mechanism in place to deal with this."
U.S. Rep. Hank Johnson (D-Ga.) grilled Saldaña last week over allegations of mistreatment of the protesting women during a hearing before the House Judiciary Committee. Saldaña said she was unaware of the allegations, but if they were true, they would violate ICE standards for how people in family detention should be treated.
"Congressman, if that's a fact, that disturbs me greatly, and I'm happy to visit with you regarding a specific instance," Saldaña said at the hearing.
"The Karnes County Residential Center provides high quality care in a safe, clean, and family friendly environment, and onsite U.S. Immigration and Customs Enforcement (ICE) personnel provide direct oversight to ensure compliance with ICE's Family Residential Standards," Paez said.
Popular in the Community