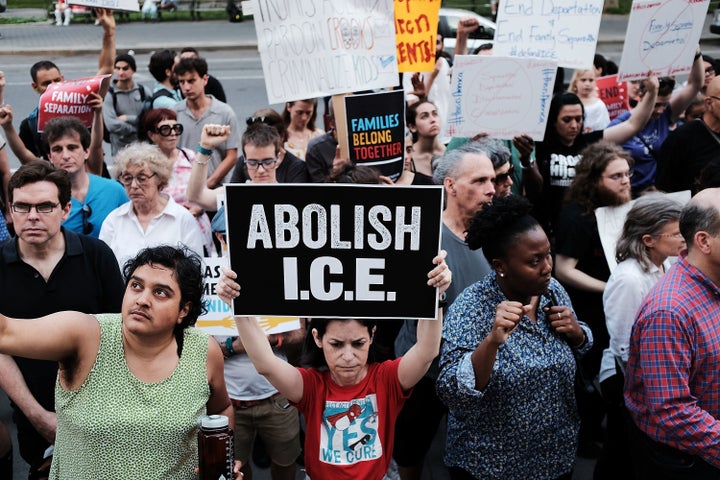 Domestic abusers are known to be crafty, finding inventive ways to exert power and control over their victims. They use smart home gadgets to spy on their partners. They post revenge porn online. They rack up debt in their victims' names. And as a recent incident in North Carolina demonstrates, abusers now have another powerful tool in their arsenal: Immigration and Customs Enforcement agents.
On July 9, ICE agents arrested an undocumented woman and her 16-year-old son at a courthouse in Charlotte after they appeared at a domestic violence hearing.
The woman, who is being identified only as Maria, is living in a domestic violence shelter and has a protective order against her ex. But that morning, she was in court as a defendant, facing what her lawyer described as "bogus" retaliatory charges brought by her ex after she left him.
Those charges have since been thrown out, but they put Maria in ICE's crosshairs. Now, she faces possible deportation.
Advocates say her case sends a chilling message to undocumented victims that abusers can essentially wield the immigration system as a weapon against them, and that ICE will be more than willing to help.
"ICE is effectively partnering with abusers to keep their victims from seeking help from law enforcement and the judicial system," said Kim Gandy, president of the National Network to End Domestic Violence.
Maria's arrest comes during a period of heightened immigration enforcement that has undocumented victims of domestic violence laying low. As deportations ramp up across the country, victims are trapped in a Catch-22: Ask for help and risk deportation, or stay with a violent partner and risk their lives. Many are afraid to contact police, pursue civil or criminal cases, or go to court for any reason. Advocates say abusers use this to their advantage, threatening to turn victims over to immigration officials and filing frivolous complaints to get them in trouble.
Maria, who is originally from Colombia, legally entered the U.S. in August 2016 but overstayed her visa.
In January of this year, Maria made the difficult decision to call police for help, her public defender, Herman Little, told HuffPost. According to Little, Maria's ex-fiancé had beaten her, and when her son, then 15, had stepped in to stop him, the ex beat him too, injuring his arms and face.
"He was a brave young man to try to protect his mom from a grown man," Little said.
Maria's ex was arrested and charged with assault on the teenager. Maria fled to a domestic violence shelter with her children.
Nine days later, she was due in court to get a temporary protective order against her ex. That same day, her ex told authorities he wanted to press charges against Maria for allegedly assaulting him. Experts in domestic violence say it's a common tactic for abusers to bring charges against victims. He later brought more charges, claiming that Maria had stolen items from his house. According to Little, the "stolen" items were personal belongings that she took when she fled to the shelter, like the baby's crib.
"He used the criminal justice system as his bully pulpit," Little said. The charges against Maria were dismissed by the district attorney's office on Tuesday, he added. An attorney for the ex-fiancé did not immediately respond to a request for comment.
On July 9, Maria and her son appeared at the Mecklenburg County courthouse to attend two hearings ― one for the charges against Maria and one for the charges against her ex involving her son. But inside the courthouse, plainclothes ICE agents arrested the mother and son and whisked them off to an ICE office, leaving behind Maria's 2-year-old child, who was being looked after at the court day care.
It is unclear how ICE knew Maria was undocumented and would be in court on July 9, but Little recalls seeing her ex talking on the phone before the agents showed up. He suspects her ex called them.
At a rally on Friday in Charlotte, Maria described the arrest as "one of the most humiliating and embarrassing experiences I've ever endured" and said she was terrified about being separated from her 2-year-old.
In an email to HuffPost, a spokesman for ICE, Bryan Cox, defended the decision to arrest Maria, saying the criminal charges against her prompted ICE's actions.
"This person was in court as the defendant facing criminal charges themselves, not as a plaintiff," Cox wrote. "You'll have to ask local authorities why those charges were filed as ICE cannot speak to charges filed by another entity, but this fact is not in dispute."
He did not explain why Maria's son, who was in court as a victim in a pending domestic violence case against her ex-partner, was also arrested.
Archi Pyati, chief of policy at the Tahirih Justice Center, a Virginia-based nonprofit that works with immigrant women and girls who have survived gender-based violence, said ICE's actions demonstrate "this administration's willful blindness towards the realities of domestic violence and how they play out."
Pyati noted this is not the first instance of ICE agents targeting domestic violence victims at court appearances. In February 2017, an undocumented woman was arrested while seeking a domestic violence protective order against her boyfriend.
In another case, ICE agents allegedly threatened to deport a domestic violence victim with an open U visa application ― which is intended to protect victims of crime from deportation after they come forward to work with law enforcement ― unless her estranged husband turned himself over to federal immigration agents. The woman has lived in Wisconsin for 20 years and does not know where her estranged husband is, according to a statement from Voces de la Frontera, a Milwaukee immigration rights organization.
Wilmarie Santos, a bilingual advocate who takes calls for the National Domestic Violence Hotline, said a growing number of callers are reporting that their abusers are using their immigration status as a way to control and psychologically torment them. She described one caller who said her abuser threatened to hurt himself and tell authorities that she did it, and another who said her abuser threatened to falsely claim she'd kidnapped the children so she would be arrested.
"They basically comply with whatever is demanded of them," Santos said. "Right now, contacting the police or getting help is not really an option for women [who are undocumented]. It's terrifying actually ― their options are very limited and trust is a big deal for any victim of abuse, and on top of this you have this extra barrier."
"The degree of fear and anxiety is at a level I've never experienced before," said Monica Trejo, the director of phone service at the hotline, where she has worked for 12 years. "There's definitely an increase in hopelessness."
Maria is now in deportation proceedings, which her immigration lawyer, Lisa Diefenderfer, said they will fight.
"Had ICE done any minimal investigating they would have quickly discovered that the charges against her were retaliatory and going to be dismissed. She is not a danger to our community, she is a victim of domestic violence," Diefenderfer said. "This completely changes her life."
This story has been updated to reflect that the charges brought against Maria by her ex were later dismissed.
Popular in the Community