Immigration and Customs Enforcement officers tricked several people in Atlanta into opening their doors so they could enter without a search warrant and detain people slated for deportation in a series of controversial raids earlier this month, immigrants and lawyers told The Huffington Post.
The Southern Poverty Law Center is investigating what it describes as possible violations of the Fourth Amendment's guarantee against illegal search and seizure. ICE agents need consent to enter a home unless they've obtained a search warrant.
"Our review of the cases suggests that ICE used tactics during the raids that potentially are illegal and violate the constitution and that in several of these cases it appears that proper consent was not obtained to enter the houses," SPLC attorney Eunice Cho wrote in an email to HuffPost.
René Morales says he didn't answer when ICE agents banged on his door around 7 a.m. on Jan. 2 looking for his sister, Rosa. Both siblings were undocumented immigrants, but Morales, 30, had obtained a temporary reprieve from deportation, known as Deferred Action for Childhood Arrivals. His sister hadn't. She and her three children fled their home country of Guatemala in 2014 after witnessing a homicide and fearing retribution. Tens of thousands of Central American migrants have entered the U.S. over the last two years, often asking for asylum or other forms of deportation relief.
Morales left the house a few hours after the ICE agents appeared to have left. When he returned, he says, two agents approached him and told him he would be arrested for obstruction of justice if he refused to open the door and let them search his house for a criminal named Miguel Soto -- a man Morales said he didn't know.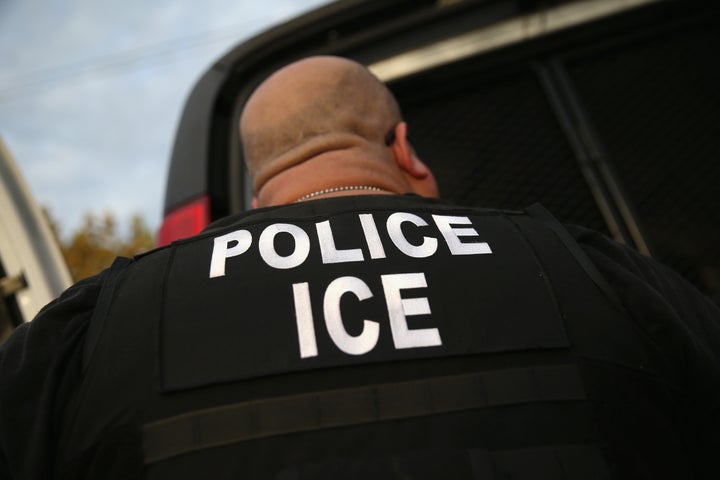 Once inside the home, the agents instead detained Rosa, along with her 17-year-old son and 11-year-old daughter. They did not detain Rosa's oldest daughter, 19, whose child was born in the U.S.
"They weren't looking for any Miguel Soto," Morales said. "They were looking for my family."
The family's attorney, Shirley Zambrano, told HuffPost she thought Rosa wouldn't be detained because she had obtained an order of supervision valid through June. ICE often issues such orders, which allow immigrants facing deportation to live and work legally in the U.S. if they regularly check in with authorities, as a form of humanitarian relief.
"I was very much in shock when they called me because she was on an order of supervision," Zambrano said. "ICE was not supposed to execute that order."
In another case, ICE agents knocked on the door of Susana Arévalo's parents, Arévalo told HuffPost last week from the South Texas Family Residential Center in Dilley. Arévalo said agents told her they were taking her to do paperwork, but said later that her asylum application had been rejected. They sent her and her two children to the family detention center to be deported to Honduras without allowing her to speak to her attorney.
Bryan Cox, a spokesman for ICE, said the agency doesn't discuss its tactics as a matter of policy. But in an email, he also disputed that Georgia agents had violated the law, writing that everyone detained "was the subject of a targeted enforcement action based upon a final order of removal issued by an immigration judge and the operation was conducted in accordance with ICE policy."
Lawyers and activists, however, say several other immigrants detained in the Atlanta area were deceived by ICE during the raids that began earlier this month.
"We have a hotline here and we have received a bunch of complaints about how ICE has lied to people to get inside their house," said Adelina Nicholls, the executive director of the Georgia Latino Alliance for Human Rights.
Charles Kuck, an Atlanta attorney who has worked on immigration cases for more than two decades, said ICE agents showed one of his clients a picture of a black man who they said was a criminal they needed help finding. Then agents detained his client. Other lawyers in the area encountered the same thing, Kuck said.
"The three cases that I'm aware of -- in every instance, they showed this image of some terrible guy they said they were looking for and they used that to get into the house," Kuck said. "One of them was my client and two of them were clients of other lawyers."
"This is nothing new," he added. "They've used this tactic for decades to get around the warrant."
Popular in the Community