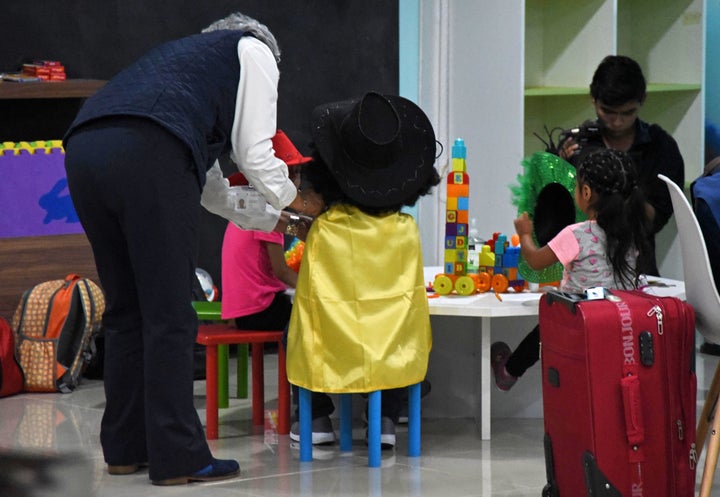 When Karla, a pseudonym HuffPost is using to protect the child's identity, arrived in Guatemala, no one came to pick her up at a reunification center near the airport.
Instead of reuniting with her deported father, whom she hadn't seen since they crossed the U.S. border together six months ago, the child spent yet another night in a government-run shelter, according to Kids In Need of Defense, an organization helping the U.S. government to reunify families.
"Just imagining this 4-year-old going back [home] after months and months of separation ... and then her dad didn't show up after all of this," said Lisa Frydman, KIND's director of regional and policy initiatives. "The trauma level is unimaginable."
Legal and immigration experts say ICE is sending children back to Central America without properly notifying parents of their travel plans. The Department of Justice recently said ICE is only handling only "a relatively small number" of repatriation cases, but advocates say even a handful of situations in which parents aren't given the proper notice to pick up their children is a major cause for concern.
"This case was an example of a complete failure," Frydman said of Karla and her father. "It's totally preventable and completely in the U.S. government's control."
An ICE representative told HuffPost she could not comment on the topic "due to pending litigation," a reference to the American Civil Liberties Union's lawsuit against the agency.
"There's no reason for children and parents to be subjected to this additional trauma on top of everything that they've already suffered."
According to the latest government numbers, there are still 219 kids in the Office of Refugee Resettlement's custody whose parents have been deported as a result of the Trump administration's zero tolerance policy. The ACLU formed a steering committee, made up of four immigration and legal groups, to contact the deported parents and find out whether they want their children to stay in the U.S. and pursue asylum or be sent back to Central America for reunification.
Lee Gelernt, the lead lawyer in the ACLU case, said the heartbreaking decision forces parents to choose between a child's safety and permanent separation, and that roughly a third have opted to send their kids back home.
He said two government agencies, ICE and The U.S. Department of Health and Human Services, have been arranging travel for children returning to Central America. And although he said HHS has done a decent job of communicating with the steering committee members and kids' parents, ICE has not been forthcoming with information.
"The government is often not taking even the most minimal steps to ensure the reunification is being done without inflicting additional emotional damage on the families," he said. "I think every additional night a child spends in a shelter causes more damage."
Frydman said ICE gives ORR staff a list of kids leaving the U.S. so that case workers can contact parents, but that it lacks pertinent details, such as a travel itineraries, and is often sent only a few hours before a child is landing in Central America. She said ICE does not communicate directly with members of the steering committee.
As a result, organizations have been scrambling to piece together children's travel plans themselves, and to share those details with their families.
In Karla's case, Frydman saw the child's name on the government list late Monday night, without an itinerary. KIND had been monitoring the 4-year-old's case closely, and Frydman immediately asked HHS if they had information about whether the child would be boarding a flight and when.
The next morning, the government agency confirmed with ICE that Karla was currently in the air, and Frydman asked KIND's partner agency in Guatemala to notify the child's parents that their 4-year-old would be landing in 20 minutes. Unfortunately, her father lives more than eight hours from Guatemala City, and it was impossible for him to arrive at the airport in time — a crushing realization.
Nan Schivone, the legal director for migrant rights organization Justice in Motion and a member of the steering committee, said she knows of "several instances" in which parents were not properly notified by ICE about their child's arrival.
"The parents have been kind of further traumatized by the uneven information and last-minute information from the government," she said. "They are absolutely willing to drop everything to get their kids, and they are extremely distressed."
In mid-September, Schivone said, a government employee or shelter worker gave one family just 24 hours notice before their 10-year-old child would be arriving in Honduras, and didn't explain where or how they could pick up their son.
This particular family lived more than seven hours from the country's main airport, according to Schivone, and couldn't make the necessary travel arrangements to meet their child upon his arrival. Despite finally being home, the 10-year-old was forced to spend yet another night in a shelter.
Schivone said most parents need at least 48 hours to commute to airports, since they often live in remote areas and may have to plan journeys that involve complicated transportation.
Gelernt said ICE could easily improve its notification process by sending the steering committee an email with details about the trip in a timely manner, which members could then pass along to parents.
"We are talking about basic practical steps to give us and the families notice," he said, adding that he recently raised the issue with U.S. District Judge Dana Sabraw, who is handling the ACLU's case. "There's no reason for children and parents to be subjected to this additional trauma on top of everything that they've already suffered. "
Michelle Brané, who is part of the steering committee and the director of migrant rights and justice at the Women's Refugee Commission, said the logistical chaos is yet another example of ICE's indifference towards a mess of the government's own making.
"The government has been dragging [its] feet every step out of the way and acting like reunification is a huge favor they are doing for these families," she said. "The government separated these families. This is not them stepping in in some emergency or crisis to help out."
CORRECTION: A previous version of this article identified Nan Schivone as the legal manager of Justice in Motion. She is the legal director.
Popular in the Community