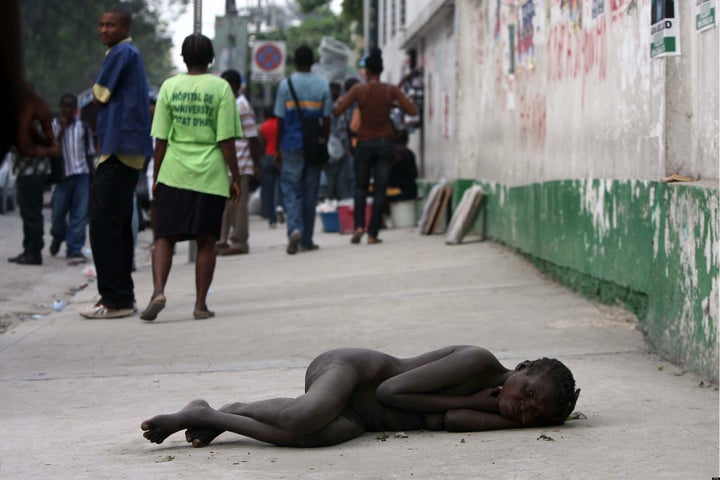 The U.S. Bureau of Immigration and Customs Enforcement, known by its acronym ICE, recently announced that it will resume deportations to Haiti this January, despite the country's raging cholera epidemic and recent election-related political violence. The agency's timing could not be worse.
Last January, the Department of Homeland Security halted deportations to Haiti after the country was slammed by a massive earthquake that killed an estimated 300,000 people and left approximately 1 million homeless. By suspending deportation flights, the Obama administration lightened the Haitian government's workload, allowing it to allocate resources to more pressing issues than processing deportees from the U.S.
After the earthquake, ICE promised to "monitor the situation" in Haiti, presumably to assess an appropriate time to resume deportations. For several glaring reasons, it's hard to imagine a more inappropriate moment than the present to begin re-detaining and expelling Haitian nationals.
First, Haiti is struggling to contain a deadly cholera epidemic. The rising cholera death toll has passed 2,700. Nearly 130,000 men, women, and children have been infected.
To make matters worse, the Haitian government has consistently incarcerated certain deportees from the U.S. in overcrowded police station holding cells, and, at times, prisons, where the basic hygiene necessary to prevent cholera is virtually impossible to maintain. Detainees urinate and defecate in buckets and paper bags and frequently have no soap or toilet paper. Overcrowding and lack of personal hygiene materials make the Haitian detention system an ideal breeding ground for cholera. As would be expected, the outbreak has already reached the country's prisons.
As if the recent onset of a deadly epidemic was not enough, there is also an ongoing violent political crisis in Haiti. Irregularities in the November 28th parliamentary and presidential election have led to widespread protests throughout the country and a delay in the publication of first-round results. The capital, Port-au-Prince, and several provincial capitals have been shut down by tire-burning protesters. When key commercial centers freeze up, gas and food prices rise and tensions mount. Moreover, there is a concern that the final election results will not be announced until after the current government's mandate ends, adding to the potential instability on the horizon.
Despite the recent onset of these two crises, ICE has quietly announced that it needs to restart deportations for Haitians with criminal convictions or be forced to continue to release them into the community. ICE, however, has numerous, adequate tools to deal with situations where deportations are suspended for long periods of time. For example, ICE officials can, where appropriate, require released individuals to check-in regularly with ICE agents, to post bond, and, in certain circumstances, to wear electronic monitoring bracelets. ICE has been using such tools with Haitian nationals for the past year and with Cuban and Vietnamese nationals for even longer. But the agency has yet to articulate a reason why it is so urgent that they abandon these practices in favor of resuming deportations at such a fragile period in Haiti's post-earthquake recovery.
The next two months are critical, both in terms of the cholera epidemic and the political crisis in Haiti. ICE should immediately reconsider its ill-advised decision to resume deportations until Haiti has a handle on its cholera woes and a resolution of the recent electoral debacle emerges. The decision to remove individuals to Haiti now is bad for both the Haitian government, which is already resource-strapped, and for the deportees, who will surely face deadly disease and violence on their return.
Nearly twelve months ago, Haiti was crippled by a devastating earthquake. Does the Obama administration want to mark the anniversary of that disaster by resuming the deportation of Haitians to a country wracked by cholera and political violence? Or, does it want to give Haiti a moment of respite, however modest? The wise and humane response is to continue the suspension of deportations.
The author recently returned from a six-week trip to Haiti.
Related
Popular in the Community