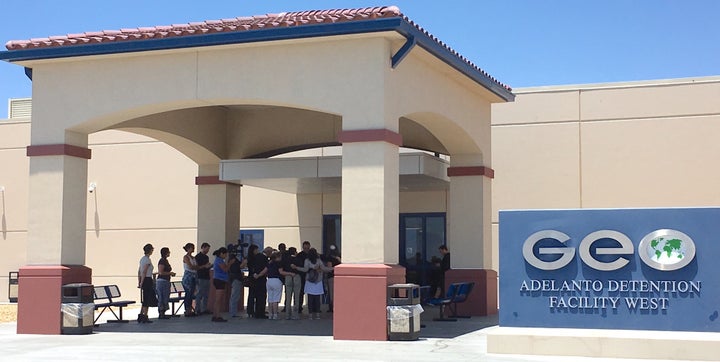 To commemorate World Refugee Day (Tuesday, June 20th), Community Initiatives for Visiting Immigrants in Confinement (CIVIC) and over 60 faith leaders and attorneys made a pilgrimage to the Adelanto Detention Facility from Los Angeles to visit with our friends and clients, many of whom had been on a hunger strike the week prior. ICE and GEO Group denied all our visits. In response to a peaceful 5-minute interfaith prayer outside the facility, ICE and GEO Group then put the entire facility on lockdown.
Attorneys and family members who were not part of the pilgrimage and who had already been granted entrance to the facility were expelled from the facility by ICE and GEO Group in response to our prayer. This included young children clinging to their toys. They had driven for hours to visits their parents.
This comes just days after ICE and GEO Group admitted to violating the First Amendment rights of 9 men detained at Adelanto who were brutally assaulted and attacked with pepper spray. The 9 men, who were later joined by 33 women, went on hunger strike at Adelanto to protest substandard medical care, unjustly high immigration bonds, lack of basic respect, and lack of opportunities to connect with family.
When we see abuse in detention, it is our moral obligation to speak up and stand in solidarity with our friends in detention. By denying us access after a peaceful and short prayer, ICE has tried to make us choose between our First Amendment rights and visiting our friends and clients in immigration detention. This is not a choice our government can legally ask us to make.
As an attorney in California, I also was denied visits with 14 of my clients on Tuesday who were detained at the Adelanto Detention Facility. I had received email approval from ICE in advance of Tuesday for four of my legal assistants to conduct legal visits at Adelanto with me. According to the Adelanto Detention Facility rules, attorneys are allowed 24 hour access to their clients in immigration detention. And federal standards require attorneys to have access to their clients seven days a week without pre-approval; only legal assistants require pre-approval by ICE. To visit at Adelanto through regular visitation hours as a family member, friend, or community member does not require pre-approval from ICE or GEO Group.
On Tuesday, we were provided with no reason for why our visits were being denied. The warden of the Adelanto Detention Facility told us that ICE had denied our visits due to "the circumstances." However, neither ICE nor GEO Group would define what were the circumstances.
Could the visitation denials be retaliation for CIVIC's role in passing a new California law just days before? The new law bans immigration detention expansion and ensures that our state Attorney General can monitor immigration detention facilities. There were already construction vehicles on the Adelanto Detention Facility's property, and it looked like the facility was attempting to build an expansion. The new California law could prevent this expansion. The facility's most recent expansion in 2015 resulted in $21 million in additional annualized revenue for GEO Group and its shareholders. While we are not certain why ICE and GEO Group locked us out of the facility, the timing is suspicious.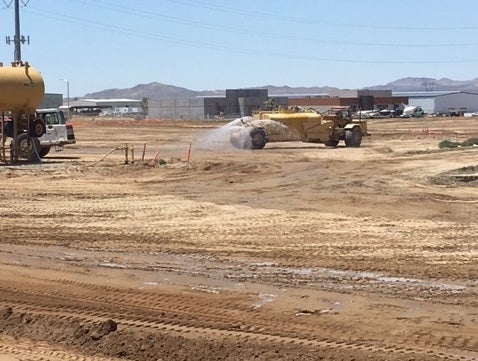 On other occasions, GEO and ICE have arbitrarily and without valid grounds denied access to attorneys and visitor volunteers associated with CIVIC in retaliation for peaceful protest activities and public statements protected by the First Amendment.
In November 2015, attorneys and legal assistants were denied visits with people on hunger strike.
In May 2015, GEO Group and ICE prevented me from visiting my clients after I lawfully exercised my First Amendment rights.
In August 2013, CIVIC visitor volunteers and I were barred from visiting for over a month at the Adelanto Detention Facility in retaliation again for exercising our First Amendment rights. The ACLU of SoCal and Sidley Austin LLP raised concerns about the 2013 and 2015 denials in a letter dated August 24, 2015, which to this day neither GEO nor ICE has responded to.
Earlier this year, in January 2017, CIVIC filed a federal civil rights complaint about a general increase in family and community visitation denials at Adelanto.
In March 2017, CIVIC filed a federal civil rights complaint, detailing access denials and restrictions in violation of federal policy at Adelanto and 13 other immigration detention facilities in Arizona, California, Virginia, Florida, Georgia, Pennsylvania, and Texas.
While CIVIC and allies remain concerned about general visitation denials and these past First Amendment violations, Tuesday's visitation denials marked a disturbing new Constitutional violation. ICE and GEO Group's retaliation against the faith leaders violated their fundamental right to free exercise of religion.
This denial of freedom of religion mirrors the type of abuse happening inside the Adelanto Detention Facility on a regular basis. Women who went on hunger strike last week explain that they often try to pray in circles, holding each other's hands. But the GEO guards physically break up their prayer circles and threaten them with "the hole," also known as solitary confinement. ICE has allowed this behavior by GEO Group to go unchecked, despite complaints by people in immigration detention directly to ICE.
"When our prayers are stopped by GEO Group, it makes me feel like praying is something bad," said one woman who was on hunger strike last week. "But what I say to them is that if being put in the hole is for God, then take me."