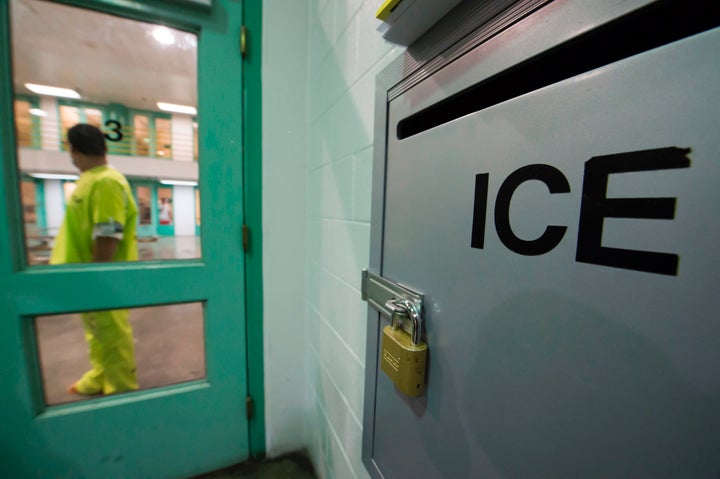 If there's one thing immigration authorities have proven this year, it's that no space is off-limits for them to terrorize immigrants. At courthouses, in a hospital, while dropping off your daughter at school.
The most recent example, however, is the media.
According to Baltazar "Rosas" Aburto Gutierrez, a Mexican immigrant living in Washington state, U.S. Immigration and Customs Enforcement (ICE) tracked him down based on a story published in the local press about his girlfriend's arrest and consequent detention. Aburto Gutierrez recounted what happened to The Seattle Times.
"You are Rosas," said the ICE agent who stopped him at a parking lot on his way to get breakfast. "You are the one from the newspaper."
That last comment, had it been uttered in a different context, would sound benign, even inviting. Here, it is wielded like a weapon.
The subtext is clear: No place is safe. We are watching you.
What happened to Aburto Gutierrez, who is now detained at the Northwest Detention Center, is bone-chilling. But it isn't new.
...we fear these authoritarian tactics will continue to get worse."
Because it happened to me. After I was released from immigrant prison on a $10,000 bond, I continued to advocate against the system. I spoke at press conferences outside of the Adelanto Detention Facility, met with Congressional representatives and gave public comment at local government meetings. For this work, I was targeted and re-detained, although I never violated the terms of my immigration bond.
This is a moment that journalists and immigrant rights organizations need to reckon with, because we fear these authoritarian tactics will continue to get worse.
Immigrants run many risks in having their story told. In some cases, considerable media attention helps galvanize the public's support in the hopes of shielding the individual or individuals from government authorities. But what about those people whose cases don't garner as much attention? What about those people who have already been isolated from their families and communities?
We see this unfold every day across the hundreds of immigrant prisons in the country.
The U.S. immigration prison system is built on a culture of secrecy, which often leads to impunity. People who are undocumented or at risk for detention who dare to speak up and demand that they be treated fairly are often retaliated against and revictimized.
And yet, we continue to come forward with our stories. Why? Because we know that the media has the ability to expose the inhumane conditions inside these jails and the power to hold the government accountable for wrongdoing.
We've seen recently how this can have a positive impact. Community Initiatives for Visiting Immigrants in Confinement's (CIVIC) storytelling platform IMM Print published a letter signed by 27 women at the West County Detention Facility in California who detailed their mistreatment at the hands of guards. Thanks to a series of pieces by the San Francisco Chronicle drawing attention to their complaint, politicians have now called for a federal investigation into the facility.
The media has a huge responsibility in telling these stories and the stories of all immigrants as we face unprecedented challenges. If people can't come forward, where will they go? How will their stories be told? Who will listen to us and believe our side of the story, especially against the mounting lies coming from the Trump administration? How will the public know the extent of this presidency's attempts to criminalize every immigrant in one of the most uncertain times of modern U.S. history?
If we value these voices, then we need to ensure that we respect and protect them to the best of our abilities.
I know one thing for certain: ICE cannot, and will not, silence me.
Calling all HuffPost superfans!
Sign up for membership to become a founding member and help shape HuffPost's next chapter