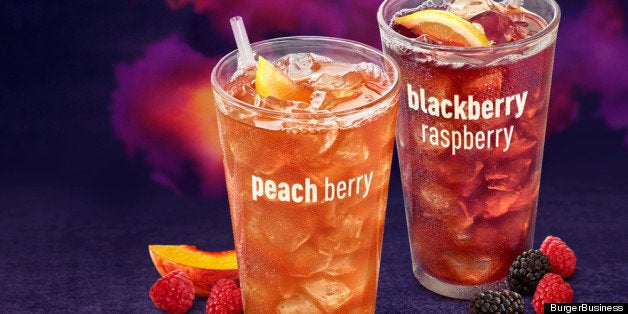 This is the first week of summer, when temperatures and iced-tea consumption rise sharply. But with the noisy introductions of such recent entrees as Wendy's Pretzel Bacon Cheeseburger, Sonic's Pretzel Dogs and McDonald's new Quarter Pounders it's been easy to overlook the quiet race for iced-tea supremacy going on among the top burger chains. Like coffee, iced tea is a high-profit-margin item that sounds even tastier to operators when sales and customer growth is hard to come by.
In selected markets--including parts of Ohio and New York State--McDonald's is offering a line of Fruit Tea Fusion drinks under its McCafé umbrella. The tea drinks are offered in Blackberry Raspberry and Peach Berry flavors and promoted as being hand-shaken. Prices may vary by market, but they are roughly $1.59 for a small, $1.89 for medium, $2.29 for a large.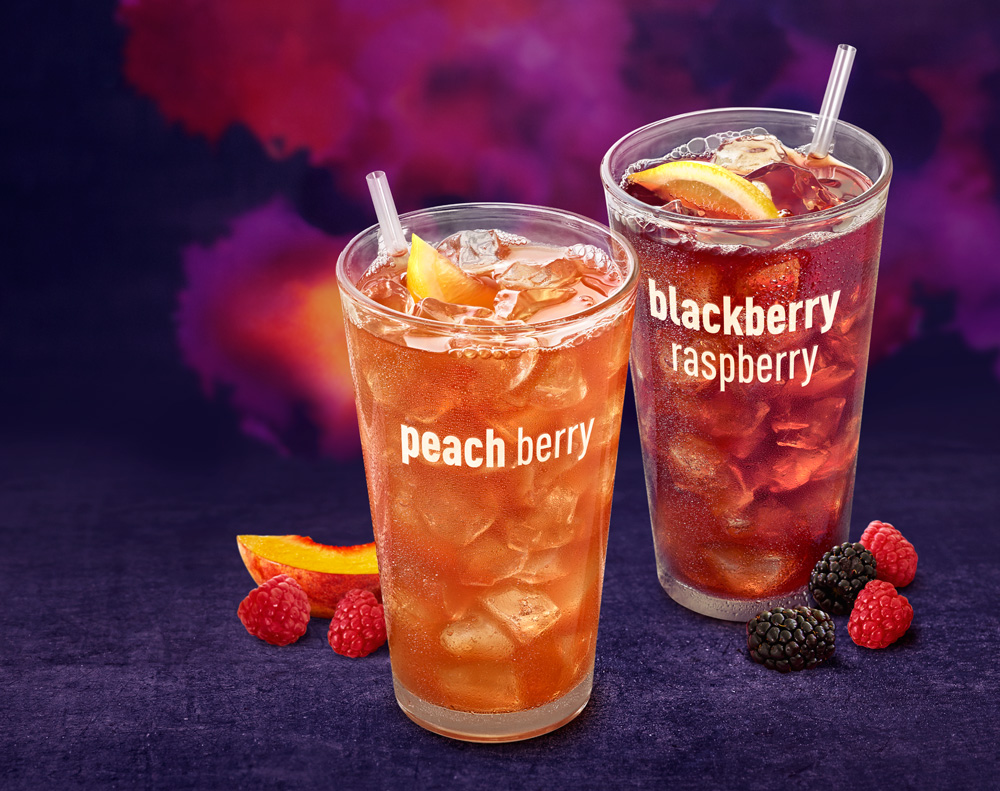 McDonald's is confident enough in the Fruit Fusions line's potential to give it its own webpage.
Flavored ice teas are a gap in McDonald's/McCafe beverage menu waiting to be filled. More it's a gap that needs to be filled because many key competitors are quietly expanding their tea lineups. Iced tea and Sweet tea are McDonald's only two summer tea offerings. McCafe boasts smoothies, frappes, Frozen Strawberry Lemonade and the Cherry Berry Chiller for summer days, but flavored iced tea is an opportunity it can't pass up.
Burger King added a peach iced tea as well as sweetened and unsweetened iced tea as part of the new menu it introduced in March. The following month, Sonic unveiled a new line of freshly brewed green iced teas "available in thousands of flavors" thanks to its flavor mix-ins. Sonic's line includes a diet green iced tea flavored with Splenda and the chain is making its teas available for purchase by the gallon for parties, tea and otherwise. Wendy's is promoting Strawberry Lemonade and Strawberry Tea.
The flavored-tea leader among burger chains is Jack in the Box, which expanded its tea line in 2009 with raspberry, mango and peach flavors. Some others, however, including Dunkin' Donuts, Whataburger, Culver's and many others offer only sweetened and unsweetened tea.
Starbucks is ahead of them all, of course, thanks in part to its ownership of the Tazo Tea brand. Its stores offer a variety of iced teas and iced-tea lemonades such as Iced Peach Green Tea Lemonade.
The tea market isn't as lucrative as coffee, but it isn't insignificant either. In 2011, Americans drank about 3 billion gallons or 65 billion servings of tea, 85 percent of it as iced tea, according to The Tea Association of the USA (TAUSA). Sales of ready-to-drink (bottled) tea were about $3.5 billion in 2011. Restaurants certainly would love to steal some of that business from supermarkets and it already has begun to do so: away-from-home tea consumption has been increasing by at least 10% annually over the last decade, according to TAUSA data.