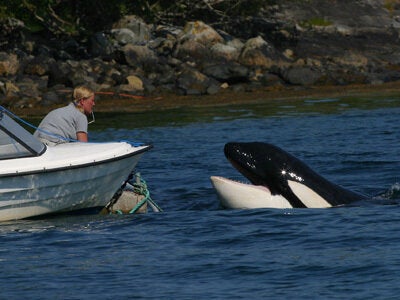 Immediately before Iceland's coalition government was dissolved earlier this week, Einar K. Gudfinnsson, the outgoing Minister of Fisheries and a leading member of the conservative Independence Party, issued a regulation permitting the massive whaling of minke and fin whales in Icelandic waters, even though fin whales are listed as endangered species on the IUCN List of Threatened Species.
The conservatives have left Iceland's economy and financial system in ruins, but they're not leaving it at that. The minister admitted that "economic interests lie behind this decision," but what it does is jeopardize Iceland's ecotourism and what's left of the country's reputation abroad (although the latter may be a lost cause already). This is one more example of how conservatives tackle long-term problems: with short-term, short-sighted solutions.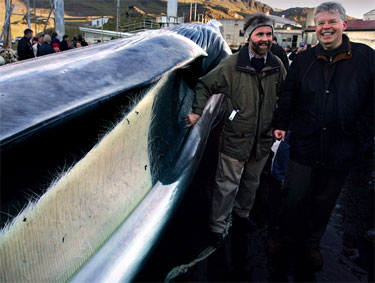 Minister of Fisheries, Einar K. Gudfinnsson (right) with Kristjan Loftsson, owner of the whale processing plant in Hvalfjordur, Iceland, standing next to a whale carcass. Photo credit: Icelandic Photo Agency
The same problem-solving method has been applied to the cod-fishing industry. Earlier this month, Gudfinnsson decided to increase the cod fishing quota by 30 thousand tons, in light of the "economic difficulties facing the nation and because of positive reports on the condition of the cod stock," referring to a study by the Icelandic Marine Research Institute last fall, concluding that the cod index was ten percent higher than usual. "This decision is disappointing because it is a departure from ambitious and systematic plans approved in 2007 to strengthen the cod stock," the institute's director, Johann Sigurjonsson, told Morgunbladid (Mbl.). "This particular increase probably won't endanger the stock, but if there is to be another one next year, then it is increasingly likely that we won't reach our long-term goal to increase the cod spawning stock. And that is a great disappointment."
The minister's decision to permit whaling was widely denounced within and outside of Iceland.
"I find this act by the outgoing minister of fisheries, in the last few moments of his job as minister, indicates irresponsibility and even lack of judgment," Minister of the Environment Thorunn Sveinbjarnardottir of the Social Democratic Alliance (SDA) told Mbl. "As soon as this decision is reported abroad it will have a significant impact on the image of Iceland and discussions about the country"
The Foreign Minister, Ingibjorg Solrun Gisladottir, head of the SDA, the party widely expected to form a new government in the next few days, denounced the decision, saying it thwarts attempts to bolster Iceland's tourism industry -- which attracts around 100,000 annual visitors hoping to watch whales in their natural environment.
Greenpeace decried the decision as "a shameless stunt that has nothing to do with use of natural resources, and everything to do with politics." The Húsavík Whale Museum and the Icelandic Whale Watching Company stated that "this decision, which shows desperation and disrespect, will harm the tourism industry and especially nature based tourism in Húsavík and throughout the country."
Icelanders, who have owed their living to marine resources for generations and rely on seafood products for 70% of the country's export earnings, have mixed feelings about environmental organizations like Greenpeace. Some consider it the nation's public enemy number one, while others have come to oppose whaling simply because more revenues might be made in ecotourism.
Iceland has gained a well deserved reputation for being a leader in eco-friendly energy resources. Nearly all of our homes are heated by geothermal energy. Almost all of our electricity comes from hydroelectric sources, and many of Reykjavik's city buses run on hydrogen. There must be endless possibilities with wind energy.
The worldwide economic crisis is now hitting Iceland harder than any other country. However, eating the country's seed corn is not the solution for our current problems. Gudfinnsson's short-sighted actions, which threaten to undermine the best efforts of Iceland's leading environmental entrepreneurs, reflect the penny-wise, pound-foolish solutions that characterized his conservative party's ruinous rule before their ouster.
It is not too late to ensure that the new government overturns this regulation as soon as possible. Please contact the Icelandic Husavik Whale Museum (erla@whalemuseum.is) and support their efforts to do so.
REAL LIFE. REAL NEWS. REAL VOICES.
Help us tell more of the stories that matter from voices that too often remain unheard.