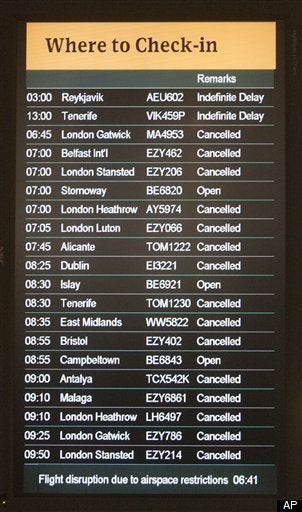 BERLIN (Associated Press) -- Airlines have lost at least $1.7 billion due to travel disruptions caused by the volcanic ash cloud from Iceland, an industry group said Wednesday as hundreds of planes finally landed or took off from airports around Europe.
The head of the International Air Transport Association called the situation "devastating" and urged European governments to examine ways to compensate airlines for lost revenues, as the U.S. government did following the Sept. 11, 2001 terror attacks.
Airlines lost revenues of $400 million each day during the first three days of grounding, IATA chief executive Giovanni Bisignani told a news conference in Berlin. At one stage, 29 percent of global aviation and 1.2 million passengers a day were affected by the airspace closure ordered by European governments, who feared the risk that volcanic ash could pose to airplanes.
"For an industry that lost $9.4 billion last year and was forecast to lose a further $2.8 billion in 2010, this crisis is devastating," Bisignani said. "Governments should help carriers recover the cost of this disruption."
He noted that "the scale of the crisis eclipsed 9/11, when U.S. airspace was closed for three days."
Flights resumed in many areas, but the situation was anything but normal as airlines worked through an enormous backlog after canceling over 95,000 flights in the last week.
Air traffic control agency Eurocontrol said it expected at least 15,000 of the continent's 28,000 flights to go ahead Wednesday across Europe, and possibly much more.
But severe delays were still expected across Europe, as airlines pressed to patch together normal flights with airplanes and crews scattered all over the globe.
Germany's air traffic controllers gradually reopened the country's airspace - the busiest in Europe - after days of closures and limited activity. All restrictions were lifted for Germany's two main airports, Frankfurt and Munich, as well as several others.
"It looks like the whole German airspace will be opened in the next two hours and we are counting on it to remain so for the rest of the day," Axel Raab, spokesman for the government agency Deutsche Flugsicherung, told AP Television News.
"We cannot say what it will look like in the next few days. If the volcano becomes active again, new closures might happen. This is a decision that was made based on meteorological data," he said.
Some restrictions remained Wednesday morning over parts of Britain, Ireland and France, as well as over parts of central Europe.
But French transport minister Dominique Bussereau predicted air traffic will be back to normal before the weekend, as aviation authorities expanded the corridors where planes are allowed to fly.
Bussereau estimated that all of Air France's long-distance flights to and from France would fly Wednesday, and 60 to 70 percent of its mid-range flights. He told LCI television that another 48 hours were needed "for a total return to normal, for everything to be reopened" - if weather patterns allowed.
A French weather service plane took samples of the air Tuesday and found no volcanic ash problems, he said.
Still, several flights in and out of Paris' Charles de Gaulle and Orly airports were canceled or delayed.
The airspace over the Baltic states - Lithuania, Estonia and Latvia - and all the region's major airports opened up Wednesday. Other areas further east in Europe - Austria, the Czech Republic, Slovakia, Hungary and much of the Balkans - had opened up earlier.
Air traffic in Spain continued to be unaffected, but some of Sweden's airports were closed again late Tuesday.
In Iceland, there was no sign that the eruption at the Eyjafjallajokull (ay-yah-FYAH-lah-yer-kuhl) volcano was ending soon, according to Pall Einarsson, a geophysicist at the Institute of Earth Sciences in Reykjavik.
"We cannot predict when it will end," he said Wednesday. "(But) ash production is going down and is really insignificant at the moment."
Deutsche Lufthansa AG's chief executive on Wednesday welcomed the government agency's decision to reopen the skies.
The quantity of ash from Iceland's volcano in German airspace is so low that there's "absolutely no danger," Wolfgang Mayrhuber told broadcaster ARD. "We will restart our system as quickly as possible."
Lufthansa, Germany's biggest airline, planned to operate some 500 flights on Wednesday, comparing with 1,800 on a normal day.
"Our prime concern is security," he added.
On Tuesday, the company operated some 200 flights under visual flight rules.
Mayrhuber reiterated his criticism on how the flight disruption was handled, shutting down wide swaths of Europe's air space based on what he said were forecasts of questionable reliability.
"From the beginning, we had the suspicion that the forecasting model could not be all right," Mayrhuber said.
Lufthansa is Europe's largest airline group by sales. It owns or holds stakes in carriers including Swiss International Airlines, Austrian Airlines and British Midland.
Associated Press Writers Matt Moore in Berlin, Slobodan Lekic in Brussels, Angela Charlton in Paris Frank Jordans in Geneva and Carlo Piovano in London contributed to this report.
Related
Popular in the Community