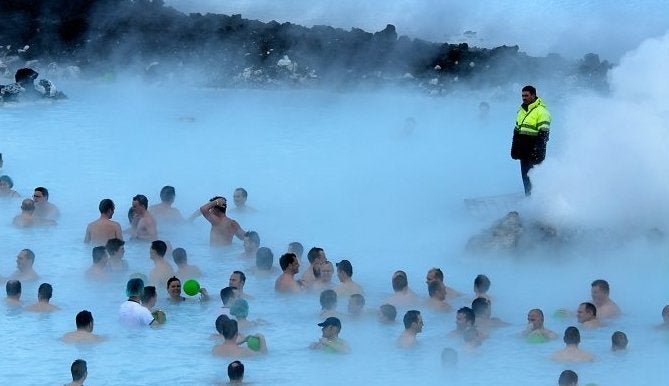 The Guardian reports that the party is over in Iceland as the small nation's economy teeters on the brink of collapsing:
Iceland is on the brink of collapse. Inflation and interest rates are raging upwards. The krona, Iceland's currency, is in freefall and is rated just above those of Zimbabwe and Turkmenistan. One of the country's three independent banks has been nationalised, another is asking customers for money, and the discredited government and officials from the central bank have been huddled behind closed doors for three days with still no sign of a plan. International banks won't send any more money and supplies of foreign currency are running out...

The nation's celebrated rags-to-riches story began in the Nineties when free market reforms, fish quota cash and a stock market based on stable pension funds allowed Icelandic entrepreneurs to go out and sweep up international credit. Britain and Denmark were favourite shopping haunts, and in 2004 alone Icelanders spent £894m on shares in British companies. In just five years, the average Icelandic family saw its wealth increase by 45 per cent.

But, as a result of the international banking crisis, the billionaires who own everything from West Ham United football club to the Somerfield supermarket chain, Hamleys toy shops and the House of Fraser, are in trouble and the country is drowning in debt.
The situation has gotten so bad that the country's prime minister, in an address to the nation, warned the crisis could result in national bankruptcy:
Iceland risks plunging into national bankruptcy, Geir Haarde, the country's prime minister, warned on Monday as a mounting financial crisis and a 30 per cent dive in the krona forced the government to take emergency action...

..."We were faced with the real possibility that the national economy would be sucked into the global banking swell and end in national bankruptcy," he said. "The legislation is necessary to avoid that fate."
Calling all HuffPost superfans!
Sign up for membership to become a founding member and help shape HuffPost's next chapter