"Meet the new boss, same as the old boss. "
Pete Townshend, "Won't Get Fooled Again."
Iceland's hopes for a new beginning were dealt a blow today when its Minister of Fisheries, Steingrímur J. Sigfússon, the leader of the Green Party, announced that he would not repeal his deposed predecessor's last-minute order to resume commercial whaling of 150 fin whales and 100 minke whales starting this year until 2013.
On January 27th, immediately before Iceland's coalition government was dissolved, Einar K. Guðfinnsson, the outgoing Minister of Fisheries and a leading member of the conservative Independence Party, issued a regulation permitting the massive whaling of minke and fin whales.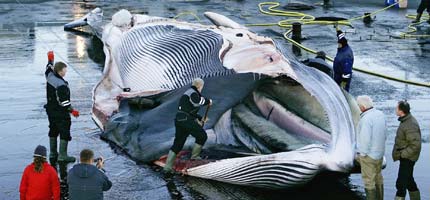 Whale corpse at an Icelandic whaling station. Photo credit: msnbc
This move was widely criticized, and it was generally assumed that the new government would immediately overturn Guðfinnsson's order. "I find this act by the outgoing minister of fisheries, in the last few moments of his job as minister, indicate irresponsibility and even lack of judgment," Former Environment Minister Þórunn Sveinbjarnardóttir of the Social Democratic Alliance told Morgunblaðið after the order was announced. "As soon as this decision is reported abroad it will have a significant impact on the image of Iceland and discussions about the country."
A debate within the Althingi, Iceland's parliament, last week seemed to indicate that the new ruling coalition harbored serious reservations about the economic benefits of whaling. Social Democrat MP Mörður Árnason elicited from Guðfinnsson that less than $1 million of whale product was sold last year, and that the transportation costs appeared to exceed that number.
The ambassadors from the United States, Sweden, the United Kingdom, Germany, the Netherlands, France and Finland met with Sigfússon last week to discuss the issue. On Tuesday, those seven countries issued a letter asking him to rethink the sixfold increase to its whaling quota.
"It is critical that the continuation or expansion of Iceland's commercial harvest or international trade in whale meat does not undermine goodwill or hamper progress in resolving issues pending before the (International Whaling) Commission," the letter reads.
However, Sigfússon attended a meeting last week in Akranes, the town most directly linked to whaling, in which he was apparently the only person against Guðfinnsson's order. Kristinn H. Gunnarsson of the Liberal Party told Sigfússon that he would submit a vote of no confidence if he revoked Guðfinnsson's decision. So what? What is Sigfússon thinking, what kind of decision-making process is this? "OK, well, I guess since you're all against it...."
Sigfússon whines that, although he is personally against whaling--REALLY against it--he just couldn't make a decision that might offend several dozen whalers, even if it would adversely affect the country's tourism industry, not to mention its reputation abroad. Apparently he believes that the popular uprising in January that led to the overthrow of Iceland's government was merely a call for politics as usual, rather than a call for a new direction.
What could the Green Party possibly stand for if its leader is unwilling to take a stand on this matter? What hope is there that any of the professional politicians in Iceland's government will make the changes to the status quo that we so desperately need?
Related
Popular in the Community