One of Iceland's best-known landmarks, the shopping mall commonly referred to in English as "Penis Mall" on account of its rather, um, unorthdox shape, is being put up for sale in the coming weeks.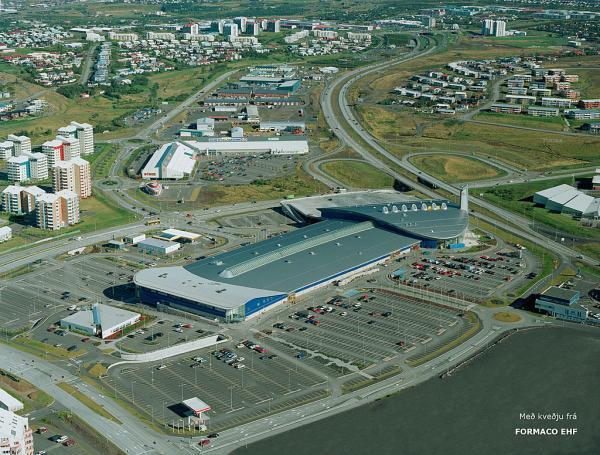 The shopping mall, more prudently known as "Smáralind", was built in 2000-2002 by a pair of Icelandic oligarchs, to house their ever-expanding portfolio of fashion shops. Their company, Baugur Group, subsequently went on to sweep up assets in the United Kingdom on borrowed capital, acquiring control of such well-known brands as Top Shop, Debenhams, Coast, Karen Millen, Warehouse, Oasis, All Saints, House of Fraser, Nine West, and many more.
Soon after its construction, Smáralind began to attract attention for its shape. Seen from the air from a specific angle, the shopping mall bore an uncanny resemblance to an erect penis. The architects behind the construction claimed that the likeness was entirely unintentional and that they were as surprised as anyone else by the fuss surrounding its shape.
The bubble burst in late 2008 when the Icelandic economy melted down and Baugur Group's house of cards -- in the form of highly-leveraged takeovers -- collapsed. The company was declared bankrupt in March 2009 and Smáralind was taken over by Icelandic bank Landsbanki.
Landsbanki has now announced that the financial restructuring of Smáralind is now complete and that the property will be listed for sale in the coming weeks or months.
Related
Popular in the Community