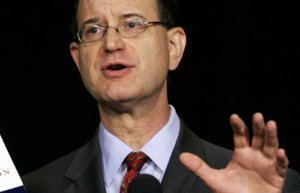 During a high point of the Cold War, President Kennedy sent a message of defiance through his Ich bin ein Berliner speech.  The young president said "I am a citizen of Berlin," effectively boosting the morale of West Berliners and stating American policy to the Soviets in the wake of the Berlin Wall construction.  Fast forward almost half a century to America's suburb, the San Fernando Valley.  The stakes are much smaller and the context is the November elections.  But if you were worried about Democrats electoral prospects in the Golden State, then you should have been in Van Nuys for the Sherman(esque) statement: "Enthusiasm gap my ass!"
To be sure, the bounds of political hyperbole are being stretched beyond belief.  Soviet domination of the world is not quite the same as a Tea Party-led Republican takeover -- even when looking at the trifecta of half-term Governor Sarah Palin, Senator Jim DeMint and Rep. Michelle Bachmann.  Much has been said and written on the supposed Democratic "enthusiasm gap" going into the midterm elections.  It was covered by the media during the recent Netroots Nation conference I was at and continues to be part of the narrative vis-à-vis emboldened Republicans.
That may be the case in other states but registration for the GOP is down in California and party regulars are not enthused by perceived moderates like Meg Whitman and Abel Maldonado at the top of the ticket.  According to the Sacramento Bee's Dan Morain, "The big tent that Reagan envisioned has become a pup tent, at least in California."  Pup tents may make for better caucuses but they don't win elections.
Enter Rep. Brad Sherman -- veteran of The Colbert Report and my congressman.  The Democratic Party-San Fernando Valley's "Rally in the Valley" yesterday included political heavyweights like Attorney General Jerry Brown, U.S Senator Barbara Boxer, Secretary of State Debra Bowen, and San Francisco Mayor Gavin Newsom.  Boxer got the D-troops excited and Newsom inspired them but it was the representative for the 27th congressional district who had the best line: "I have some words for the people at Gallup: Enthusiasm gap my ass!" 
While Los Angeles City Councilmember Paul Koretz would give Sherman a run for his money in the moderately profane department later on, Sherman had made his defiant point: there is no lack of enthusiasm with Democrats in Van Nuys, the San Fernando Valley, the whole of Los Angeles and the rest of California.  In effect, we can all say "Ich bin ein Angeleno".
Calling all HuffPost superfans!
Sign up for membership to become a founding member and help shape HuffPost's next chapter