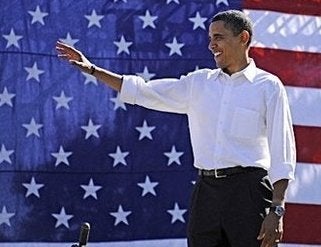 The Chicago Tribune endorsed Barack Obama Friday, marking the first time in the paper's 161-year history it has backed a Democrat for president.
The unsigned editorial, which was published on the paper's Web site Friday afternoon, wasted little time establishing the historic moment of the election and substantiating its choice by tying Obama to Abraham Lincoln, whose presidency is at the core of the Tribune's identity.

However this election turns out, it will dramatically advance America's slow progress toward equality and inclusion. It took Abraham Lincoln's extraordinary courage in the Civil War to get us here. It took an epic battle to secure women the right to vote. It took the perseverance of the civil rights movement. Now we have an election in which we will choose the first African-American president . . . or the first female vice president.
[...]
On Nov. 4 we're going to elect a president to lead us through a perilous time and restore in us a common sense of national purpose.

The strongest candidate to do that is Sen. Barack Obama. The Tribune is proud to endorse him today for president of the United States.
The editorial acknowledged the paper's deep conservative roots, noting that one of the Tribune's founders, Joseph Medill, also helped to found the Republican Party:
The editorial page has been a proponent of conservative principles. It believes that government has to serve people honestly and efficiently.
But those "conservative principles" have been lost in the current Republican Party, the paper reasoned:

The Republican Party, the party of limited government, has lost its way. The government ran a $237 billion surplus in 2000, the year before Bush took office -- and recorded a $455 billion deficit in 2008. The Republicans lost control of the U.S. House and Senate in 2006 because, as we said at the time, they gave the nation rampant spending and Capitol Hill corruption. They abandoned their principles. They paid the price.
John McCain, whom the Tribune endorsed in the Republican primary, did not convince the editorial board that he was capable of restoring those principles:

McCain failed in his most important executive decision. Give him credit for choosing a female running mate--but he passed up any number of supremely qualified Republican women who could have served. Having called Obama not ready to lead, McCain chose Alaska Gov. Sarah Palin. His campaign has tried to stage-manage Palin's exposure to the public. But it's clear she is not prepared to step in at a moment's notice and serve as president. McCain put his campaign before his country.
The Tribune praised Obama as a "University of Chicago Democrat" and promised to "provide some assurance" to Americans wary of the Illinois Senator:
We have known Obama since he entered politics a dozen years ago. We have watched him, worked with him, argued with him as he rose from an effective state senator to an inspiring U.S. senator to the Democratic Party's nominee for president.

We have tremendous confidence in his intellectual rigor, his moral compass and his ability to make sound, thoughtful, careful decisions. He is ready.
Editorial page editor Bruce Dold said he is "as proud of our endorsement of Obama" as he is of its endorsement of Lincoln:
In a story that accompanied the endorsement, editorial board member Paul Weingarten explained how the decision was reached:

There was a 90-minute discussion of the editorial board, which included Tribune publisher Tony Hunter and Tribune editor Gerould Kern. There were passionate, but respectful arguments on both sides. Everyone spoke. There was no shouting. What emerged was a clear consensus of the board in favor of Obama. Hunter, Kern and editorial page editor Bruce Dold agreed on that final decision. Dold wrote the endorsement.
Dold said Tribune Company CEO Sam Zell had no involvement in the endorsement.
Related
Popular in the Community