 WASHINGTON -- Whether it's President Barack Obama's famous declaration that "change only comes from the outside," or House Speaker John Boehner's insistence that his chamber is working for the "will of the people," leaders from both parties invoke what the American public wants to push their agendas.
But most constituents can't even identify their representatives, let alone keep track of the myriad issues in Washington. iCitizen, a new mobile app launched nationwide Tuesday, hopes to change that.
The app aims to boost civic engagement by letting users follow issues, get to know their lawmakers, and participate in polling. The goal, according to CEO Rod Massey, is to make politics as easy to access as looking up a restaurant, directions or movie times.
"The fundamental goal that really drove the formation [of iCitizen] is this concept that most people really only have a voice during the election cycle, so every two to four years," Massey told The Huffington Post in an interview. "In between those election cycles you really don't have the ability to have an impact."
He added that iCitizen was designed to help people "be engaged in politics in a meaningful way" while managing their careers and families.
The app, which is currently available for iPhone, but being developed for the iPad and Android, is simple enough to navigate with tabs for three main areas: Issues, Reps, and Polls. Users sign up, then choose from 18 different issues, including the budget, women's rights and gun control, in order to get customized news from a variety of media outlets. They can also look up bills introduced in Congress related to each issue.
The Reps section allows users to navigate the faces of Congress, as well as state lawmakers, and includes lawmakers' recent votes, campaign contributions, committees and sponsored bills. There is also contact information for each, as well as his or her Twitter handle and Facebook page.
Poll questions are mostly on current news. One asked if Obamacare was working in your state, while another tried to gauge support for a Senate bill that would end workplace discrimination on the basis of sexual orientation or gender identity (the Employment Non-Discrimination Act).
Asked how his team curates news from across the country, Massey said iCitizen brings together as many different sources as possible. Former Senate Majority Leader Bill Frist (R-Tenn.) and former Nashville Mayor Bill Purcell (D) are on an advisory board that offers input from both sides of the aisle.
"We're trying to be Switzerland here, so neutral, fact-based and offer multiple perspectives, both from liberal-leaning and conservative-leaning sources, and those that might be in the middle," he said.
The app's success will depend in part on whether lawmakers and their offices use feedback from the platform. Massey said his team met with different members of Congress to brief them and their staffs on how iCitizen could benefit them. He roped in his home-state members, Tennessee Reps. Marsha Blackburn (R) and Jim Cooper (D), to speak at the product's launch at the Ronald Reagan Building in Washington Tuesday.
Users also can let their representatives know where they stand, by rating them on a scale of 1 to 5.
"We want to make sure that this is a win-win for both citizens and constituents, and for elected officials," Massey said. He added that smartphone technology creates a "tremendous opportunity … that simply wouldn't have been possible five years ago."
The team behind iCitizen isn't the first to look at politics and say, "there should be an app for that." Attempts include 'Congress,' an app that lets users look up congressional lawmakers, and '2nd Vote', which provides insight into how liberal or conservative companies are.
But iCitizen provides direct engagement, and appears to have the most comprehensive database for a politics app. For a society that's constantly buried in smartphones, and increasingly reliant on having information at its fingertips, that could be iCitizen's secret to success.
Before You Go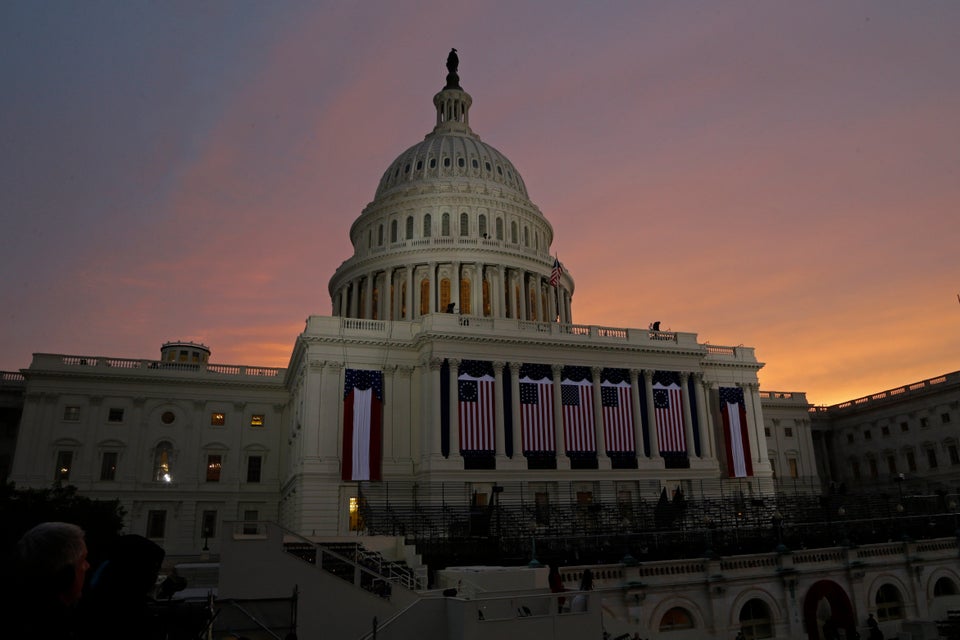 U.S. Capitol Photos
Popular in the Community