We stepped off the West Hollywood streets into an empty Troubadour, then headed up a dark staircase to a green room the size of two airplane bathrooms that smelled a quarter as strong. There is a black bin of beers and waters, a small circular table, and a bench that the three members of Icky Blossoms soon sit down on: Nik Fackler, the guitarist with hair like a wilting afro; Sarah Boling, lead singer with a mop top and a perfect pout; and Derek Pressnall, armed with blue-green hair and a knowing smile.
They're pleased to have the interview before the show, as Pressnall and Fackler both play in the evening's headliner Tilly and the Wall. Aside from a five-minute breather to reset their gear, they don't afford themselves much time to switch over.
Icky Blossoms formed during an Omaha snowstorm in 2011, but the band members were well-acquainted before that. Pressnall is something of a mainstay in Omaha music (he's been with Tilly and the Wall since 2002), and had both heard of and recruited Boling and Fackler.
"Derek first heard something I sang on when I was studying math and engineering," Boling said. Then she paused, gave him a look and hunched over. "Then he said, 'Hey, little girl, come practice with us.'"
"No fucking way I said that," Pressnall laughed. "I'm not the creeper of Omaha."
Five months after that initial practice, Boling dropped out of school to join a band full-time.
Fackler has his own recruitment anecdote, too. He was approached by Derek, who was a fan of his "flowery guitar playing." For Fackler, this was a golden opportunity: the chance to be a musician again, a livelihood and a passion that had once driven him to direct music videos. ("I wanted to meet musicians and hang out with them and get to know them, and then sneak into their bands somehow. It totally worked!") After his focus shifted to filmmaking full-time, he'd thought his musical career was over.
Pressnall admitted his own initiation into music was similarly random. Though he's been playing since he was 12 in "pop-punk/ska bands," he doesn't know how he ended up making music this long. "I got roped into [Tilly and the Wall], and then the opportunities just kept coming." It's an artistic fate that Fackler echoes: "Chase the opportunities."
Though Pressnall is the elder statesman, Fackler drove the discussions of artistic ambition. "It's good to have as many projects as possible going," Fackler said. "Work on all of them when they ask you to be worked on. If one takes a dip, the other can take a rise. It can be natural." He mimics a wave with his hands.
"It can get tricky knowing which band a song belongs to," Pressnall -- who is in five bands -- said. "Usually when I'm writing songs, I'm focused on a certain band. Sometimes things can get a little weird and walk the line and you don't really know where they're supposed to go, or which group to put them in. One of the new Tilly songs was a song I wrote for Icky."
"I was really surprised because he showed it to me in the living room," Boling said. "We were jumping around and spewing out ideas, because we like to dance to brainstorm. We spent three hours on the song and it was stuck in my brain for months, and then I bought the Tilly album and started playing and I was like... Oh my god! He gave them that song!"
Apart from a some cross-pollination, Icky Blossoms is a decidedly new endeavor, separate even from their other shared band, Flowers Forever, a punk-rock outfit whose intent was, according to Fackler, "to get people moving and to thrash out." Blossoms places beats at the center of their songs to encourage that "pounding feeling that gets inside people." But the guitar's still there.
"We try to coax people into a mosh pit that way," Fackler said, "by putting the thrashy guitar with the beat."
"Once we started with the beats, we noticed that peopled did move more," Boling said. "Considerably more. That's how the decision was made for us. Whoa! We got people in Omaha to shake their butts!"
Pressnall laughs at Boling's impersonation of the typical nod and bob shuffle. "All of the bands I've been in always have had that intent to connect with people, whether it was punk rock, electronic music, pop, folk music, whatever. It's about trying to find this weird thing with people."
"We really take pride in the work that we put into our live shows" Fackler said. "The thought process that's gone into it to really make it feel live, to make it feel like music's being made there and that you're hearing things that would never be on the record, ever."
Whether this was a reference to the bassist who played half-possessed was never verified, but this certainly wasn't kids on turntables. Pressnall flung himself toward the microphone, halting at the precipice between controlled stage presence and the eager, thirsty crowd. The drummer is a constant force in the back row, sweating minutes into the set. Boling's vocals fill up the Troubadour, and her synth, the ascribed backbone for the music, while not filled with suspense or tricks, provided strong support. Fackler's hair is free, as if it fears ever being tied down. The silhouetted Fackler thrashes out.
The show is quick, flashy and loud, bolstered by the synthesizer and free of banter. They are sweaty, exhausted and smiling. They've earned their five-minute breather.
So what's next for Icky Blossoms? "Intensify the live show even more. Add new things. Keep pushing it and pushing it and pushing it," Fackler said. "Stay busy. Just not stopping."
Added Bohling: "Boredom is the enemy."
Icky Blossoms is finishing up their tour with Tilly and the Wall before heading out with The Faint starting November 27th.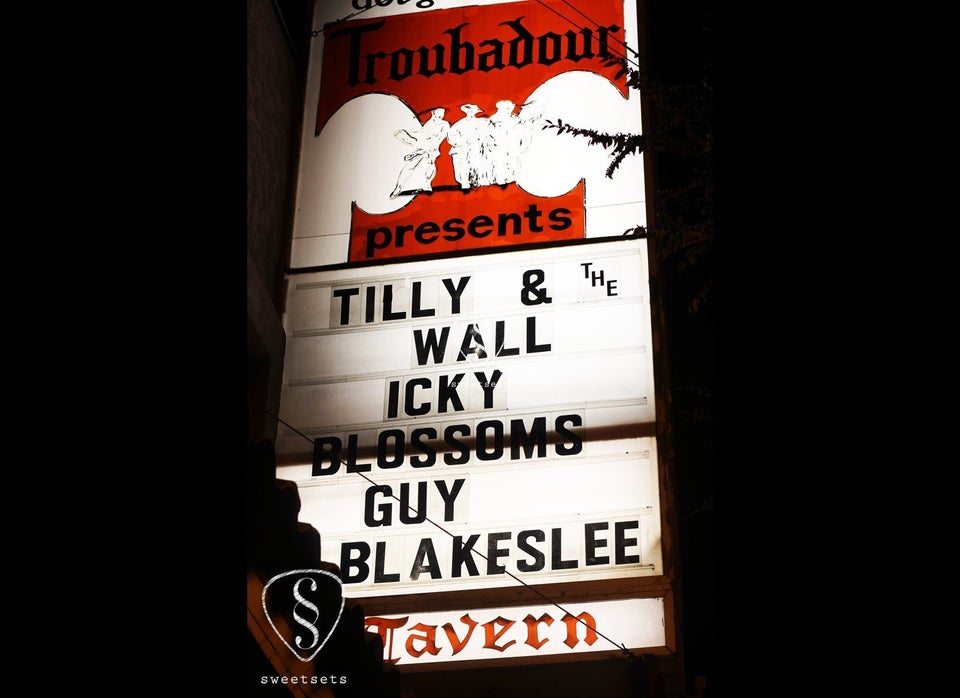 Pictures from Icky Blossoms' performance at The Troubadour
Icky Blossoms will be touring with The Faint over the following dates
Nov 27 House of Blues Dallas, TX
Nov 28 Emo's East Austin, TX
Nov 30 Cannery Ballroom Nashville, TN
Dec 01 The Masquerade Atlanta, GA
Dec 02 The Orange Peel Asheville, NC
Dec 05 9:30 Club Washington, DC
Dec 06 Trocadero Philadelphia, PA
Dec 07 Terminal 5 New York, NY
Dec 08 Paradise Rock Club Boston, MA
Dec 09 Club Soda Montreal QC, Canada
Dec 11 Sound Academy Toronto On, Canada
Dec 12 Metro Chicago, IL
Dec 13 First Avenue Minneapolis, MN
Dec 14 Sokol Auditorium Omaha, NE