ICONIC Black Panther is a sprawling celebration of and tribute to the Black Panther party. The art exhibition runs thru May 14 at the Gregorio Escalante Gallery in Chinatown. Rosalind McGary organized the show and Susu Attar curated "50 artists interpreting 50 years of the Black Panther Party" as the gallery has billed it. I caught up with these two to discuss this historic show.
MG: Whose idea was it to commemorate the 50th anniversary of the party with an art exhibit?
ROSALIND MCGARY: We first planned to launch ICONIC Black Panther in Oakland, 2015.  It was actually Kathleen Cleaver who suggested that we wait until 2016 and launch for the 50th anniversary.  I'm grateful for her suggestion and encouragement: we needed that time and I'm glad we could be a part of marking such an important milestone in American History.  We were able to secure Susu Attar as curator for the Los Angeles exhibit because we waited until 2016, so everything aligned in a really fortuitous way.
SUSU ATTAR: It was born out of SEPIA Collective founder/ICONIC series producer Rosalind McGary's desire to give something back to the Panther elders in the community. She brought me on to curate and program for SEPIA, which is a fluid artist collective.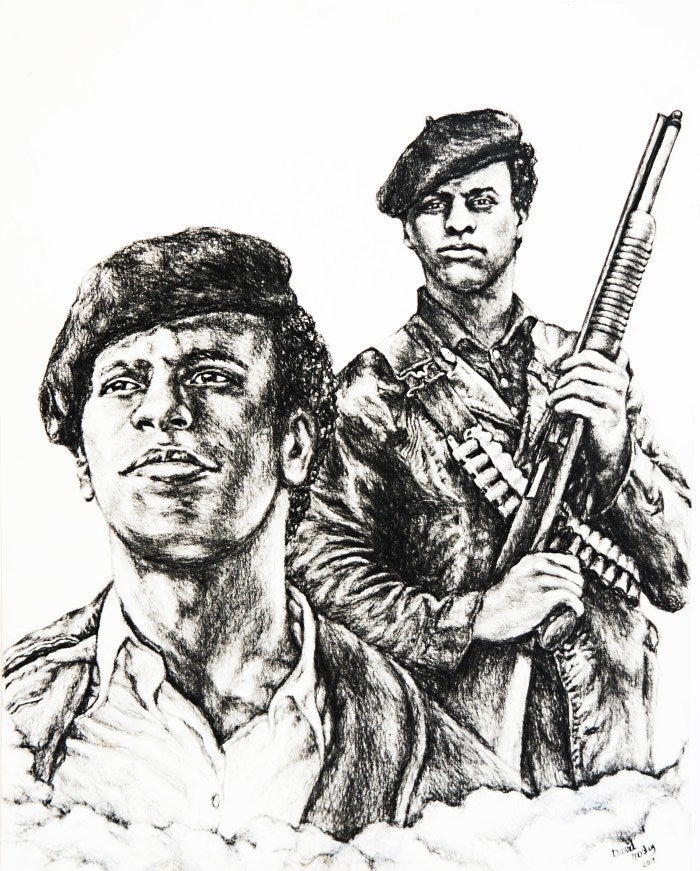 MG: The wine and cheese world of fine art is pretty far removed from the world of racism and poverty that the Black Panthers were addressing, was there any blowback to the show?
ROSALIND MCGARY: One of the most wonderful things about ICONIC is seeing working artists, of many races, at varied levels in their careers together in one show. All 50 of these artists share an enthusiasm about the topics raised here, and chose to weigh in with their own perspectives.  Alumni members of the original Black Panther Party have been consistently supportive and enthusiastic about the show, counseling us about the true history of the BPP and showing up for ICONIC events. We saw thousands of people at the opening, from young to old. Black, White, Brown- we were all there together.  The Panthers practiced inclusiveness and worked with and were welcoming to all people.  We've definitely followed their example with how we produce these shows, and we see that carry over in the diverse audiences that show up for our openings, and the overall feeling of "welcome" that most people feel.  It's important to note that these shows have a fundraising component.  A portion of the proceeds from art sales benefit Panther Alumni in need and their families.
SUSU ATTAR: *Removes blinders* No. This show appealed to people who understand that Black Power is not an ideology of supremacy, but a people's struggle for self-determination, simply put. If anything, this show proves that people of innumerous communities are thinking about racism in general and specifically: Black liberation. It also proves that there are alternatives to the somewhat sterile fine art scene that can offer something soulful as well as successful.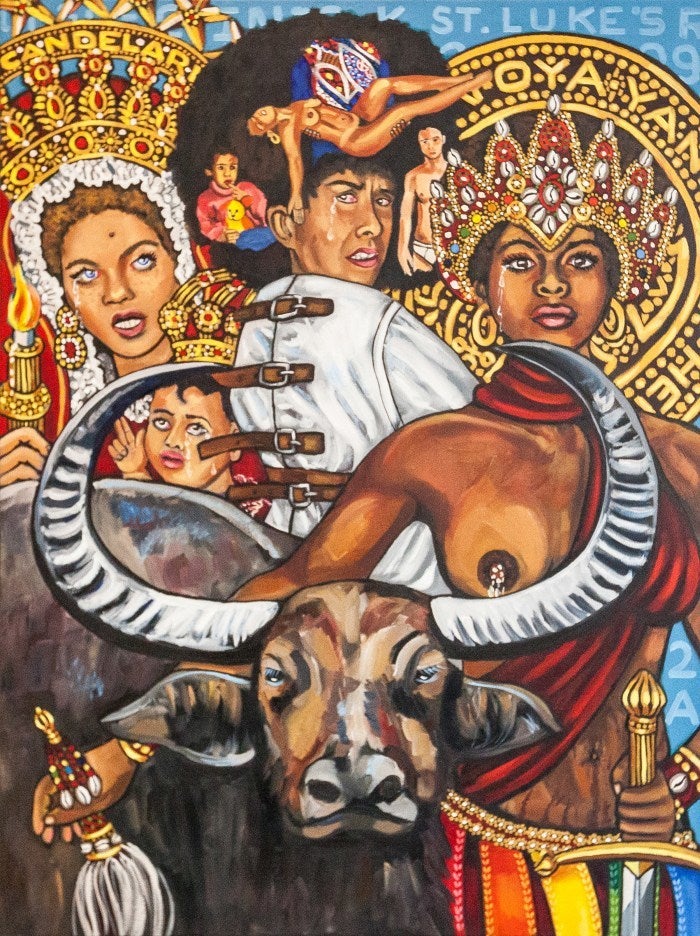 MG: Curatorially, were the challenges in hanging the show aesthetic or since you have some big names did that influence the layout?
SUSU ATTAR: Aesthetic. The driving concern for the layout was to reflect the curatorial narrative. Of course, there are so many challenges to overcome when laying out a show with over 50 artists of varied styles, mediums, subject, etc. Rosalind had a vision from the start that the works in the show should reflect artists of varied career levels (not something you encounter often in the gallery scene). I wanted to have the works speak as individual parts of one story. So, they had to be equal not just in our minds, but in the layout as well. The curatorial story intended to present the paradox of the story of Black America, the struggle for liberation/fight against injustice, the stories of life on earth/the underbelly of this life, a confrontation with history, and a move toward abstraction—room to imagine what comes next. Since we were working with three spaces in two separate buildings, the spaces became opportunities to reinforce the narrative.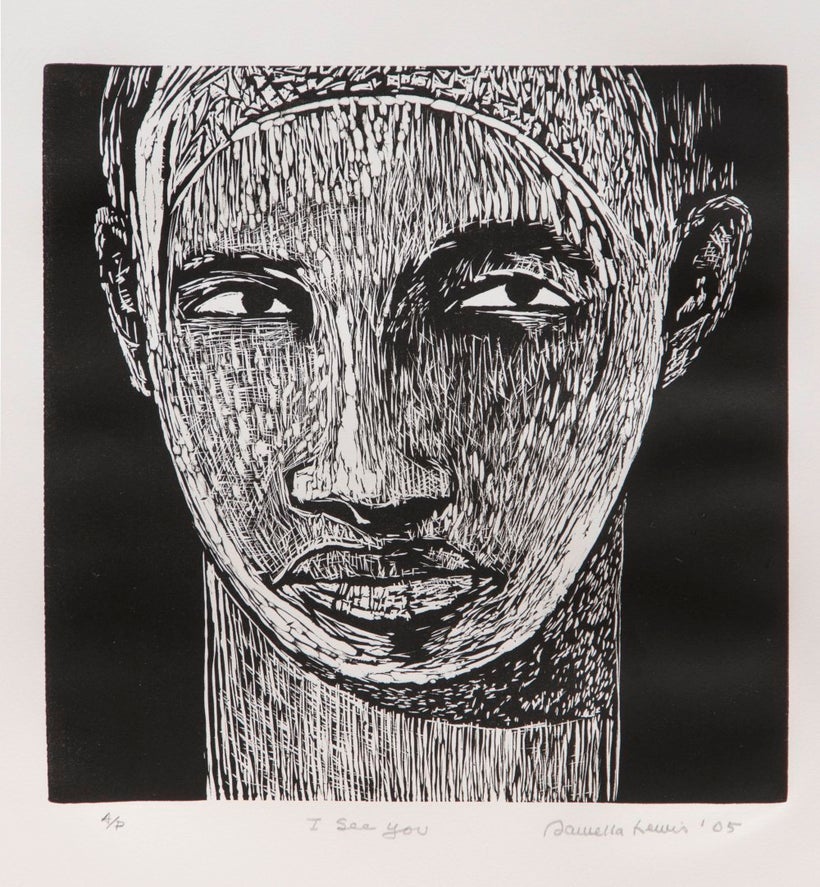 MG: Do each of you have a favorite piece in the show?
ROSALIND MCGARY: So many works stand out for me… ruggle,  Aise Born's All Power to the People is a joy for me because I like discovering something new every time I come back to a piece. Dr. Samella Lewis' I See You, a linocut, was carved with one blade, on an airplane, without a preliminary sketch.  I'm amazed by that.  
SUSU ATTAR: I don't have a favorite but there are many that stand out. April Banks' Redacted Bodies – this was the thesis statement of the curatorial story. Robbie Conal's portrait of James Baldwin I Am Not Your Negro – as a painter, walking up close to this one was so satisfying. Robbie's definitely a master painter and this piece is painted with so much finesse that no amount of digital zoom can reveal. You have to see it in person to truly appreciate it. And also Lili Bernard's Self-Portrait in Straight Jacket.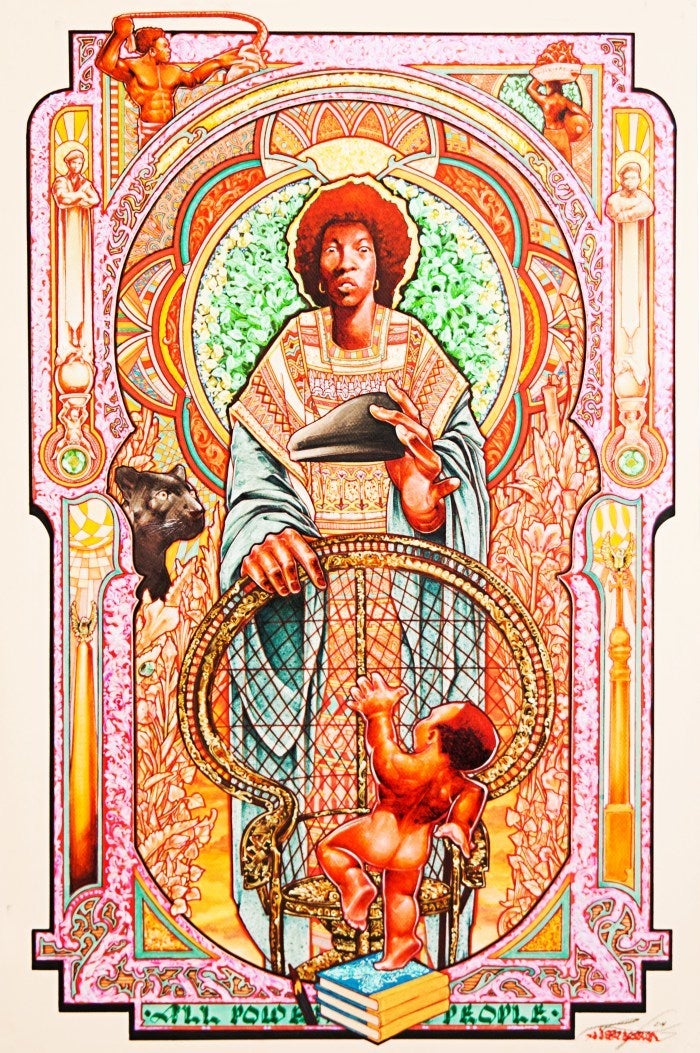 MG: The show features an original drawing by Muhammad Ali, how did that get into the show?
SUSU ATTAR: Muhammad Ali's daughter Rasheda, informed us that the GOAT used to draw and paint. We all felt that Ali's voice in the show would be important because of his outspokenness and his connection to movements preceding the BPP, again drawing connections across time. To further the connection, there is a work by Kevin Bradley (Clay vs United States) in the show that touches on Ali's place in the politics of his time. Another artist in the show, David Mosely (Warrior for Justice) actually painted the iconic poster for Ali's fight in Zaire against George Foreman. Although Ali was a showman, the insights he consistently tried to offer in his art were pretty abstract and his work in the show reflects that.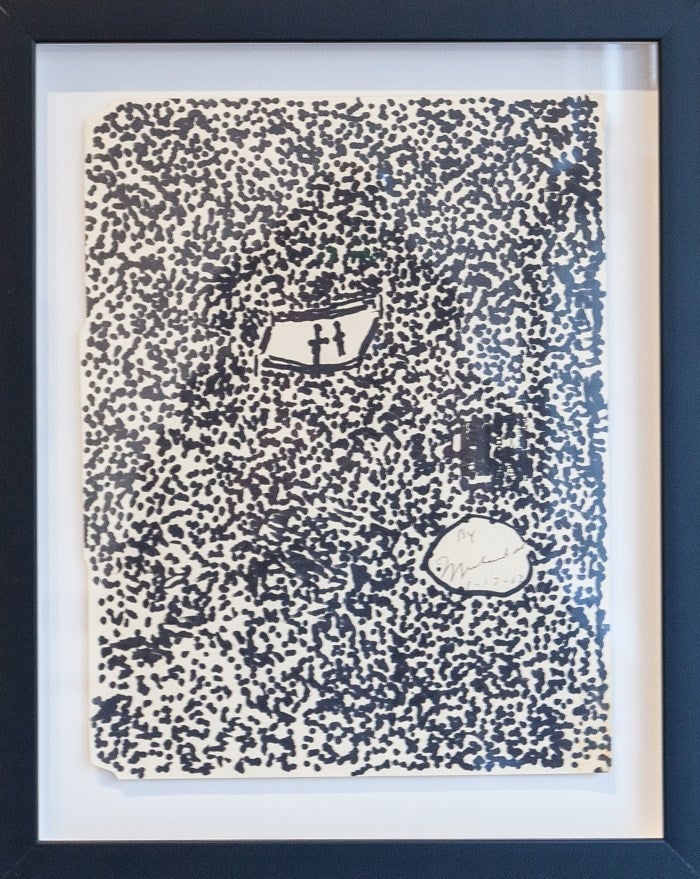 MG: Do you see the Black Lives Matter movement as heir to the Black Panthers or is that too simplistic an analysis?
ROSALIND MCGARY: I think the conditions that BLM came out of are tragically similar to the conditions that birthed the Black Panther Party. There have been so many activist movements influenced by the Black Panther Party, and they are all unique. Today we can't give BLM the consideration that time provides.  It might be fair to ask that question in 20 years. I'll tell you this: I'm glad they exist. And I think that part of our job as artists is to create spaces for each other to express ourselves, incite discourse, and encourage thought around what's happening in the world.
SUSU ATTAR: There is a connection but it's too simplistic to call BLM heir to BPP in my opinion. While the entire story is connected, each part is born in its own right, in its own time. That said, I don't think history can be compartmentalized and it is important to understand that the BPP did not form in a vacuum. The real connection is the most troubling of them all: the continued need for freedom movements since the arrival of the first Africans as slaves. That seems to be the connection that no one really wants to address. Freedom was never intended to be a part of the story for Black Americans. It was hard fought for and the need for movement continues, as seen most recently by the founding of BLM.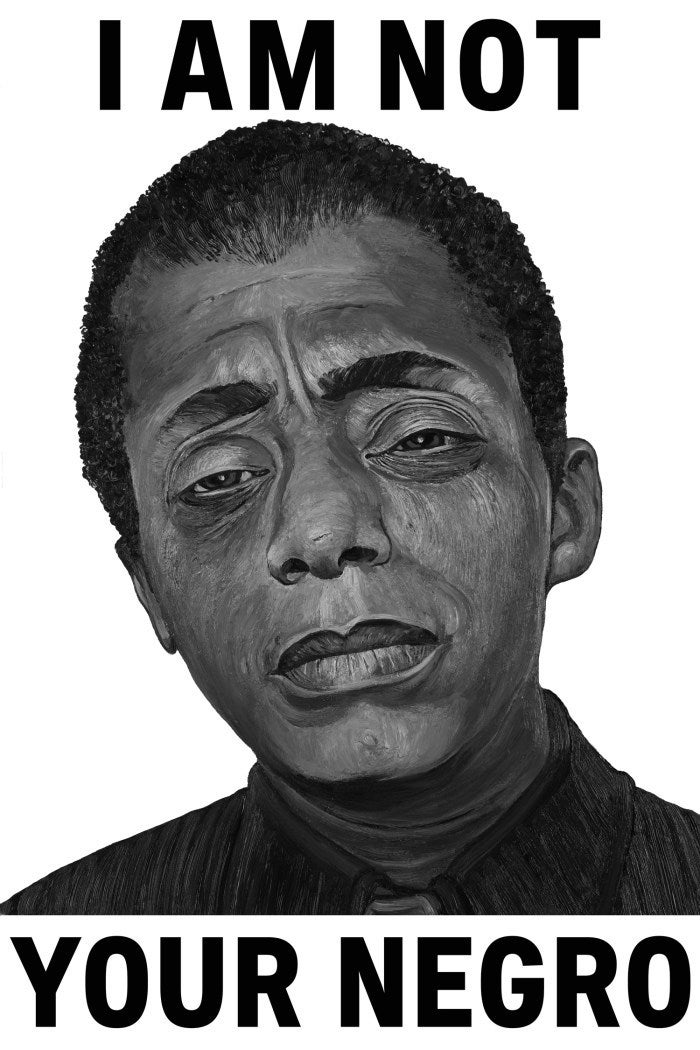 MG: What shows are you each working on for the future?
ROSALIND MCGARY: SEPIA Collective will produce ICONIC Black Panther exhibitions in Chicago and NYC. Dates to be determined.  
SUSU ATTAR: I'm in the planning stages for a series of shows called Unseen. Each show in the series explores a different theme through processes and content, pushing the boundaries of inclusiveness and expectation within contemporary art.
ICONIC Black Panther L.A. is produced by SEPIA Collective, co-presented with Gregorio Escalante Gallery and Zack de la Rocha + Razor Step. The show is sponsored by The California Endowment and the LA County Arts Commission. The show runs thru May 14. More information is at the Gregorio Escalante Gallery WEBSITE.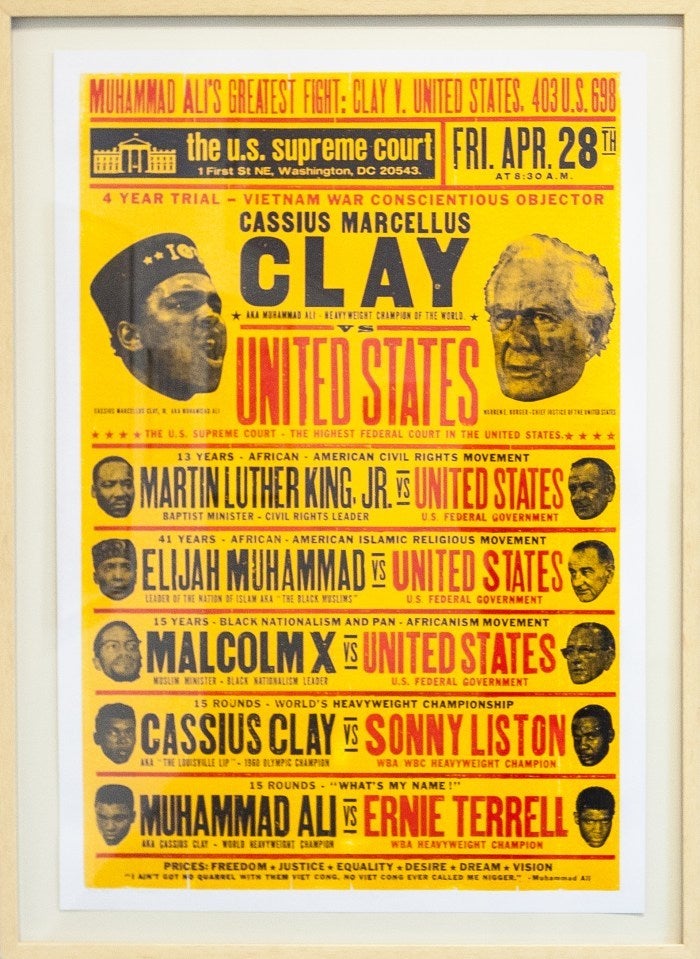 REAL LIFE. REAL NEWS. REAL VOICES.
Help us tell more of the stories that matter from voices that too often remain unheard.
This post was published on the now-closed HuffPost Contributor platform. Contributors control their own work and posted freely to our site. If you need to flag this entry as abusive,
send us an email
.