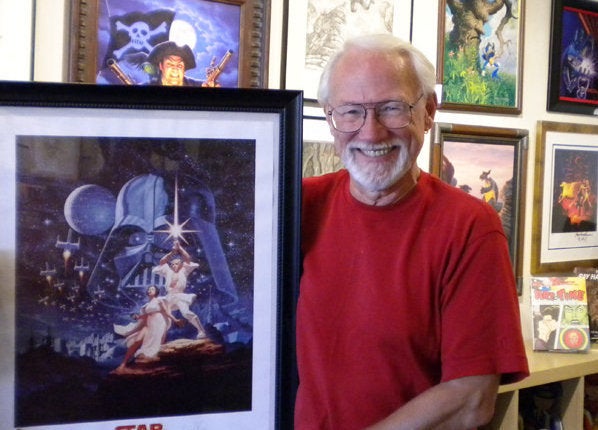 I'm sure many of you like myself grew up on the iconic illustration work of twin brothers, Greg and Tim Hildebrandt. The Hildebrandt Brothers are the illustration duo behind the legendary artwork for the extremely popular Tolkien calendars of the 1970's as well as their famous movie poster artwork for one of the most beloved films in history, the original Star Wars. In the years after doing the poster for the George Lucas classic, Greg continued to create amazing artwork with his brother Tim, like the poster they did together for the Ray Harryhausen favorite, Clash of the Titans, or on his own like his striking album cover artwork for groups like Black Sabbath and Trans-Siberian Orchestra. Sadly, Tim Hildebrandt passed away in 2006 leaving behind an amazing legacy of art that he created with his brother and on his own. In the following years Greg has continued to be a major force in the world of illustration with his incredible work on everything from Captain America and Guardians of the Galaxy, to his beautiful series of pin up art. Greg and his manager/wife Jean Scrocco were kind enough to invite me to their beautiful lake house to conduct this interview. Their home is an illustration fans dream, featuring original iconic artwork of the Hildebrandt Brothers and Greg's striking new works up on the walls and they even have a Lord of the Rings' pinball machine to boot! Greg and I had a long and engaging conversation that was far too good for just one story. So in part one of my interview we discuss how Greg and his brother Tim started drawing at a very young age, what their early influences were, how they landed the job as the official Lord of the Rings artists which would bring them to fame and success, and how they ended up doing their poster artwork for that groundbreaking sci-fi classic that took place in a Galaxy far, far away.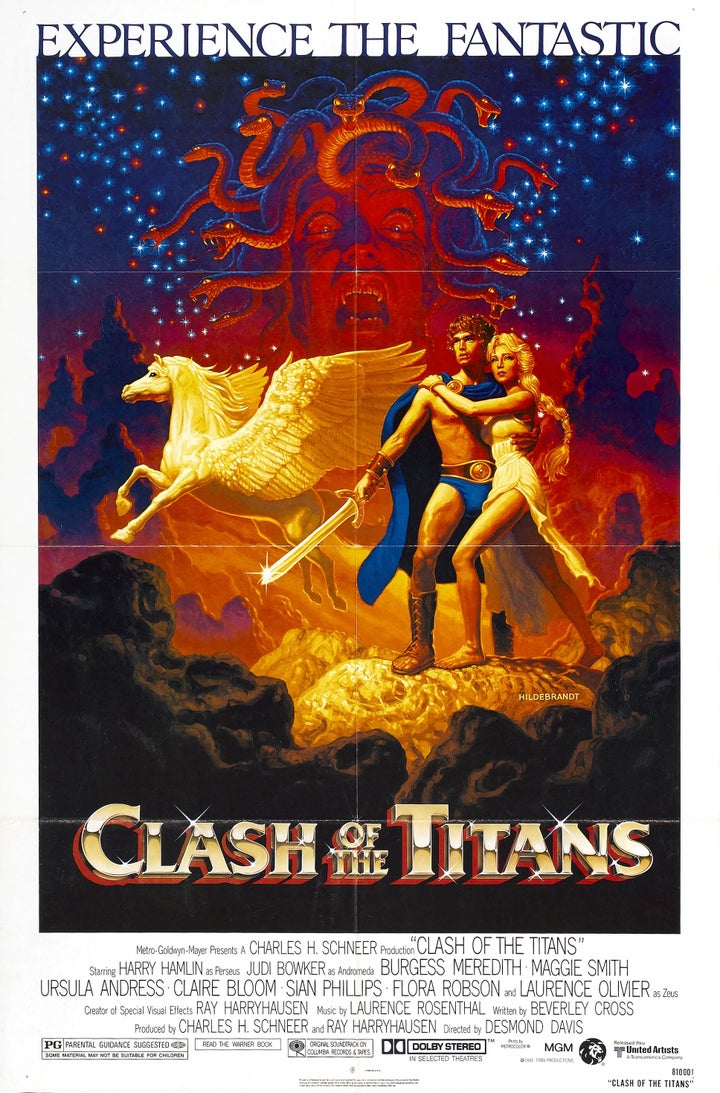 When did you and your brother start drawing?
My brother Tim and I had the obsession to draw at a very early age. I remember my mom telling me that Tim and I used to stay in the lines of the coloring books. That was kind of a significant thing you know. That we just didn't scribble all over the thing. That we were very precise. We were keeping the colors precise and stayed in the regions as indicated. And that we had the ability to stick with stuff for long periods of time, which is a crucial thing in the art we ended up doing. To stay with it and not get bored and go off and do something else.
Were you and your brother influenced by comic books in your youth?
Yeah, totally. The first illustrations I recall were in the daily newspaper. Because that's what was coming in the front door. And I'm seeing the Sunday strips which back in the day were beautifully drawn. They had fantastic things like Superman which was being drawn by Joe Shuster back then. And they had Prince Valiant, Terry and the Pirates, and Flash Gordon. So we were obsessed with that. Tim and I started drawing our own comic books when we were six years old. We had our own stories we would write. Thankfully our mother from an early age used to hammer into our heads that your imagination is the most valuable thing you have. She totally supported us using it. Which is kind of unusual in the1940's in a blue collar world. As I got older I realized how fortunate we were to have these parents that totally supported what we did.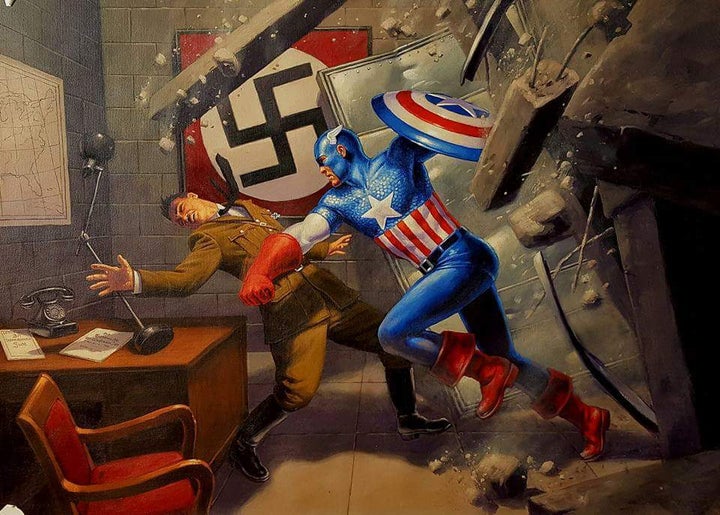 It seems that you always wanted to be an illustrator over pursuing fine art?
Oh yeah, but that term "Fine Art" what the f*ck are they talking about with that. Why is one thing considered fine art and the other considered crude art. What is that bullsh*t? You know what I'm saying. It's bullsh*t. It's about elitism. It's about people saying I'm better than you and I know more than you. That's how they sold that sh*t. This only appeals to the few brilliant intellectual people and that stuff over there is for the masses, like Norman Rockwell. The abstract expressionists of the 1950's felt the ultimate painting was a black square devoid of all content. Because content and storytelling is for the ignorant and people bought it. All the idiots that paid millions of dollars for that sh*t bought it.
As a lover of Illustration I totally agree. I've always been curious how you and your brother Tim were able to collaborate and work on paintings together?
To take a project like when we illustrated the Lord of the Rings in the 70's, we read the books. He's reading them and I'm reading them and we were marking off scenes that should be illustrated separately from each other. So you end up with a lot of scenes to possibly illustrate. Then when it came time to doing the layouts, Tim would do some thumbnails and I would do some thumbnails or we would do them together and talk over each other's shoulders. Then we would end up with a final drawing set up and composition. We would then do a photo shoot with models and costumes. Then we did the final sketching. Tim would probably start one and I would start another final sketch. Then when it came to the painting phase we literally both sat together on two sides, he would sit on one side and I would sit on the other and we would paint at the same time on the same painting.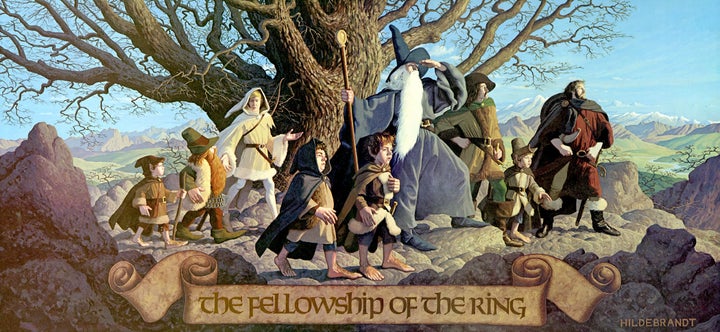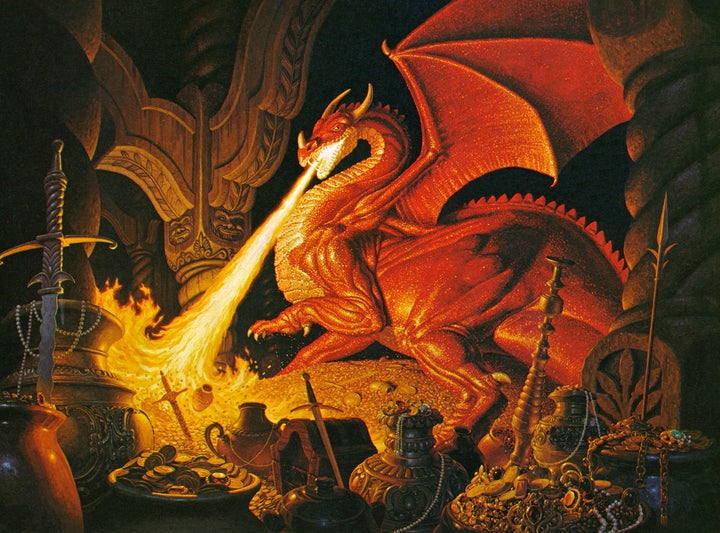 You were able to paint together on the same painting at the same time?
Yeah, sometimes we would work on two separate paintings at the same time. He would be working on one and I would be working on another and we would switch them back and forth. He would take one home or I would take one home. There was no specific way. It was like one person working. Because we were twins and we had done it together since we were infants. We were in the womb together, we were always together. We never thought it was unusual. Other people would say "Whoa that's unusual", but that's all I know so I never thought is was unusual. We were like Huey, Duey and Louie and could finish each other sentences. We were on the same wavelength of thought. That always blew people away.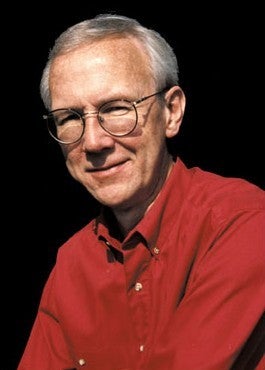 How did you and your brother Tim get the job doing the artwork for the Lord of the Rings calendars?
We read that Ballantine was looking for artists to interpret the Lord of the Rings. We were the only professionals that showed up. Can you imagine that happening today? This was 1975. We called the art director, back then you could literally call a publishing house and they would answer the phone and say yeah bring your portfolio and come on over. It was really human back then. So we brought our portfolio and Ian Summers the art director really liked what he saw. He showed us all the other work that was coming in and it all looked like fan art. High school kids and college kids and stuff like that. So we were the only professionals. When they gave us the first calendar to do we had six months to do 14 paintings. When we were done they had this big release party for the calendar at the society of illustrators. They had a big show and made a big party out of it and everything. The press were there and this was new for me. Tim and I had never been through this before. As much as we had done up to that point we had never gotten the star treatment before. The calendars went out and holy crap we started to get all this fan mail. Tons of fan mail from everywhere, people were going nuts for it. It seemed to hit their view of the way the books should look to them.That calendar sold extremely well so they gave us the next calendar to do and we had ten months for that one. So we had a little more time. That one sold even more so by the third one they were stacking the calendars up four feet high at the cash register of the bookstores.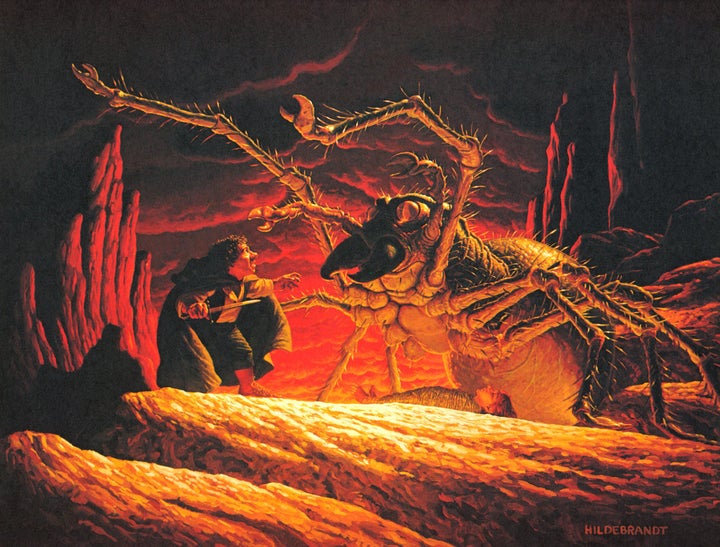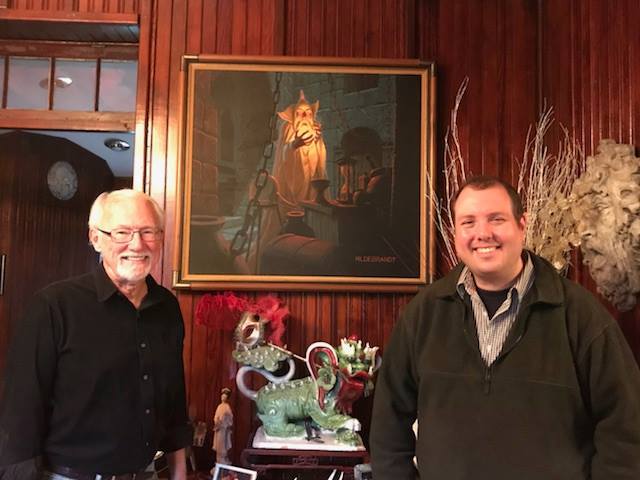 How did you guys end up doing the movie poster for the original Star Wars?
Tim and I decided we wanted to go after doing movie posters. Back then you could literally open up the yellow pages and look up a movie poster producer. We called up and said we were illustrators and we've done this and this and he said bring your portfolio over. You could do that back then. So the next day we brought our portfolio to this small agency in Manhattan. We walk into this office and there's all these paintings sitting on chairs all around the office. They all say "Young Frankenstein". This is 1973. They told us Mel Brooks is doing Young Frankenstein. I said "What! I'm a big Mel Brooks fan!" He told me the movie was in black in white and the guys who worked on the Universal monster movie did the props. I said holy sh*t we gotta do the poster. He said I'm sorry were all done and everything is going to get shipped tomorrow morning and we have no budget left. Tim and I said we don't care! We gotta do one. He said you only have until tomorrow and he gave us 8x10 glossies from the movie and Tim and I on the train back to my home in New Jersey, started figuring out the composition. So we figured out the whole composition by the time we got home and grabbed some people to pose and we knocked out a painting overnight. We got on the train the next morning with a painting and brought it to their office. It didn't get used, but the fact we did it overnight stuck in their memory. Then a couple years go by and now we've done the Lord of the Rings and we have this reputation for fantasy and we're famous now. In 1977 we get a call and the guy from the agency says you gotta help us out. We have a movie here and the director doesn't like the poster he's got. I said what's the movie and he said it's some kind of science fiction movie. They hadn't seen the film and didn't know what it was. So we got on the train and went in and it was the Star Wars poster. We went home and did it in 36 hours. The film was coming out in less than a week so they needed it right away for advertising. They needed it fast and they knew we could do a painting overnight. That's how we got the job. Because we came though on the Young Frankenstein painting overnight. So I'm thankful to Mel Brooks and Young Frankenstein.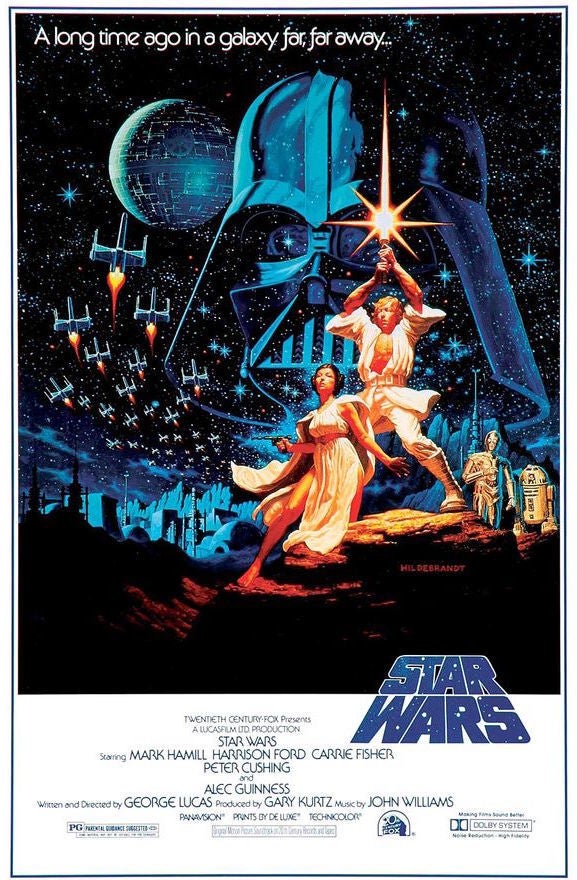 So it was George Lucas who wanted it to have a comic book like style?
Yes, but the thing is when we gave them the poster, and at this point we are well known for our Tolkien art. When we gave them our painting Tim and I just signed our last name Hildebrandt. We had signed it tiny at the bottom of the picture. When they sent the picture to Lucas, that's when he found out that Tim and I had did it. Then we were told that the director wants to make your name bigger. Which never happens on a poster. So we made our name bigger where it is now. He wanted it bigger, and we assumed it was because of our work on Lord of the Rings. George never owned the original painting though, Alan Ladd Jr, who at that time was the President of 20th Century Fox, owned the painting.
Were you surprised by how popular that film and poster would become?
To me it's mind boggling because it's so accidental. If we didn't do the Young Frankenstein painting for this agency we wouldn't have been a part of this whole Star Wars thing. We suddenly got swept up into this mania. We literally got swept up in the Star Wars mania.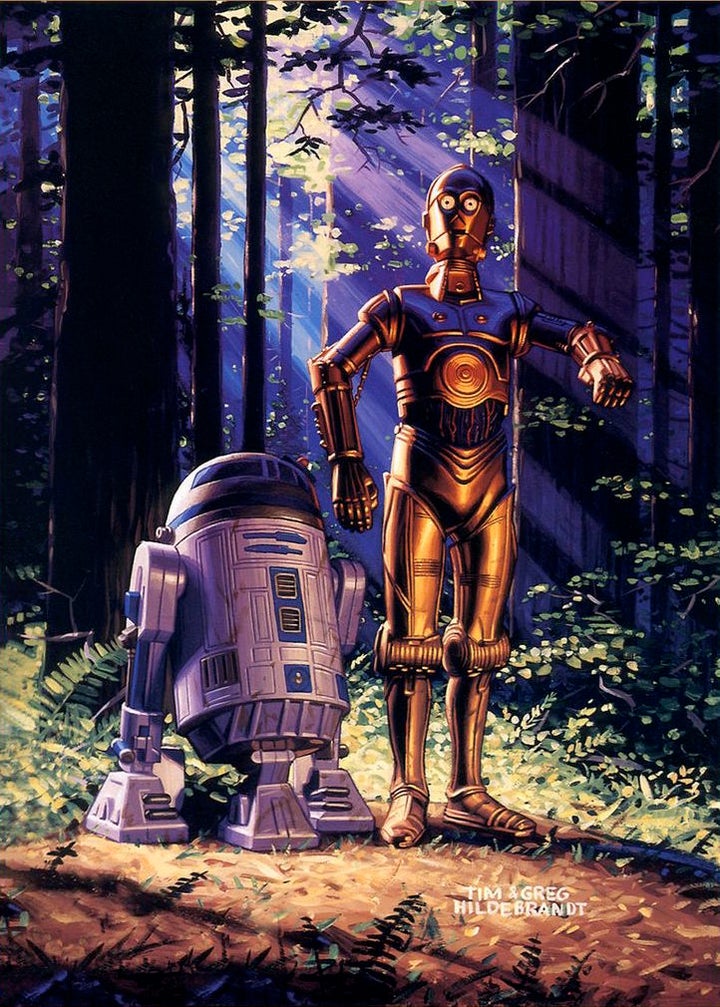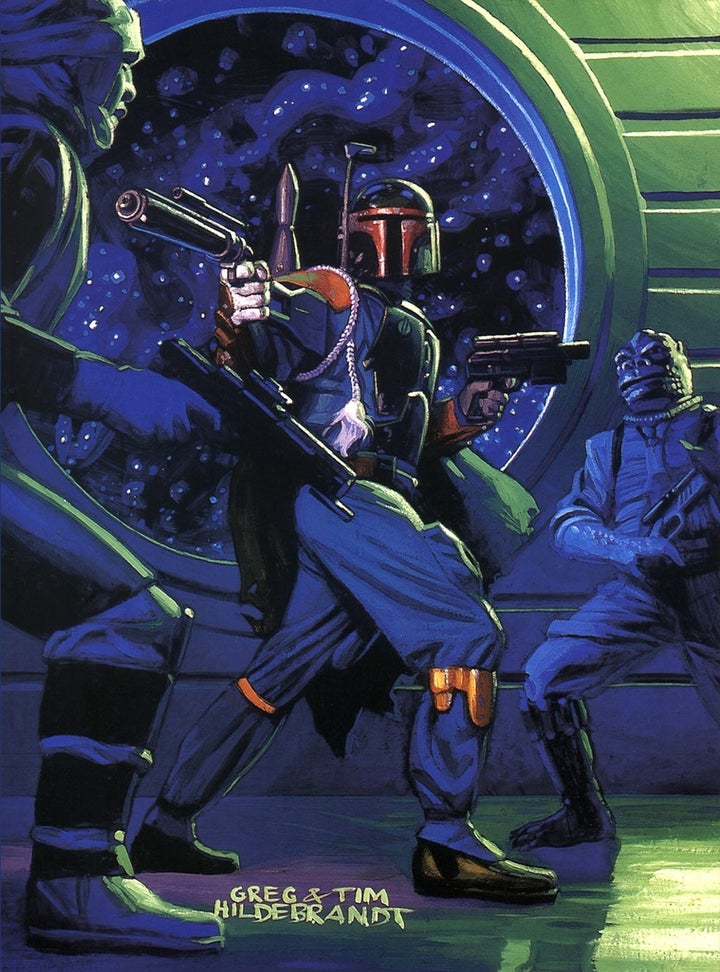 Your poster is very similar in composition to the Tom Jung Star Wars poster. His poster doesn't have a lot of color though, while the poster you did with Tim is exploding with color.
That was the idea. To me comic booky meant intense color. That's what I took it as. When we got to the agency to do the Star Wars job, they showed us Tom Jung's poster. They said, basically, keep the same setup but do your thing with it as far as color. We kept the composition, but altered the poses and added the droids. They even told us to tear Princess Leia's dress, and we said the reference didn't show anything like that. We were told to do it anyway, so we did. Then, the movie came out and it was a huge success.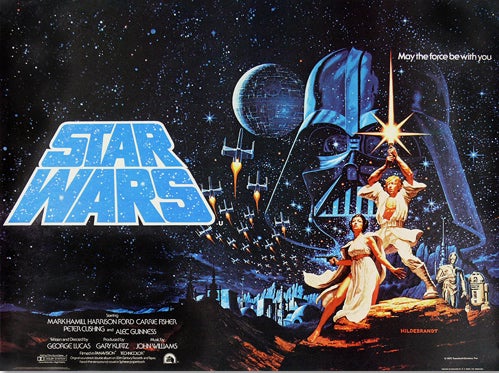 Stay tuned for part two of my interview with legendary artist, Greg Hildebrandt. We discuss the early filmmaking years of the Hildebrandt Brothers, the making of their Clash of the Titans movie poster, how Greg ended up doing album cover art for Black Sabbath and Trans-Siberian Orchestra, and Greg's current series of pin up art. If you would like to purchase Greg and Tim Hildebrandt artwork go to their website, http://www.brothershildebrandt.com/. You can also learn more about Greg's work including his pin up art at https://www.spiderwebart.com/default.asp . Greg Hildebrandt will be appearing at Garden State Comic Fest on April 7-8th. You can visit http://www.gardenstatecomicfest.com/ for more info.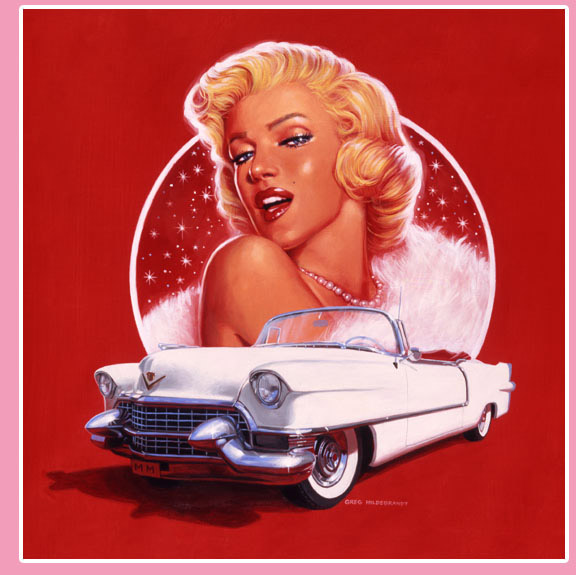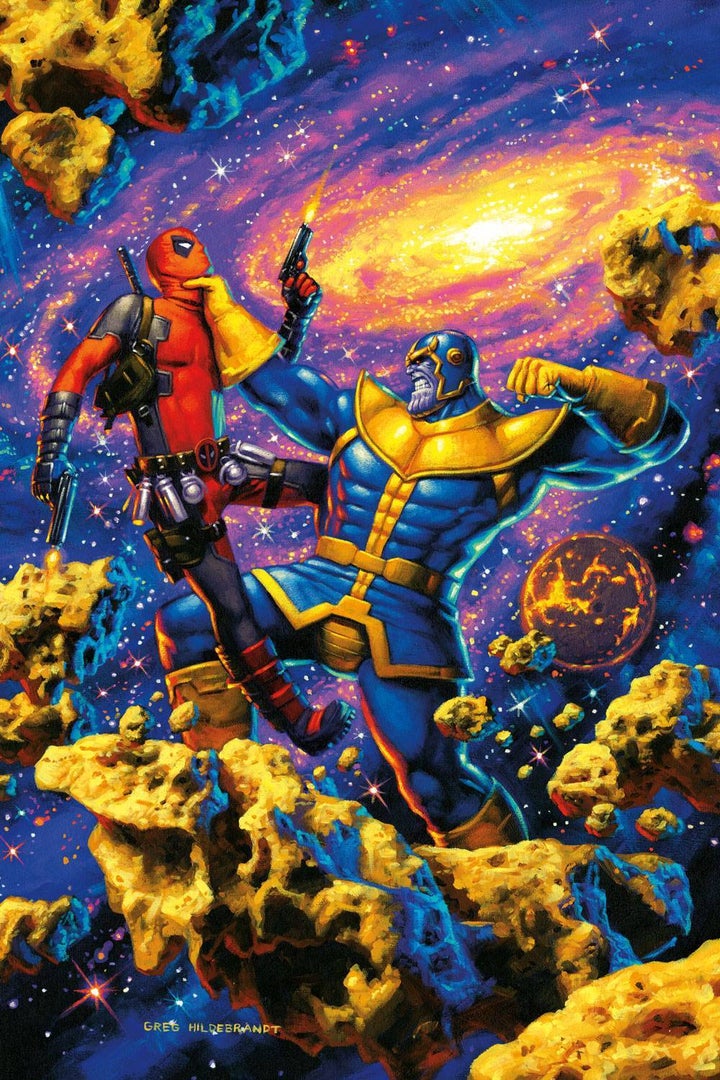 Related
Popular in the Community