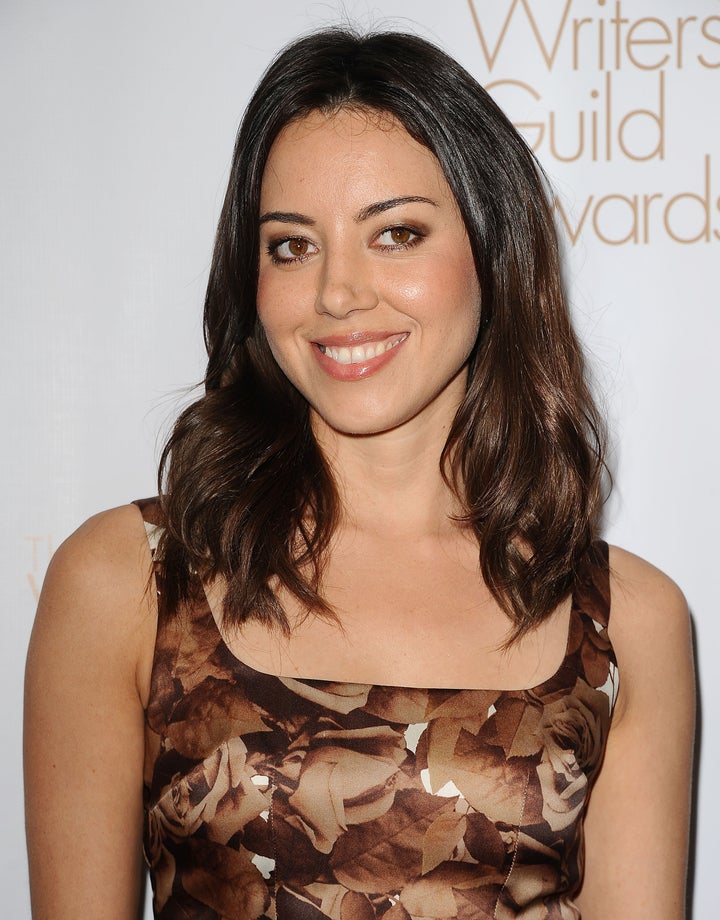 In addition to analyzing my every social interaction and meticulously outlining how each of my decisions will end in catastrophe, I also maintain an ongoing concern that a zombie horde will inevitably begin its slow, trudging march directly toward my apartment, their decayed psyches convinced that mine will be the tastiest brain of all. I'd like to have the fantasy where zombies are after everyone and I join up with a ragtag band of reluctant heroes to save humanity. But no, the zombies are just after me.
Only self-centered people can be paranoid, and it's that piece of hard truth that makes me determined to get out of my own head -- which is one of the many reasons I enjoyed what the inimitable Aubrey Plaza had to say about the free-form nature of zombie narratives at a recent press event in West Hollywood. She was discussing her latest film, Life After Beth, a bittersweet romp into darkness that follows a young woman's mysterious resurrection and slow descent into demonic decomposition. Featuring a cherry-picked collection of talent including co-star Dane DeHaan, as well as John C. Reilly, Anna Kendrick, Molly Shannon, Paul Reiser, Cheryl Hines and Matthew Gray Gubler, the film offers Plaza and co. an unusual amount of artistic freedom.
"I really like how when you do a zombie movie, you can come up with your own rules about what your zombies are like because there's no set thing, and it's anyone's interpretation," she says. "There are things that people think of when they [picture] zombies, but you could really just make up whatever you wanted. I thought the script was really clever in coming up with some rules that we haven't seen before -- like zombies love smooth jazz! I've never seen that in a zombie movie before and I thought that was kind of a fun characteristic. And I also really liked the idea of seeing someone slowly transform into a zombie. Normally, they burst out of the grave and they're immediately a zombie, but this was cool because it was like a slow burn."
Plaza, best known for her role as April Ludgate-Dwyer on NBC's Parks and Recreation, has amassed an adoring legion of fans with her elevation of sardonic deadpan to high art. She doesn't paint by numbers, she'll say what she darn pleases and she gets away with it with a bat of her big brown eyes. She was the perfect person to remind me that nothing -- not even a long-held sense of personal, zombie-fueled doom -- is set in stone. I also enjoyed hearing how she practiced her zombie moves in private.
"I did do that a couple of times by myself in the bathroom," she recalls, and continues with a laugh, "I would look at myself and freak out -- and I'd be like, 'That was a great freak-out! I could use that tomorrow.' Or I would do it at red lights just to freak people out." When asked what her parents would do if she ever actually became a zombie, she replies, "I think my mom would probably cut off her fingers and let me eat them. I think any mom would! My dad would probably just shoot me in the head."
In her signature style, Plaza steers the conversation toward an oddly calming place when asked if she would recommend zombie roles to her peers. She replies, "Yes, I would recommend them, I think they're great and fun and very therapeutic. You don't always get to play a physical role where you get to act like a lunatic and grunt and make weird noises and attack people. So if you feel like you are holding anger, or anything, inside, it's a really great way to let it all go."
So not only do I have free rein to change the unhealthy narrative in my head, but even if the zombies do come knocking, maybe it wouldn't be so bad. And as the vibe gets decidedly tranquil, Plaza is positively Zen when she reveals what she does to relax. "I'm pretty good at just staring at a wall and going into nothingness," she says. "Nothingness calms me down the most."
I felt a glimmer of peace, though even in a moment of ease, worries don't disappear entirely. But they can be tucked out of sight with just the right encouragement, and Plaza serves it up. How would she do in a real zombie apocalypse? She grins. "I think I would be great in it because I'm a really good shot and I'm not scared of anything -- so bring it!"
Written and directed by Jeff Baena, Life After Beth is now in theaters. Find this interview and others at IconicInterview.com.
REAL LIFE. REAL NEWS. REAL VOICES.
Help us tell more of the stories that matter from voices that too often remain unheard.