*Scroll down for the full slideshow of images from LIFE.com*
In 2007, we launched on this site a column called Lets' Bring Back -- which has, over the past three years, celebrated hundreds of forgotten-yet-delightful fashions, pastimes, objects, and personalities.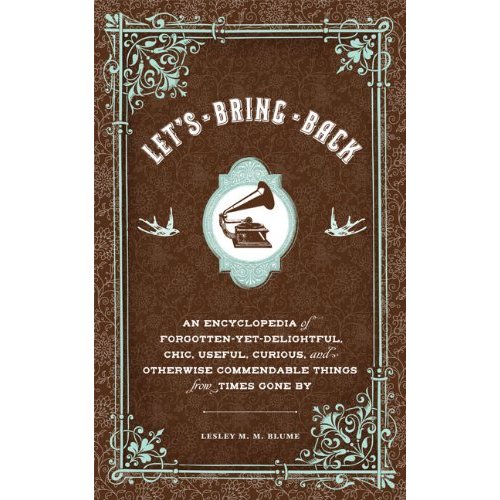 Over the next two weeks, you will become reacquainted with some of the twentieth century's seminal tastemakers, designers, and muses -- many of whom are now unjustly fading from public memory. Once you've spent some time with them, you'll agree that each of these women deserves to remain in the limelight.
After all, fashion is fleeting, but true style glimmers forever.
Today we are thrilled to present our third ICON OF STYLE, designer Elsa Schiaparelli. Like Daché and Baker, she was a self-made woman, and a true individualist. Any contemporary designer who uses absurdist elements (such as that infamous deconstructed Marc Jacobs shoe a few years ago) in his clothing must take his hat off to Elsa. And in her case, that tipped hat might just have resembled a shoe, or any other variety of objects; after all, she pioneered, in many ways, the fusion of conceptual art and apparel.
Read on, and make sure to see the slideshow below.
The following excerpt is from Let's Bring Back (Chronicle Books, November 1):
ELSA SCHIAPARELLI (1890-1973)
This lavishly creative designer--known as "Schiap" to her friends--was once as revered and famous as Coco Chanel, who referred to her rival as "that Italian artist who makes clothes."
Schiaparelli was closely associated with the Dada and Surrealist movements, collaborating on pieces and collections with artists Salvador Dalí, Jean Cocteau, and Alberto Giacometti; her most famous creation was arguably the Lobster Dress, a simple white silk evening gown with a big, fat, insouciant lobster painted by Dalí onto the skirt. It was worn by several of the era's most fashionable women; Wallis Simpson donned it in a series of now-iconic photographs taken by Cecil Beaton just before her controversial marriage to Edward VIII.
Always irreverent about fashion, Schiaparelli also created a hat shaped like a woman's high-heeled shoe, with the heel pointing straight up into the air and the toe tilted over the wearer's forehead. It too was touted by some of the world's most formidable clotheshorses.
I love Schiaparelli for many reasons, but above all because one day she just decided to become a designer; with no formal training, she simply drew up innovative clothing sketches and had local tailors create them. Among her offerings: sweaters with x-ray-style rib cages printed over the wearer's actual ribs--a shockingly insouciant design at the time, but department store buyers loved them, and so did their customers.
How I admire the message behind Schiaparelli's rise, comparable to the way Athena sprang from Zeus's skull, fully grown and shimmering in battle armor: visualize what you want to be, and become it.
(Images and captions courtesy of LIFE.com, Lobster Dress image from Flickr. For many more images of Elsa Schiaparelli, visit LIFE.com.)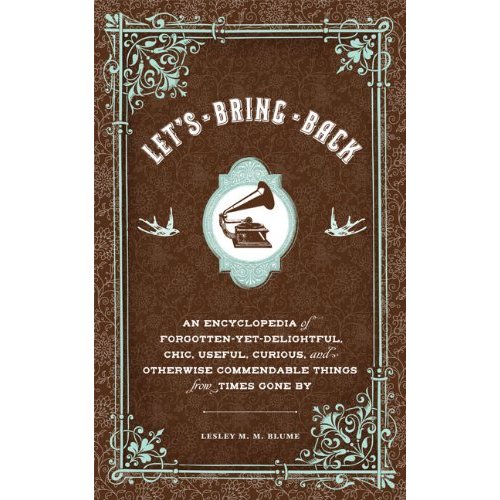 Follow Let's Bring Back on Twitter: @LetsBringBack
For publicity inquiries, please contact April Whitney at Chronicle Books: April_Whitney@chroniclebooks.com