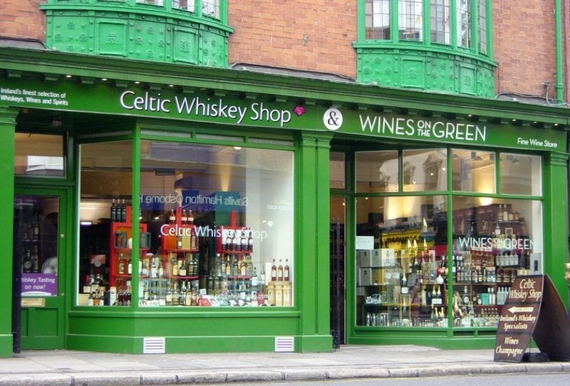 The Celtic Whiskey Shop, Dublin Ireland

The Irish are credited with inventing whiskey and teaching the art of distillation to the Scots. During the 19th century Irish distillers dominated the international whiskey market. They produced more whiskey than Scotland and successfully exported it worldwide
.
In the late 19th century, however, Irish whiskey began a long period of decline that would eventually see the industry reduced to a single distillery complex − the Midleton distillery outside of Cork. The Bushmills distillery, technically in Northern Ireland, is the only other Irish distillery to weather the storm.
In the last three decades, however, the Irish whiskey industry has undergone a revival. Irish whiskey is now one of the fastest growing whiskey categories in the world. Jameson whiskey, Ireland's flagship brand, has become the third best-selling blended whiskey worldwide. From its dark days in the 1980s, the industry now boasts 25 distilleries, either operating or announced.
At the center of the Irish whiskey revival has been an unlikely player − Celtic Whiskey Shop in Dublin. As the largest retailer of Irish whiskey in Ireland, and probably the world, the shop also stocks the largest selection of Irish whiskies available anywhere. It is also Irelands first, modern, specialty whiskey bottler.

In 2013, the Celtic Whiskey Shop was chosen "Best Retailer-Single Outlet-Rest of World" and "Best Whiskey Retailer Worldwide" at the World Whiskey Awards. That same year it was named "Icons of Whiskey, International Whiskey Retailer of the Year" by Whiskey Magazine.
The Celtic Whiskey Shop was founded by Ally Alpine, a transplanted Scotsman. Alpine came to Dublin originally to set up five branches for the British wine retailer Oddbins. Witnessing the beginning of the Irish whiskey renaissance first hand, in 2003, he decided to set up a whiskey shop specializing in Irish whiskey. The store has now become an Irish whiskey institution, organizing both the Irish Whiskey Awards and Whiskey Live Dublin.
Several years ago, Celtic Whiskey Shop expanded into the realm of the specialty whiskey bottlers. Originally Alpine worked with Cooley distillery to bottle single cask offerings, under the Tyrconnell and Connemara labels, exclusively for the shop. The original bottlings were matured in ex-bourbon casks, but Alpine soon switched to using barrels from wineries being exclusively imported by the Whiskey Shop. This was the genesis of the shop's "cask finish, single cask releases."
After Beam Global purchased the Cooley Distillery, it decided to no longer do custom bottlings under its own brands. Forced to develop its own whiskey brand, the Celtic Whiskey Shop launched the Celtic Cask series. The series has been widely acclaimed. In both 2014 and 2015, it was chosen as the best "non-Scottish Independent Bottler of the Year" by the Independent Bottler's Challenge.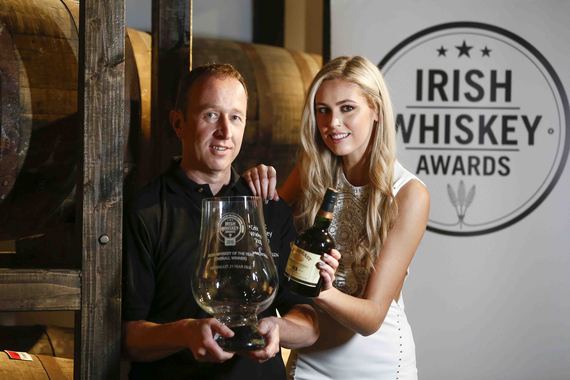 Ally Alpine at tthe 2015 Irish Whiskey Awards

The company's most recent project is the Irish Whiskey Experience, a combination restaurant, whiskey bar and classroom complex in Killarney. The facility offers a variety of one-hour workshops ranging from "Distiller's Apprentice" to "Blender's Challenge," an opportunity to blend your own unique Irish whiskey.
Other sessions offer special tastings featuring parings of Irish whiskies with chocolate or traditional Irish farmhouse cheeses. There is even a Tullamore Dew, a classic Irish blended whiskey "deconstruction" that allows attendees an opportunity to reconstruct a bottling of Tullamore Dew from its various blending components.
The whiskey bar stocks over 300 different Irish whiskies. The menu features every expression of Irish whiskey currently produced, as well as a large number of now discontinued bottlings. This includes virtually the entire range of the company's Celtic Cask series. In many cases, the bar's stocks consist of only one bottle per expression. Better hurry if you want a taste of the liquid history of Irish whiskey. Once these rare offerings are gone they are unlikely to ever be replaced.
The Celtic Cask series is currently up to its fifteenth bottling. All but one of the expressions was matured in a cask from one of the 50 wineries the shop directly imports. Originally the shop purchased aged whiskey stocks that it finished in a wine cask. Currently it is buying new make spirit from Irish distillers, which it intends to mature exclusively in a specialty wine cask. Alpine continues to snap up whatever stocks of aged Irish whiskey he can find but admits that, "these supplies are getting scarcer."
The Celtic Cask offerings sell out quickly. Currently, only the number 14 and number 15 bottlings are still available. The Irish/Gaelic names on the bottling simply indicate the number in Irish. In other words, Celtic Cask Cuig Deag simply means number 15 in Gaelic.
These bottlings do not typically indicate the source of the whiskey. Historically, however, many have been drawn from Bushmills' stocks and feature the Bushmills' characteristic pronounced stone fruit aroma and flavor profile. This feature has usually been associated with the use of "crystal malts," a practice long utilized at Bushmills.
Crystal malts are made by cooking malted barley prior to kilning it. As with regular malts the barley is steeped and germinated. Prior to kilning, however, it is cooked in a pressure cooker. The cooking process breaks down the starches into sugars more completely. When the resulting malt is kilned, some of the sugars in the barley are caramelized.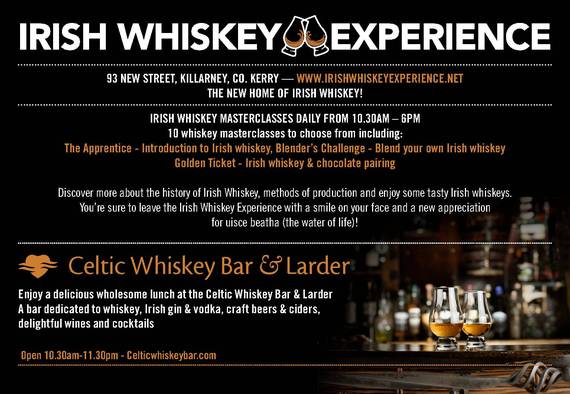 The Irish Whiskey Experience in Killarney

Crystal malts are often used in beer production to add sweetness and more pronounced caramel flavors to the resulting brew. Usually, they will amount to between 10% and 20% of the mash bill. For reasons that are not entirely clear, when they are used in whiskey production, crystal malts will typically create very pronounced stone fruit aromas and flavors. A pronounced stone fruit note is usually a good indication that a whiskey originated at Bushmills.

Celtic Cask Ceathair Deag #14, 70 cl, 46% ABV. Distilled in 2001 Bottled in 2016, 323 bottles. Non-chill filtered.
The Celtic Cask #14 is a double distilled, single malt whiskey. It was matured for 11 years in a first fill, ex-bourbon barrel. It was then finished for three years in a wine barrel that had previously held Brunello di Montalcino from the Altesino estate.
The whiskey has a deep rich amber color with very slight hints of a reddish hue from the wine barrel in which it was finished. On the nose there is sweet caramel, with aromas of baked apple, ripe stone and tropical fruit, candied citrus and a slight cereal note.

On the palate the whiskey has a rich, creamy mouth feel with a pronounced weight and viscous texture that features flavors of ripe stone fruit, baked apple pie, and slight minty and anise notes. The finish is long, featuring ripe stone fruit, with minty and licorice notes and a slight herbal tone.
Appearance 9/10, Nose 27/30, Palate 28/30, Finish 28/30 Overall Score 92/100
Celtic Cask Cuig Deag #15, 70 cl, 46% ABV. Distilled in 1991 Bottled in 2016, 646 bottles. Non-chill filtered.
The Celtic Cask #15 is a double distilled malt. It has been matured for 22 years in an ex-bourbon cask, followed by 2.5 years in a 50+ year old port barrel from famed producer Quinta de Noval.
The whiskey is a deep, rich bronze color, with a pronounced reddish hue from the port cask used to finish the whiskey. On the nose there is a distinctive butterscotch aroma, a consequence, most likely, of the crystal malt used in the whiskey's mash bill. This is followed by slightly herbal and dried fruit notes reminiscent of an aged tawny port, along with some candied citrus peel.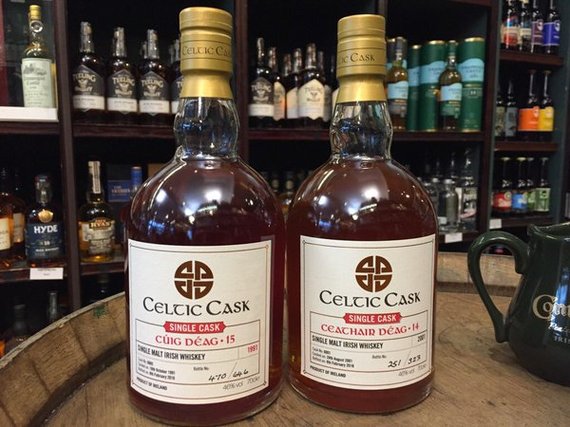 Celtic Cask Ceathair Deag #14 and Celtic Cask Cuig Deag #15

On the palate the whiskey is drier than on the nose, with a pronounced smooth, creamy texture and noticeable weight on the palate. There is a distinctive cooked and dried fruit element. The port cask influence is unmistakable, but is well integrated with the butterscotch elements of the original malt and produces the classic, spirit infused fruit cake flavors but drier, without any overt sweetness. There are additional notes of candied orange zest, and tropical spices, including vanilla, ginger, and cinnamon.
The finish is long and complex, featuring dried fruit elements with a bit of spice, followed by a pepperiness, more ginger-like than black pepper, and a distinctive butterscotch note at the end. This is an extraordinary whiskey. Grab a bottle if you can, before it is gone forever.
Appearance 10/10, Nose 29/30, Palate 28/30, Finish 29/30 Overall Score 96/100
The Irish whiskey renaissance is just beginning and many new and exciting Irish whiskies are waiting to be released. The Celtic Whiskey Shop can be expected to continue to play its pivotal role in bringing Irish whiskey to the world, while its own Celtic Cask bottlings will continue to both raise and redefine the standard for exceptional Irish whiskey.