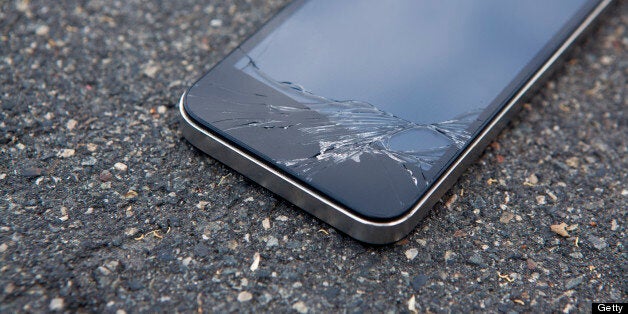 Millions of clumsy cellphone users have been in the situation shown in this video: One minute your iPhone's in your hand, the next it has hit the floor and cracked! That's where 25-year-old A.J. Forsythe comes in with a simple idea: iPhone doctors who make house calls.
Forsythe co-founded iCracked, a start-up that with a team of repair people who specialize in cracked screens.
"We're an on-demand group of individuals that no matter where you are, you can press a button and we'll dispatch a group of iTechs to you in real-time," he said.
The company has raised $700,000 from Y-Combinator, SV Angel and other investors. It is moving into another round of financing and hopes to raise $5,000,000.
A spokesperson for iCracked said revenue for 2012 was $2MM and this year the company says it expects to 'crack' $10MM. The company's co-founders, recently made Inc. Magazine's 30 Under 30 list.
At the core of the iCracked business is a network of iTechs who promise to fix your phone in a flash. Currently their network has 340 iTechs spread over 11 countries. Forsythe said thousands apply, but only 2 percent are accepted. The firm adds 50-70 new iTechs every month.
"We are extremely diligent in who we bring on and who represents us as a company…we background check every single one of them," Forsythe said. "We have a five-step interview process. We have a sales team that will vet them at different stages of the process."
While the company's iTechs are popping up in lots of new cities (customers can find iTechs on the site by entering their zip code) they're still not everywhere. For cell phone users in places like Kalamazoo, Michigan, where iTechs currently don't make house calls, the company offers the option of sending the broken phone to iCracked, where an iTech will fix it and ship it back the same day. For people who like to take matters into their own hands, iCracked offers a Do-It-Yourself repair kit. The company also has a buyback program, which offers cash for old iPhones, iPads, and iPods.
Forsythe said he believes the potential for the service is huge. One thing's for sure, the potential market is enormous, the world has more than 1 billion smartphones in use, and researchers estimate the next billion smartphone users to be online by 2015.
Apple (AAPL) recently started an in-store repair service for cracked screens but Forsythe says he's not concerned. "We're doing something completely different and changing how service is rendered," he said. "We don't really look at our competitors as long-term competitors since they're so big and slow they don't have time to react or scale at the speed we can."
The company says 80% of iTech repairs are done for $70-$99 dollars, but iPhone 5 repairs run a bit higher averaging between $180-$220.
Forsythe said repairing iPhones is just the beginning, "I think when we have such a large network we can really push any product or service through them," he said. Over the next few months iCracked has plans to start repairing android models, as well as selling cell phone insurance.
Are you in or out on iCracked? Vote in our poll!
--Comments, Questions, Suggestions? Follow us @CNBCPowerPitch, join the conversation at #PowerPitch or leave your comments below.
Calling all HuffPost superfans!
Sign up for membership to become a founding member and help shape HuffPost's next chapter
BEFORE YOU GO
PHOTO GALLERY
9 Biggest Complaints About The iPhone 5