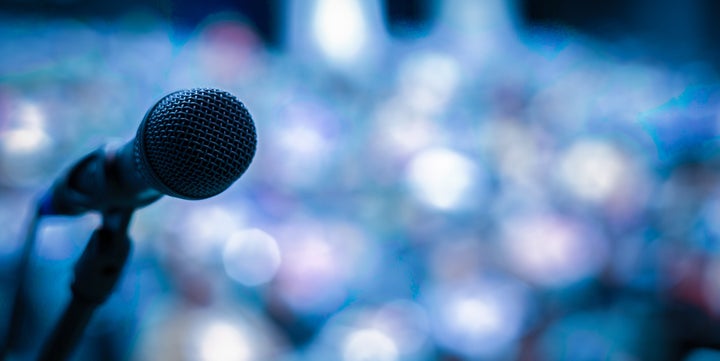 A few weeks ago, my friend David VonAllmen found out that he'd won a major award (and no, not a leg lamp or a bowling alley). It was a Writers of the Future award, and it's given to only twelve people a year for science fiction writing. Over the 33 years since the inception of the event, some past winners have gone on to huge projects, including movies, TV shows, and books galore.
So David and the other eleven winners were flown out to LA for some writing workshops, and then a red carpet event akin to any major award show you've ever seen. And after the ceremony, all of the winning stories were to be released in an anthology. I was absolutely thrilled for him.
So imagine my stunned surprise when two of my friends said, "Hey, did you hear David mentioned you by name in his thank-you speech?"
Sure enough, I checked the link that my friends gave me and went to the 2.26.30 mark… and he absolutely killed his acceptance speech. It was really, really well done. He had the crowd eating out of his hands.
And wouldn't you know it, he actually did mention me by name. And he didn't just mention me by name, but also by what I did to help inspire him. It was kind of a "holy $#!+" moment for me.
Awards are a big deal. They're recognition for a job well done, especially when given by people you look up to who consider your stab at creativity to be worthy of a statue. Or a plaque. Or a leg lamp.
I'd be lying if I didn't briefly think about who I would thank in an acceptance speech if I was ever given the opportunity. Definitely my wife. My kids. My folks. God. The person who invented the Reese's Peanut Butter Cup.
But when I heard David's speech, especially when I heard the people to whom he gave his very public gratitude, I decided to sit down and give it a whirl in the very, VERY off chance that I ever receive a similar honor.
First off, I'd like to thank God for giving me every gift I have, especially for the gifts of my wife Stephanie and my boys Sam and Ben who are my reason for everything.
(That's the four biggest biggies in one sentence. The Academy would be thrilled at my succinctness.)
I'd also like to thank my parents Ray and Marie, my brother Gavin, my folks and brother and sister-in-law, my nieces and nephews and all of my relatives who are continuous proof of the importance of family.
I'd like to thank my dog Summer and her lack of potty training skills for teaching me patience and humility.
I'd like to thank anyone who has ever hired me, and anyone who has ever taught me which gave me the skills that has led to more people hiring me.
I'd like to thank the people who constantly inspire me, including Kevin Smith who showed me that phenomenal comedic writing (plus a few maxed out credit cards) can be a catapult for your dreams. I'd also like to thank Doug Lindsay, who not only discovered his own disease, but then found the previously unknown cure, and the medical team to actually pull off the never-been-done-in-a-human surgery. Yes, you read that correctly.
Never underestimate the power of dogged research and unrestrained perseverance.
I would, indeed, like to thank the inventor of the Reese's Peanut Butter Cup. Hell, I'll throw in Twix and Kit Kat, as well.
As the band started playing me off over a minute ago, I know I'm running out of time, so I'll make the rest briefer. I'd like to thank all of the friends, both old friends and newer ones at my parish, my neighbors, Ryan Reynolds, Sponge Bob, barbecue grills, trampolines, airplanes, roller coasters, pianos, road trips, Bigfoot (both the truck, and the beast), Rush, U2, red meat, beer and wine, Santa Claus, hiking, Blues Hockey and Cardinals Baseball, and too many countless things that just make life more interesting.
And to my friend David, who I'm not only grateful to for mentioning me by name in his acceptance speech, but for inspiring this little exercise in thinking about the people and things that make life grand.