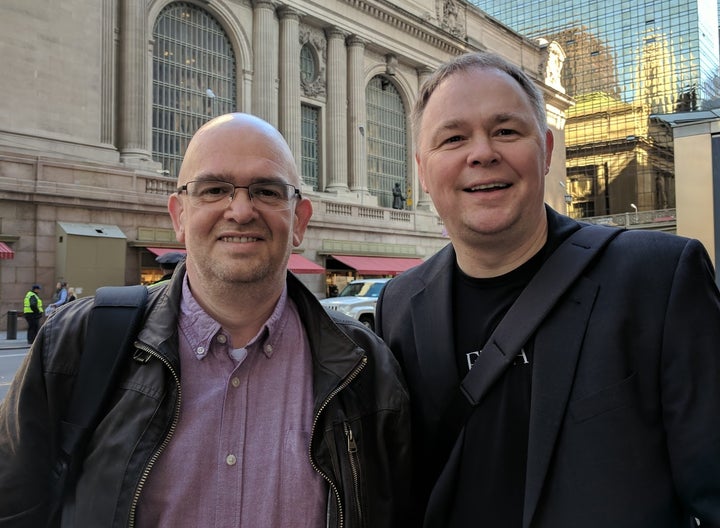 Well, actually I meant two Scotchmen – Fergus Cloughley and Paul Wallis of the UK firm, OBASHI. Why would our US charity, RIP Medical Debt, want to import this Scottish talent, and just what do I mean by "medical data integrity?"
Data integrity is the subject of this blog, the third in a series researching the data analytics, credit scoring and technology needed to enhance RIP's already powerful ability to locate, purchase and forgive personal, unpaid medical debt.
Considering that RIP's stated goal is to abolish $1 billion in such debt and that rigorous rules and HIPAA compliance must be applied to literally millions of records to achieve this, our charity has to continually attract only top-tier technology partners.
To be certain that its work would be impeccable and the results unassailable, RIP has already teamed up with thought leaders in a number of industries, including TransUnion Healthcare and TheNumber…our earliest strategic partners.
And then along came two Scotsmen
"Initially when we looked at RIP," Paul remembers, "there was a glaring challenge that we knew we could help with if they were to reach their full potential, and that was a rigorous approach to compliance."
"Getting access to public clinical records at any level is always a contentious issue," Paul said. "You must be able to show that your organization has the right systems and experience in place to govern that access. We know how to do this, believed we could help and wanted to be part of something seismic."
Fergus adds, "Scale is a factor but control, management and governance is fundamental and more important. In all countries, there is a mixture of data types - clinical, financial, government, as well as private and personal information. The security and control of this data is of primary importance. We have the experience to bring clarity to this problem. We can help technical and non-technical people communicate effectively."
To confirm the fit, the two OBASHI execs visited NYC to participate in the June 2017 mini-summit featuring the work being done in a study of the economic impact of medical debt by four major schools: MIT, UC/Berkeley, UCLA and the University of Chicago.
"We wanted to see if the vision matched up to the mission," Fergus said. "Did the RIP founders have the foresight and drive to take them to the next, bold step?" After meeting with the university team, RIP's technology partners, corporate donors, and representatives from the federal CFPB and TransUnion Health, he said enthusiastically, "Our answer was 'Yes'…and then some!"
The practical goals of this partnership
Craig laid out the relationship's importance and goals.
"Without providing transparency on dataflows and how medical debt data is used there can be no scalable solution. OBASHI can help realize RIP's ability to reduce overheads, speed up forgiveness and have absolute certainly that compliance standards are maintained. All this data integrity is key to ensuring debt sellers, hospitals and other data partners that they can trust RIP with financial and medically sensitive data."
And, here's the sweet spot.
"This data integrity we gain with OBASHI," Craig says, "will transform RIP's ability to accelerate the forgiveness of medical debt. Given this volume, our charity can develop new ways of working with debt buyers, hospitals and associations to improve the leverage between donations and amount forgiven."
OBASHI has its own agenda.
"We believe that our approach is universally beneficial to all industries, and that includes charities," said Fergus. "Over the course of our careers we've always given part of our time to projects which will benefit others. Our current work as Senior Lecturers for the United Nations' University for Peace is a prime example where sharing the OBASHI methodology can make a positive impact in Global Financial Data Management. Our hope is that we can share with others what RIP has achieved through OBASHI to help spread the word."
Returning to NY for the Veterans' Debt Mini-Summit
RIP and its partners are drawing attention to the worsening problem that burdens veterans and active duty military alike. Healthcare in America has become too confusing, too costly to deliver and too expensive to receive. Too often, the situation is worse for our servicemen and women.
Our warriors in the armed forces are nearly twice as likely to file complaints about debt collection as the general population.
Coming from a European society that has universal healthcare, and whose military's healthcare needs are similarly provided, the current healthcare system in the U.S. causes OBASHI's founders to be both perplexed and optimistic.
"When you have universal healthcare," said Paul, "you know what life is like when you are free from the risk of medical debt. But, that's not what qualifies us to help. Rather, it's our understanding of socio-Technical Systems and how data flow supports the People, Process and Technology in an organization. Especially when that organization is in a highly regulated industry as you have in the United States."
Given all the above and OBASHI's reputation, dedication and stated commitment to further RIP's mission, I have a personal thought to share about our partnership.