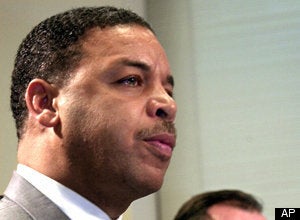 Did you ever try to get reimbursed at work for business travel expenses? It's usually not too complicated. You turn in your receipts. You fill out a form with some basic information about your trip. You get the proper person in the office to sign off on the document. And bingo -- within a few weeks, your expense check generally lands on your desk.
Unless, of course, you work for the Chicago Board of Education. The board's reimbursement process is now shrouded in mystery ever since former board president Michael Scott used his board credit card to take his wife to Copenhagen for Chicago's 2016 Olympic bash.
You might think Clare Muñana would be able to explain the reimbursement process. Mayor Daley appointed her to the board over a decade ago. She's been the board's vice president for the last five years, and she now serves as its interim president.
If anyone on the board knows about financial controls and organizational management, it is she. Armed with a Kellogg MBA, Muñana (according to CPS's website) "previously served as the Executive Director of a public sector financial management consulting group in Chicago, assisting Chicago government agencies in designing and implementing plans for significant financial and management improvements." She certainly sounds like a procedure wonk.
But during a Nov. 23 press conference, a local reporter asked Muñana the following softball question: "Who is supposed to sign off on out-of-town travel receipts [submitted by board members]?"
Muñana told the reporter she didn't "know exactly who is charged with that." She went on to explain that "that's actually one of the questions we've asked Mr. Jones to take a look at."
Mr. Jones is Walter Jones, a former federal prosecutor. Yes, folks, Muñana and her fellow board members have now hired an outside lawyer (on our dime) to figure out, among other things, who needs to sign off on board members' reimbursement requests.
When asked why the board's in-house legal department couldn't get to the bottom of this issue, Jones explained that it was important to have "some form of independent review."
And just how "independent" will that review be? Who knows? Jones's firm is one of CPS's go-to firms. CPS records reflect that the board authorized roughly $475,000 in legal fees to the firm in the last two years.
But the firm's ties to the City of Chicago extend beyond CPS. The firm's website indicates that the city provides a decent amount of additional work to Jones and his partners (e.g., Skyway privatization work, trial work, CHA work, civil rights work, etc.).
So will this engagement be a search for the truth or just internal damage control for a steady client? It's a fair question to ask because you and I will be footing the bill for this adventure. Were Jones or any of his partners friends with Scott? Are any of them friends with the mayor?
Jones and his partners are undoubtedly top-notch lawyers, but why didn't the board bring in a true outsider for this matter? Muñana, who also seems like a class act, should have demanded as much. Knowing both our city's history of corruption and the tragic facts that sparked this particular investigation, she needed to take steps to ensure that the public gets the truth -- without any additional appearance of conflict.
Let's remember the timeline that pushed this story into the headlines. Former board president (and close friend of the mayor) Scott and his wife traveled to Copenhagen between Sept. 29 and Oct. 2 as part of the Chicago group lobbying for the 2016 Summer Olympics.
Scott used his board credit card to charge thousands of dollars worth of expenses on that trip.
On Nov. 2, the Chicago Tribune served the board with FOIA requests concerning board members' expense accounts. According to Jones, CPS's inspector general had already launched its own investigation by the time the Trib served its FOIA requests.
On Nov. 16, Scott turned up dead.
(School officials later said that Scott began paying down his credit card debt on Nov. 8, though Muñana wouldn't confirm or deny that claim during the Nov. 23 press conference.)
On Nov. 23, the board's newly-hired outside lawyer said the board did not intend to provide the Trib with the documents the Trib had requested while an investigation was pending.
Maybe all of this will prove much ado about nothing, or maybe it'll be the tip of an iceberg. In any event, CPS CEO Ron Huberman has already warned of a $900 million deficit in 2010. And now we're paying a former federal prosecutor to tell Muñana and her colleagues to whom they should submit their receipts?
Smart money says the Trib's reporters could get Muñana the answer for one-third of Jones's hourly rate.