It's not hard finding great ramen in Tokyo. It's the restaurant that's hard to find.
Fortunately for me, my cousins led me on a gastronomic adventure to Ichiran ramen in Roppongi.
Ichiran specializes in Tonkotsu ramen, which has a creamy pork-based broth. The ramen is great, but it's the kitschy 60's décor and challenging ordering system that make this an experience.
I will give you precise directions and landmarks later because what fun is it to tell you about a great place and not help you find it?
You place your ramen order outside, well technically it's the stairwell. The big vending machine is the menu, and it's how you order.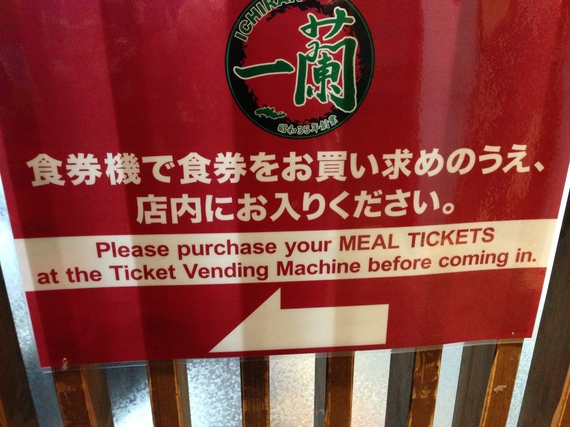 The vending machine doesn't dispense the ramen--it dispenses little printed meal tickets.
Though there are some instructions in English, you are better off just pressing the buttons by the photos of food that appeal to you. Select your noodle type and ingredients.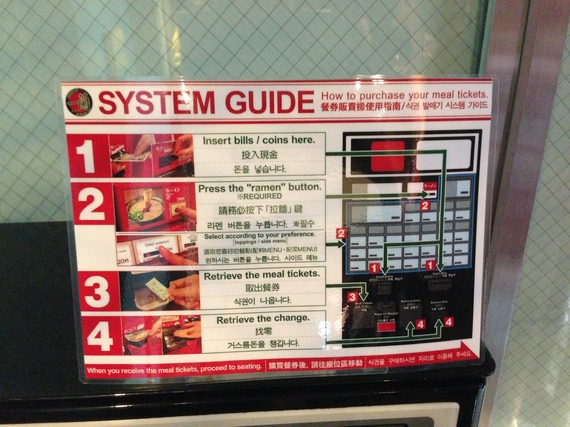 Don't get your yen in a bunch, the machine accepts cash and credit cards. Once you are done filling your virtual bowl, a little voucher gets printed. The meal ticket is in Japanese, so have faith that you pushed the right buttons.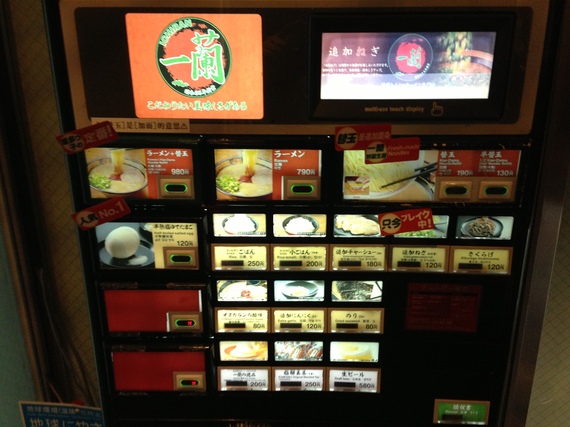 Now, do an about face and walk inside the restaurant. No one is going to greet you or help you, so look like you know what you are doing.
When you walk in the door, you will see what looks like a lighted game board. And of course, it's in Japanese.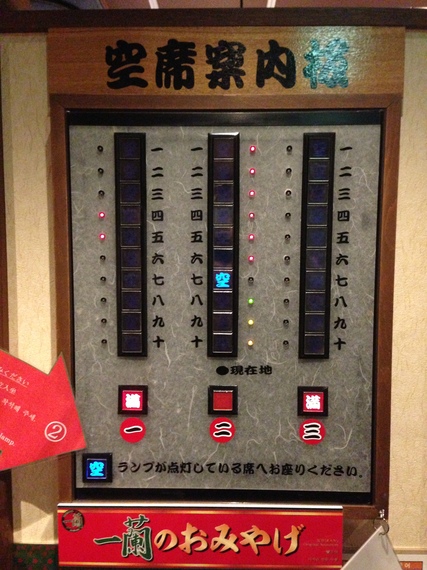 Think of this as the little green lights in American parking garages that indicate free spaces. See a green light on the board? That's where you should seat yourself.
Choose your spot, push the button and go. Where are you going?
Look for a wooden cubicle that looks like this.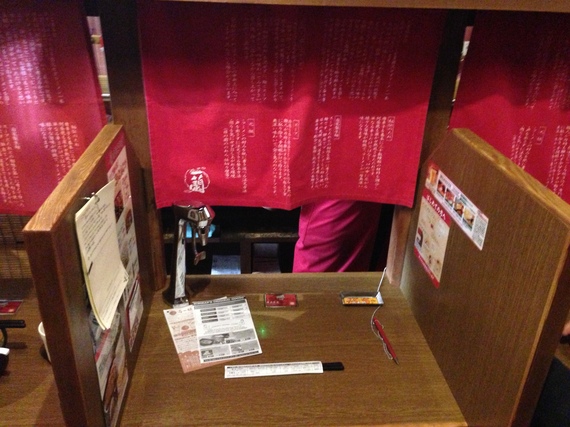 Everyone sits in their own tiny isolation booth. Your table is a cross between a voting booth and a San Francisco sex club.
The dining table is wide enough for you to spread your elbows, not your arms. Think of flying economy in a middle seat, but smaller.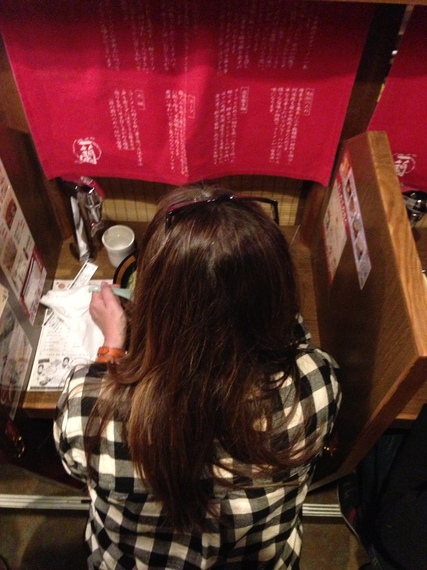 Brace yourself for the first human contact in your ramen isolation booth.
This was my experience: suddenly a woman lifts the red curtain, says something incomprehensible in a hushed tone and smiles. Then she takes my ticket and points to a form on the table. It appears the ramen order is not complete.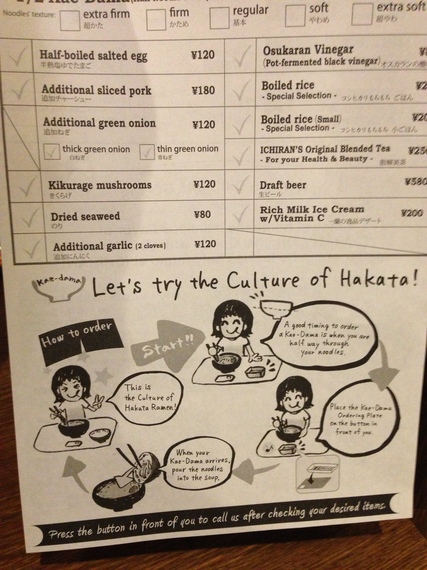 On this form, I must circle how firm I want my ramen. Do I want mild or bold tasting broth? Here's the crazy thing, this part is in English. Guess they figure if you made it this far, you have earned a break and deserve a hot bowl of soup.
The waitress takes my form, gives me a plastic cup and drops the bamboo mini-blinds.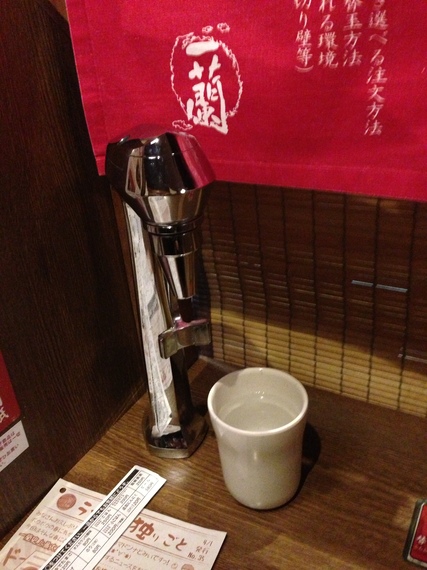 I sit there pondering why my tiny ramen booth has its own water dispenser. Since I can't talk with anyone or see anyone, I occupy my time playing with it. I'd be a lot happier if it dispensed beer.
While I am waiting, I notice a red button. Is it a call button, like on an airplane?
So, I push it. The button lights up, and in seconds my server is raising the mini-blinds. Like an idiot, I tell her I am sorry--I didn't mean to call her.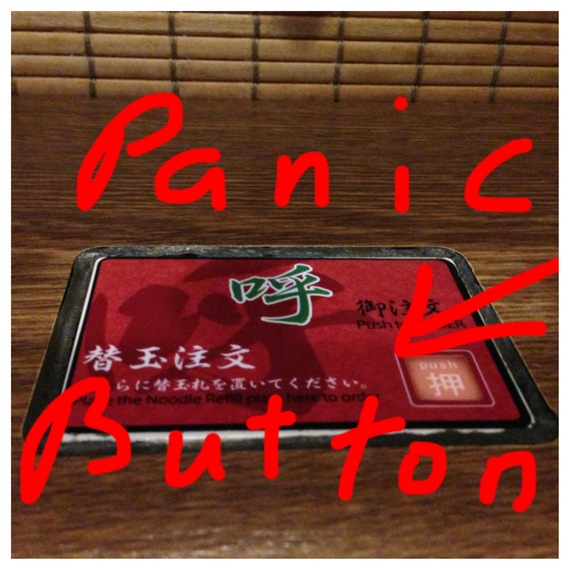 Of course that was a lie. I WAS SCARED AND LONELY IN MY RAMEN BOX AND PANICKED. Ok?
That's when I realized we were all like pigs lined up at the trough.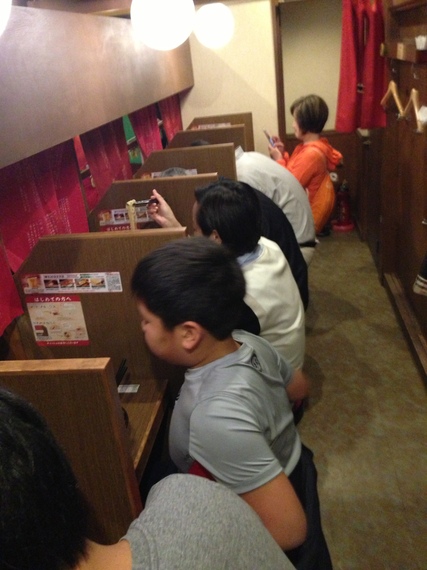 The waitress, on the other side feeding us from a narrow galley, is like the farmer dumping the bucket.
I had been dining cage-free my whole life and didn't know it.
All of a sudden, the blinds whip up and my ramen is delivered.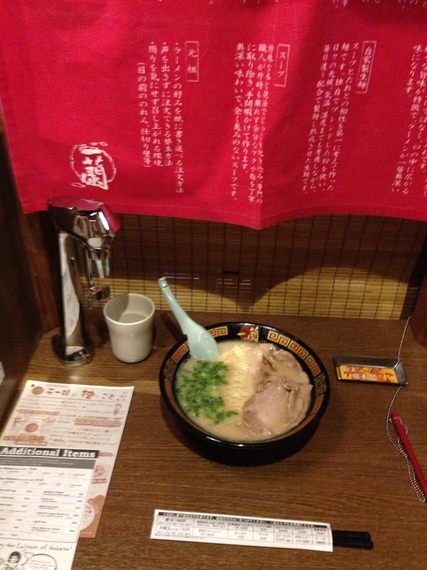 It's perfect. Noodles are medium firm. The broth, bold with just a touch of garlic.
While this place is worth going to just for the experience, the ramen is very good, plus you can't beat the price about $8. The pork was not too fatty and thanks to the vending machine I could avoid that whole " why is there an egg in my ramen" unpleasantness. The choice was all mine.
Ichiran is part of a chain of restaurants, but the signs are hard to read. So, I will help you find this one. I went to the Ichiran in Roppongi, one block from the Tokyo Midtown complex.
It's on the same side of the street as Tokyo Midtown, close to the subway escalator, right by a pet shop. It's a 1970's metal building with an exterior staircase.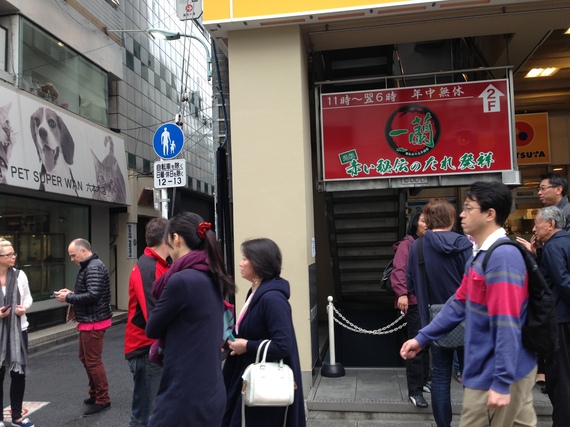 Hopefully my photos and directions will help you find this place because in Tokyo, sometimes an address is not enough. You will arigatou me.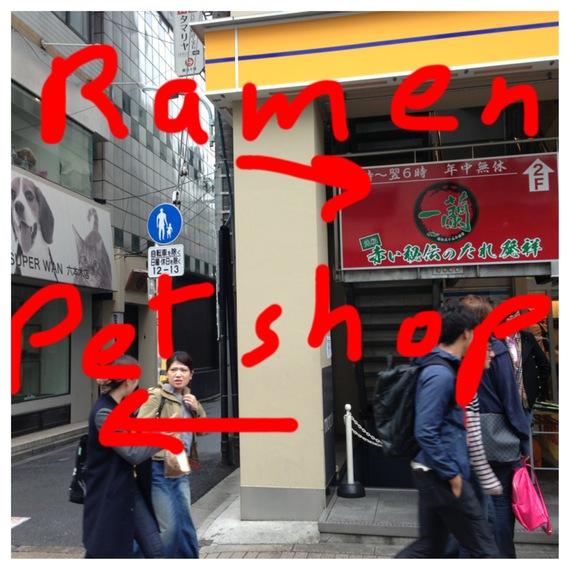 Popular in the Community