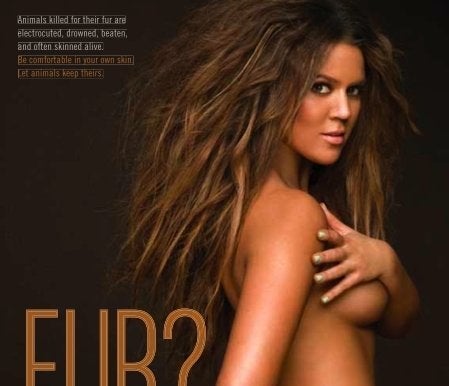 As we've noted, PETA has its own trademark ways of getting attention, and perhaps the most noticeable is their various semi-nude or nude protests.
One of their campaigns that gets the most attention is the "I'd Rather Go Naked Than Wear Fur" campaign, because it enlists attractive celebrities to pose for billboard photos. When they're in your town, they're just about impossible to miss.
On tomorrow's episode, "I'd Rather Go Naked...Or Shopping," Khloe deals with harsh criticisms regarding her appearance. Her stepfather, Bruce Jenner, isn't much help, as he tells Khloe to lose some weight. After posing nude for PETA's "I'd Rather Go Naked" anti-fur campaign, she finds it painful to confront her insecurities as the press continues to watch her every move.

It's getting more grueling for Khloe, as she grew up being constantly compared to her sisters. While she doesn't show how much her looks really matter to her, the situation is different this time. Working with PETA and seeing the results have made her far from jubilant. She might be taking part in something she's passionate about, but she couldn't help getting overwhelmed by self-doubt.
Popular in the Community