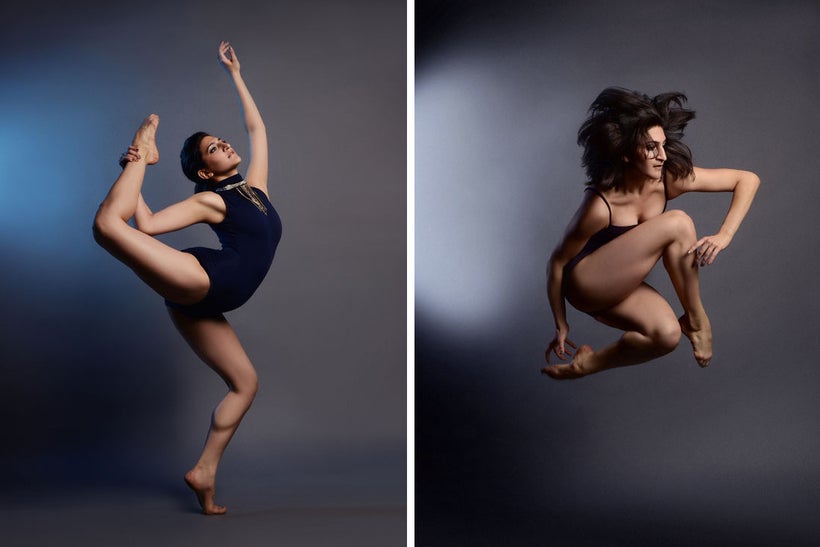 With the goal of harnessing the untapped potential of Iranian-Americans, and to build the capacity of the Iranian diaspora in effecting positive change in the U.S. and around the world, the Iranian Americans' Contributions Project (IACP) has launched a series of interviews that explore the personal and professional backgrounds of prominent Iranian-Americans who have made seminal contributions to their fields of endeavor. We examine lives and journeys that have led to significant achievements in the worlds of science, technology, finance, medicine, law, the arts and numerous other endeavors. Our latest interviewee is Ida Saki.
Ida Saki is a professional dancer known for her eclectic style as a ballerina. Originally from Dallas, Texas, Ida attended Tisch School of the Arts of New York University after graduating from Booker T. Washington High School for the Performing and Visual Arts. She has received such accolades as modern dance winner by the National Foundation for Advancement in the Arts, and named a Texas Young Master in dance, Iran's Person of the Day, and has received five national honors, including Distinguished Performer of the Year and Outstanding Dancer of the Year. Ida has graced the covers of the prestigious Dance Spirit Magazine, and Parastoo Magazine. Alongside her dance, Ida's choreography has received national recognition through various dance competitions as well as National High School Dance Festival. She has performed alongside Gallim Dance in Grand Central Terminal in a Lacoste Fragrance Launch as well as danced for Ronald McDonald House, Hurricane Sandy, and Japan Relief Benefits. She has also performed at the Wanderlust Yoga Festival, as well as Alicia Key's annual Black Ball. In addition to her accomplishments, she works to raise money for childhood cancer through Dancer's Give Back and college scholarships through the New York City Dance Alliance Foundation. Ida continually searches to extend her studies, such as becoming a Mind Body Dancer Yoga® Teacher, studying gaga in Israel and Italy, and teaching students in Ukraine. In 2010, Ida was the only female dancer to be named the Presidential Scholar and meet President Obama. Recently, she co-created and performed at a show premiered at the Kennedy Center and was also named one of Dance Magazine's 2013 Top 25 to Watch. She currently dances and internationally tours with Cedar Lake Contemporary Ballet.
Tell our readers where you grew up and walk us through your background. How did your family and surroundings influence you in your formative years?
I was born and raised in Plano, Texas; a suburb of Dallas, Texas. As most Iranian families are, we are very close and spent a lot of time together. My parents enrolled my brothers and I in as much as we could, from sports to piano lessons, and instilled a very strong focus on academic achievement. We knew that we were not able to participate in our extracurricular activities unless we had exceptional grades, so we made it happen. There was always a desire towards "perfection" during my schooling in Plano. By high school, I transferred to a performing arts high school in downtown Dallas and became much more comfortable and confident in my own skin. The school was much more diverse and everyone was so unique, which allowed me to embrace my differences and love them.
What has been your personal key to success? What were the biggest inspirations for your career?
Constant hard work and dedication. I was constantly researching what I could do better at every stage. My family was very supportive of me which made me push even harder, because I wanted to make them proud. I will never forget the time when I was practicing a dance step in my living room and broke down because I couldn't get it right. My dad had walked in just then, and promised me if I practiced every day at least ten times, I would get it. Sure enough, he was right.
I was always inspired by the people around me. I would watch videos of dancers online and be inspired, but the people that pushed me to the next level were the people right next to me.
How did your dance journey unfold, and how did your training lead you to become a professional dancer?
I had started doing ballet in an afternoon program in the cafeteria of our elementary school when I was in second grade. I learned ballet terminology and basic technique in this program, but after seeing a couple of friends dance in our talent show, I knew I wanted to dance where they were. Luckily, the studio they were enrolled in was about 3 minutes away from our house, so I started taking a jazz and hip-hop class the following year. In my first recital with them, I watched the competitive company and was in complete awe. I couldn't believe all that they could do at such a young age, and I knew then I wanted to be a part of it. When I talked to my mom about it, she wasn't sure if we were ready to commit to a program where I had to devote over 25 hours a week. I did not audition the first year, but with my teachers' recommendations and assurance, I decided to do so the following year. The only condition was that my grades could never drop, even the slightest.
I started on the competition team and progressed quickly, but it always remained fun. I never saw a future in it until I had a teacher, Jess Hendricks, come from NYC and educate us on what it means to be a professional dancer. She saw the potential in me and took me under her wing as she educated me on all the opportunities available to a dancer. She took me to see various dance companies' performances to discover what I was interested in. I remember watching Cedar Lake Contemporary Ballet perform, and coming to the realization it that was exactly what I wanted to do. That same night, she turned to me and said, "I want to see you in that company in 10 years." I joined the company 5 years later.
You are a mind body dancer as well. Is that therapeutic? Is there a link between mindfulness and mind body dancing?
Mind Body Dancer was the program from which I received my 200-hour yoga certification. It was a program that Tara-Marie Perri developed based on her finding that many dancers fell into bad habits in their yoga practice due to their dance training and hyper flexibility. Although I do not teach yoga often, I participated in the program in order to deepen my own practice and learn more about yoga. Through the program, we discussed everything from meditation, various yoga *styles*, to Ayurveda. I learned a lot about mindfulness during my training and enjoyed applying it to my daily life as well as my dancing.
What is the biggest challenge you have faced in your career?
This career is never-ending work. There have been many times that I have come so close to an opportunity that I thought was perfect, but I didn't get it for various reasons. It always hurts to hear no, but you learn to keep going and become stronger.
How did you develop your unique style as a dancer?
I was really encouraged by my teachers to find my own voice as a dancer and as a person. I spent a lot of time improvising in order to find the way my body wanted to move.
How did your collaboration with Shahrokh Moshkin Ghalam shape you as a dancer?
We have very different styles and backgrounds in dance, but I learned a lot from his confidence. I believed in everything he did because he did it 300%. He's also one of the most unique people I know. He really knows how to bring the best out of the people around him.
What are you doing now to keep your body and mind in prime shape?
I am currently in an immersive show in NYC that keeps my body very active. It is a three hour show in which we dance non-stop. I use yoga with some meditation as my warm-up and try to eat healthy foods that give me energy to last me through the show.
How, and when, did you first get involved in charitable giving? What cause or causes are you passionate about, and why?
Charitable giving was always a part of my family and school. I was required to complete a certain amount of volunteer hours per month in order to stay in the National Honor Society at school. I would volunteer at toy drives and Medisend, among other places in the community.
In 2011, a friend of mine from dance, Micaela White, passed away of leukemia. Shortly after, I received a Facebook message from a girl named Ali Dietz who had seen me dance a year before. She started a non-profit organization in Buffalo, NY called Dancers Give Back after her friend passed away of leukemia (not knowing that I had the same experience), and asked if I would like to teach to raise money. I came back year after year and felt so empowered by the event, so I knew we had to bring the event to Dallas in honor of Micaela. Alongside my teacher, Jess Hendricks, and Micaela's mom, we created Dancers Give Back Dallas. It is incredibly personal to me, and I love to see all my worlds collide at this one event.
What advice would you offer someone considering a career as a professional dancer?
The dance world is full of so many different opportunities with their own separate communities. You can work to be a versatile dancer, or you can choose to hone in on one world and do as much as you can in that scope. Neither is right nor wrong, but do what you want to do and not what you feel like you have to. You may have to work a little harder, but don't sell yourself short by doing something you don't feel is you.
Can you share your thoughts on your Iranian-American identity? What does being an Iranian-American mean to you?
From a young age, I felt really connected to my Iranian heritage even though I was so far away from my extended family. My parents wanted us to live like Americans and assimilate as much as we could, but with values they learned in Iran. My brothers and I appreciated our Iranian roots even more for this reason. Although I live my life day to day as an American, the importance of family, food, music, poetry, and "tarof" or courtesy have been instilled in me through my Iranian roots.
Calling all HuffPost superfans!
Sign up for membership to become a founding member and help shape HuffPost's next chapter
This post was published on the now-closed HuffPost Contributor platform. Contributors control their own work and posted freely to our site. If you need to flag this entry as abusive,
send us an email
.